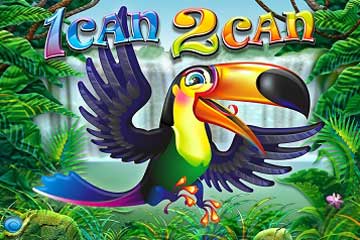 Om man sitter midt på vinteren og det eneste man kan tenke på er sommeren og varmen og alt annet man forbinder med den årstiden, så bør man virkelig vurdere å spille en rundt eller to i 1 Can 2 Can. NextGen Gaming, som er spillutviklerselskapet som står bak, har virkelig klart å fange sommeren på sitt beste og har fått lagt inn den flotte stemningen i en videoslot. Det er flere videoslots som har hatt sommeren som tema, eller andre årstider, men det er ingen som har klart å komme med en utforming som er så bra som den i 1 Can 2 Can. Spilleskjermen tar spilleren rett med til den flotteste og varmeste årstiden man kan ha, og i prosessen så får man oppleve flere ulike bonusfunksjoner, som virkelig gjør spiller underholdende å prøve ut.
Spillets spesialfunksjoner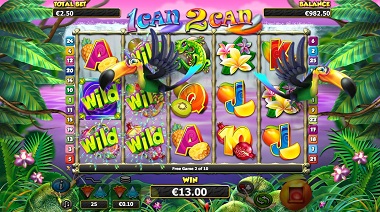 Som nevnt så finner det flere bonusfunksjoner i spillet og de er med på å gjøre spillingen enda litt morsommere. Det har mye å si for en spiller at det skjer litt på hjulene mens man spiller, slik at det ikke blir for ensformig, og det har NextGen Gaming virkelig sørget for. Det flere måter å vinne gode gevinster på også, og det er jo ikke akkurat en ulempe for spilleren. I spillet så har man for det første en doblingsfunksjon. Det vil si, på slutten av hver spillerunde så har man mulighet til å prøve å øke gevinsten man allerede har fått tildelt. Man kan enten velge å prøve å satse på å doble gevinsten, eller å firedoble den. Man kan velge å satse sin gevinst opp til fem ganger og har man spilt i noen gratisspinnrunder så må disse avsluttes før man kan bruke kvitt eller dobbelt funksjonen. Scattersymbolet er i form av et flott landskapsbilde, med palmetrær og fugler som flyr mot en vakker solnedgang. Det er dette flotte symbolet som kan aktivere gratisspinnrundene i spillet og man trenger minst tre slike på hjulene for at rundene skal settes i gang. Man får på det meste 10 gratisspinnrunder og de kan aktiveres flere ganger. Underveis i gratisspinnrundene så har man noen tukaner som jobber med å plassere ut både wildsymboler og scattersymboler, noe som vil øke sjansen for vinnende kombinasjoner. Wildsymbolet er enkel å legge merke til på hjulene for den har teksten wild skrevet over seg. Den fungerer først og fremst som spillets joker, og den kan derfor erstatte andre symboler på hjulene. Wildsymbolene kan dukke opp på hjulene på to forskjellige måter. Enten så dukker de opp slik alle de andre symbolene gjør, eller så kan tukanene i spillet velge å sette ut noen wildsymboler på hjulene.
Spillets oppsett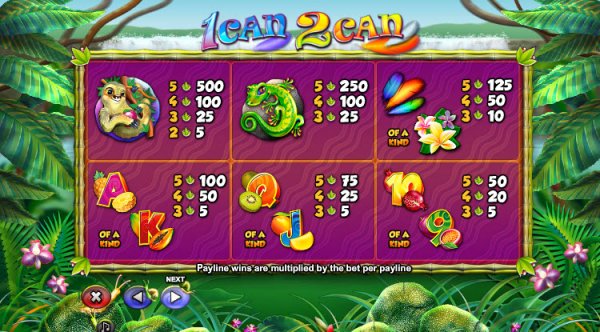 1 Can 2 Can har et oppsett som man kjenner igjen fra tidligere videoslots. Man har en totalt på 25 innsatslinjer som er fordelt over fem hjul og tre rader med symboler. Innsatsene i spillet er latt være helt opp til spilleren, for man kan justere både innsatslinjene og innsatsen per innsatslinje. Det er plassert ut noen knapper nederst på spilleskjermen og det er disse man skal bruke for å gjøre de ulike justeringene. Minimumsinnsatsen i spillet ligger på 0,25 euro mens maksimumsinnsatsen ligger på 50 euro. Det er regnet ut i fra at man spiller med alle innsatslinjene aktivert.
Spilleskjermen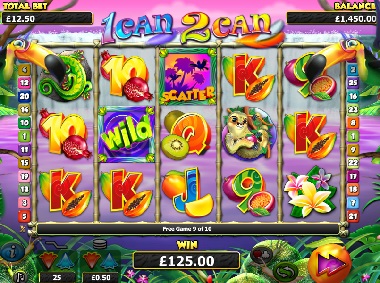 Spilleskjermen er en fargerik og flott skjerm å se på. Det er tydelig at man er i et tropeland, hvor det er varmt og man finner en veldig frodig natur. Det er en mengde ulike grønne planter som vokser opp rundt spillets hjul og på hver side av hjulene finner man også en tukan. På toppen av spilleskjermen så har man den fargerike logoen til spillet og under den har man symbolene. Symbolene er alle i flotte farger og bilder. Bildene viser ulike dyr, i tillegg til noen fargerike fjær. Bokstavene som er hentet fra en vanlig kortstokk er dekorert med ulike frukter.