Spilleautomat fra fremtiden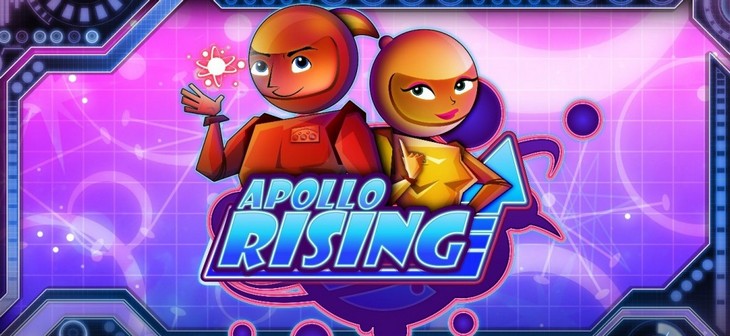 Apollo Rising er en splitter ny, original spilleautomat fra den velkjente spillutvikleren IGT. Disse karene har vært med helt fra start, fra begynnelsen av spilleautomatenes moderne historie. IGT har nok av kunnskap og muligheter til å gjøre nærmest hva de vil, noe som gleder kasinospillere verden rundt. Apollo Rising er nok et bevis på hvorfor man alltid bør tenke nyskapende og actionfylt, i stedet for å holde seg fast til det man er vant med. Du vil legge merke til det så fort maskinen dukker opp på skjermen – åtte rader med symboler, fem symboler i hver rad. Totalt førti symboler på skjermen til enhver tid, noe som automatisk betyr høyere vinnersjanser og hyppigere utbetalinger. Alle innstillinger, oversikter og knapper er på høyre side, i stedet for under symbolskjermen som man er vant til. Apollo Rising tar oss med til fremtiden, til en tid der ingenting holdes tilbake og alle levende vesener får gjøre det de vil. Mennesker vil fly rundt i romdrakt, dyr vil leke seg i vektløshet og raketter vil forvandle seg til alt man vil. Vent, raketter? Ja, vi snakker tross alt om en spilleautomat. Det finnes nemlig flere symboler som dekker større deler av skjermen på Apollo Rising. Hunden med hundebeinet og den søte apen som flyr etter en banan dekker to symboler hver, mens mannen og kvinnen i romdrakt dekker hele tre symboler om gangen. Når wildsymbolet dukker opp, vil den lille boksen sprenge i filler og en gigantisk rakett vil spre seg over en hel rad, altså hele åtte symboler! Ja, Apollo Rising er ikke helt som andre moderne spilleautomater.
Moderne grafikk og tegnede symboler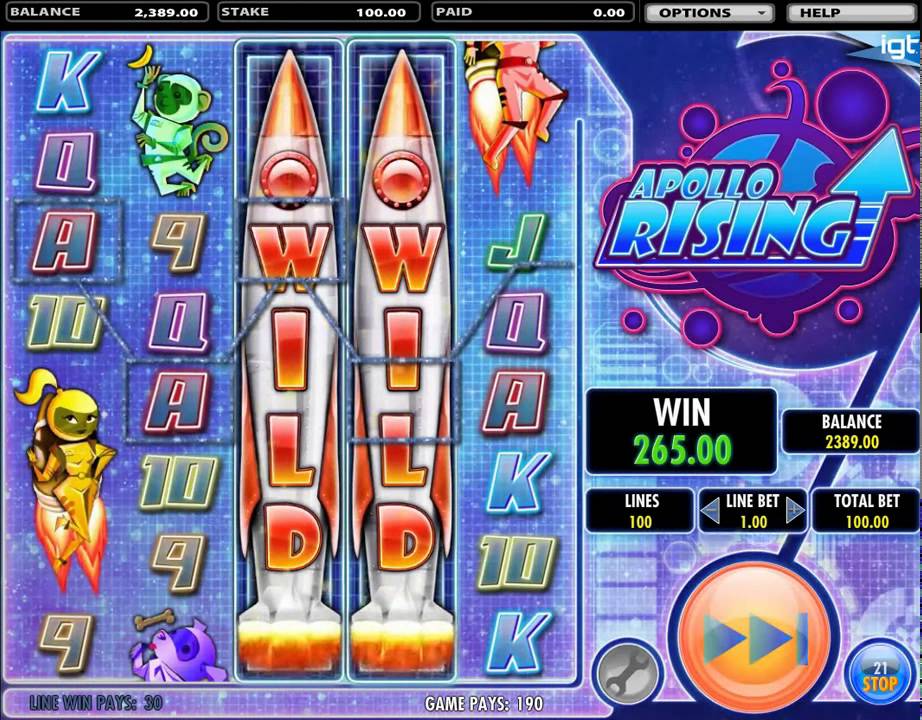 Apollo Rising er en fremtidsmaskin, og temaet går selvfølgelig rundt stjernene og rommet. Detaljene er vakkert skapt i 3D-grafikk, mens symbolene er tegnet for hånd og bærer preg av en tegneseriestripe. Kortsymbolene lyser i neonlys, mens små meteoritter og store kometer flyr forbi når et spinn er i gang. Apollo Rising har hele 100 gevinstlinjer som strekker seg på kryss og tvers av de åtte radene med symboler. Utbetalingene er derfor hyppige, men sjeldent mer enn fem-seks ganger innsatsen. Wildsymbolet utvider seg dog alltid til en rakett, og man kan vekke flere raketter etter hverandre. Med to-tre gigantiske raketter på rad er man garantert store utbetalinger, og når man setter de største gevinstene vil den største animasjonen avspilles – mannens erobring av en planet. Derfor kan man ikke vinne gratisspinn på Apollo Rising, og derfor er ingen progressiv jackpot inkludert. Den behøves rett og slett ikke, når det er så mange gevinstlinjer og førti symboler på skjermen. Wildsymbolene starter i gang ett spinn ekstra, og man kan få flere etter hverandre – takk for det, IGT. Innsatsmulighetene er veldig brede, men det maksimale er litt under to tusen kroner per spinn. Storspillere ville kanskje ha satt pris på høyere innsatser, men for de fleste av oss er det enkelt å finne et passende nivå. Autospinn-funksjonen er forresten veldig kul å bruke, det er bare å dra den oppover mot det antallet autospinn man ønsker, så setter man i gang. Selve spinnknappen er i tillegg blant de største vi har sett noensinne.
Rikdommen finnes i verdensrommet
Forskere mener at store kometer og meteoritter bestående av rent gull flyr rundt i verdensrommet, spørsmålet er kun hvordan man fanger dem. Og vil man egentlig fange dem? Så lenge vi har Apollo Rising er muligheten til å reise rundt i verdensrommet og håve inn flygende penger alltid der. Denne spilleautomaten fra IGT er også tilgjengelig på mobilen, altså er den oppdatert til å kjenne igjen tommeltrykk. Veldig praktisk når man sitter og venter på toget eller spiser frokost på en kafe. Kanskje vil dagen forandre seg helt når et par raketter dukker opp og en utbetaling på over en million kroner spyttes ut mens en tapper astronaut planter flagget på en meteoritt. Apollo Rising er en ny slager fra IGT som garantert er på mange favorittlister der ute.