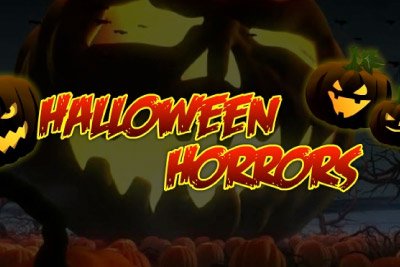 Halloween Horrors er en av 1×2 Gaming sine mange spennende spilleautomater som har blitt lansert i løpet av 2014. Det er ikke noe tvil om hva denne spilleautomaten egentlig handler om når man får øye på tittelen, nemlig høytiden Halloween. Den ble lansert på det perfekte tidspunktet, nemlig oktober og den falt raskt i smak hos en rekke ulike kasinospillere. Det tok en god stund før denne høytiden kom til Norge men nå er det en høytid som har blitt utrolig populær blant både barn og voksne. Halloween Horrors er et spill som har blitt satt sammen av det klassiske oppsettet, nemlig fem hjul og tre rader med symboler. På disse fem hjulene har spillutviklerne plassert 25 spillelinjer som spillerne vil kunne deaktivere som de ønsker. Spillet har blitt gjennomført på en flott måte og vil falle i smak hos absolutt alle de som elsker Halloween, og kanskje noen flere.
Bonusrunder og spesialsymboler

Halloween Horrors inneholder mange forskjellige ekstrafunksjoner som kasinospillere kan se frem til. Det finnes både et scattersymbol og en gratisspinn bonusrunde for å nevne noe. Gratisspinn­funksjonen vil kunne doble gevinstene til spillerne og dersom flere scattersymboler dukker opp samtidig vil kasinospillere kunne vinne opp til 15 gratisspinn. Wildsymbolet er den som viser et stort gresskar med teksten «wild» over seg, mens scattersymboler i spillet viser en hodeskalle med teksten «scatter» over seg.
Spillernes innsatsalternativ
I den simple menyen vil spillerne enkelt kunne finne frem til de ulike innsatsalternativene. I Halloween Horrors finnes det nemlig tre ulike innsatsalternativ som spillerne kan justere på for at de skal tilpasses deres ønsker. Lengst til høyre på menyen kan spillerne justere på verdien på myntene, deretter kommer innsatsen for antall mynter per aktive spillelinje og til sist hvor mange av spillets 25 spillelinjer som skal aktiveres. Spillerne vil kunne satse opp til fem mynter per spillelinje, hvor en mynt kan ha en verdi mellom 0,01 og 0,50. Dermed kan Halloween Horrors tilpasses til de aller fleste kasinospillere. I tillegg til disse tre innsatsalternativene, finnes også de vanlige «autobet» og «max bet»-knappene for de spillerne som vil benytte seg av den maksimale innsatsen eller sette det hele på autopilot.
Symboler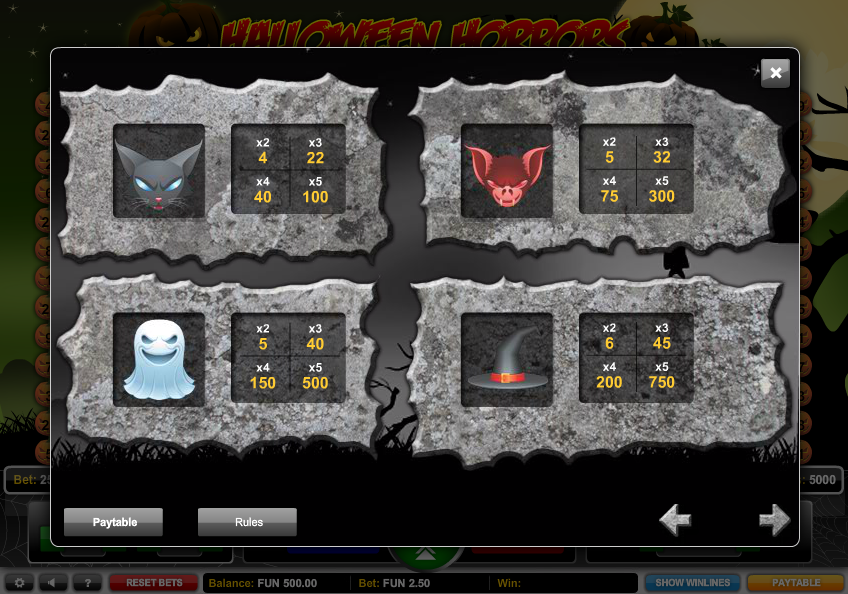 På spillets fem hjul vil det kunne dukke opp en rekke ulike symboler, og de aller fleste har selvfølgelig blitt designet i følge spillets tema. Til og med de vanlige spillekortsymbolene har blitt tilpasset spillets tema, de har fått en grønn farge som ser ut til at det drypper som slim fra tallene og bokstavene. Deretter har spillutviklerne skapt noen andre uhyggelige symboler. Spillerne vil kunne se både sorte katter, hekstehatter, et tre med et utskjært ansikt, en zombie, noen flaggermus og andre uhyggelige ting. De fire hovedsymbolene som utbetaler de høyeste gevinstene i spillet vil kunne gi gevinster på 100, 300, 500 og 750 mynter. Det er for den høyeste kombinasjonen med de symbolene, men de vil også kunne utbetale gevinster til og med for kun to like symboler.
Oppsummering
Det er ikke noe tvil om at denne spilleautomaten vil imponere alle slags kasinospillere med sitt uhyggelig og spennende tema. Spillutviklerne hos 1×2 Gaming lanserte dette spillet i oktober i 2014, et perfekt tidspunkt med tanke på at temaet er basert på høytiden Halloween. Spillet inneholder en rekke spennende ekstrafunksjoner som to ulike spesialsymboler og en gratisspinn­funksjon. I tillegg til dette utbetaler spillets hovedsymboler også noen flotte gevinster, opp til 750 mynter for den beste kombinasjonen.