Tema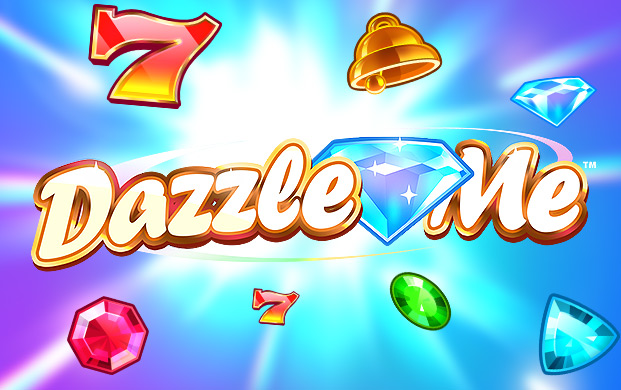 Dazzle Me er en helt ny spillautomat utviklet av NetEnt, også kjent som Net Entertainment. Det første som åpenbarer seg ved oppstart av spillet er en fargefest uten like. Her snakker vi diamanter i alle farger og fasonger, og hvem sier vel nei takk til det? Livlige, men behagelige melodier spilles i bakgrunnen og bidrar til at du sitter igjen med en enda bedre opplevelse av spillet. Ikke nok med diamanter i lange baner – spillet byr også på hele 76 vinnerlinjer eller ulike kombinasjoner som gir gevinst, så her er mulighetene store for gode resultater samt godt humør! Den aller høyeste gevinsten du kan stikke av med er 152 000 mynter, så her er det bare til å sanke diamanter og se hvor de fører deg.
Oppbygning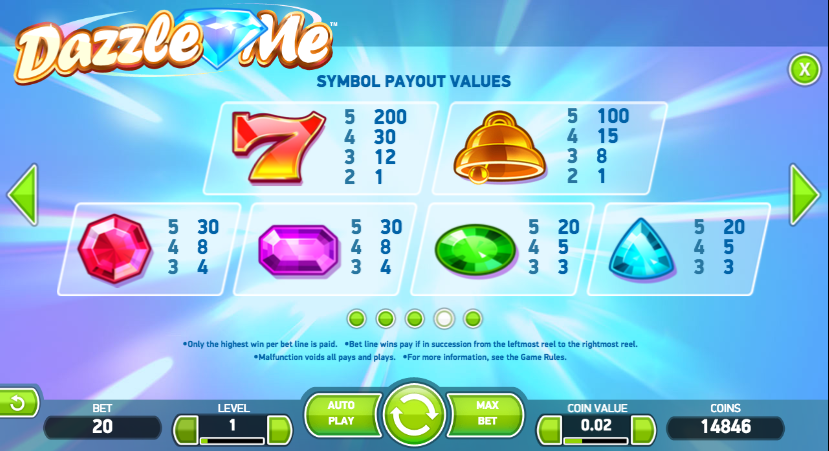 Dazzle Me har et rent, men samtidig spennende design, og består av totalt 5 hjul hvorav de to første hjulene har tre linjer, de to neste hjulene har fire linjer og det siste hjulet har fem linjer. Spillet har altså en noe spesiell oppbygning som kan oppleves som forvirrende om man er vant til mer tradisjonelle spillemaskiner fra tidligere. Allikevel tar det ikke lange tiden å venne seg til denne oppbygningen, og nettopp den noe spesielle tvisten er med på å gjøre Dazzle Me til et helt unikt spill – litt annerledes fra alt annet.
Når det gjelder symboler og kombinasjoner består Dazzle Me som tidligere nevnt av hele 76 vinnerlinjer, noe som er mulig grunnet den spesielle oppbygningen. Flere av symbolene som er plassert i hjulene minner svært mye om symbolene brukt i for eksempel det kjente spillet Bejeweled, og bidrar til at spillet føles trygt og godt til tross for den noe uvanlige oppbygningen.
Spill og bonusrunder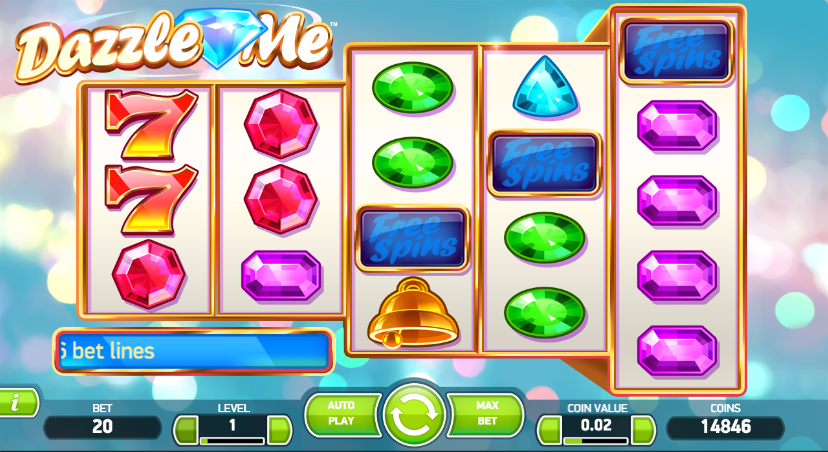 Det er ikke bare designet og utseendet til Dazzle me som imponerer. Spillet byr på både bonusrunder og gratisspinn, for eksempel har spillet en funksjon som gjør at to av hjulene linkes sammen og gir akkurat de samme symbolene. Dette øker vinnersjansene dine betraktelig i det aktuelle spinnet, og er bare et av eksemplene på at spillet tar deg med på eventyr langt utover vakre diamanter og fengende toner. En annen sentral funksjon går ut på at du kan kombinere 4 «gratis spinn»-symboler og deretter får utdelt hele 12 gratisspinn. Oppnår du denne bonusfunksjonen er det bare til å trykke bort diamant etter diamant i jakten på topp-gevinsten. Dazzle Me har ikke den tradisjonelle «wild»-funksjonen som du helt sikkert er kjent med fra før, men har i stedet en løsning hvor et tilfeldig hjul omgjøres til en rad bestående av like symboler og hjelper til med å danne høyest mulig gevinst for deg.
Når du får en kombinasjon som gir mynter i potten vil imidlertid vinnerkombinasjonene stå og blinke gjentatte ganger fram til du utfører neste spinn. Det ser derfor ut som du vinner på flere kombinasjoner eller at du vinner flere ganger på rad, og dette stuntet kan medføre at det ser ut som du vinner mer enn du egentlig gjør. Dazzle Me som helhet tåler allikevel et lite minus, og denne lille tvisten setter derfor ingen stopper for totalinntrykket av spillet. Både festen og diamantjakten kan fortsette uten sure miner! Følg bare med på potten din, så har du oversikten selv.
Konklusjon
Dazzle Me må bare prøves. Her får du både farger, diamanter og fengende toner i tillegg mange ulike kombinasjoner og vinnerrekker samt flere bonusfunksjoner etter hvert som spillet går sin gang. Spillets oppbygning skiller seg ut fra de mer tradisjonelle automatene, og dette kombinert med de livlige tonene og de ulike fargene bidrar til at du alt i alt vil sitte igjen med en god spillopplevelse.