Mange nordmenn reiser til Spania, og da passer det kanskje med en spanskinspirert spilleautomat, enten før avreisen eller etter at man kommer hjem. Spanish Eyes er et spill som klarer å få litt sydlandsk stemning på skjermen, og man blir tatt med til en kafé et eller annet sted i Spania. I bakgrunnen spiller sirisser, og noen snakker og ler. Det er NextGen som har utviklet dette spillet, og de har gjort den vakre danserinnen til spillets joker. Hun blir animert når det dannes vinnerkombinasjoner med jokere. Gitarmusikken bringer også tankene til Spania.
Spillets oppbygging og innsatser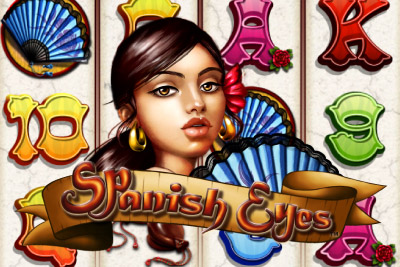 Spanish Eyes har fem hjul, og hvert hjul har tre symboler. Det er 25 linjer totalt, men det er mulig å spille med færre linjer dersom man ønsker det. Antallet aktive linjer stilles enkelt inn ved å trykke på + eller – ved siden av linjeantallet. Myntverdien justeres på samme måte, fra 0,01 euro til 2,00 euro. Dette er innsatsen per linje, slik at totalinnsatsen er myntverdien ganget med antall aktive linjer. Inaktive linjer gir ingen gevinst dersom det kommer en vinnerkombinasjon på linjen. Jo flere linjer man aktiverer, desto flere vinnermuligheter har man. Minsteinnsatsen er bare 0,01 euro, dersom man bare aktiverer én linje. Med alle linjene aktivert, koster der 0,25 euro per spinn hvis man velger den laveste myntverdien. Det meste man kan satse per spinn er 50 euro. Dette er altså ikke en av de mest kostbare automatene. Hvis man vil spare penger, kan man også teste ut spillet gratis, men da er det selvsagt ikke mulig å vinne noe.
Spillets symboler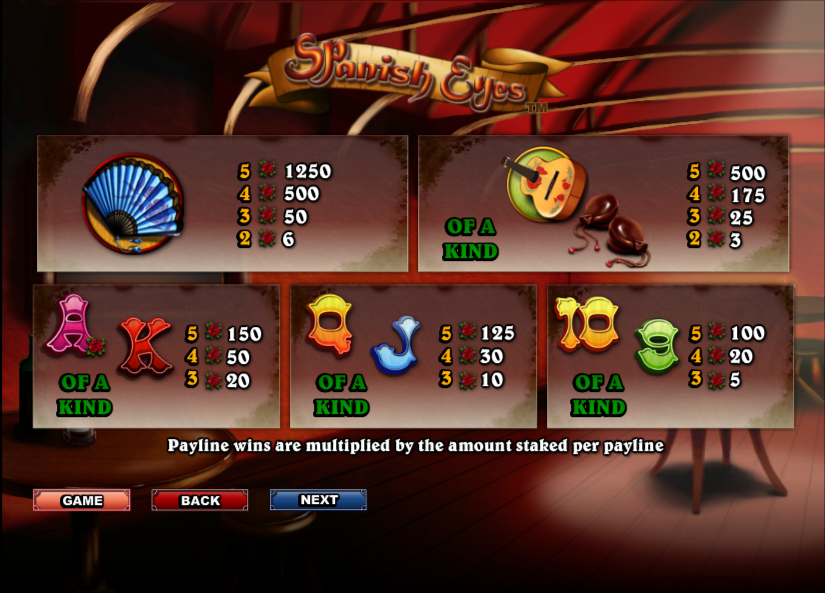 I dette spillet er det både kortsymboler og unike symboler. Kortsymbolene deler ut smågevinster, og de gir bare gevinst for minimum tre identiske symboler på rad. Vinnerrekkene må ikke være avbrutt av andre symboler. Nierne og tierne betaler en gevinst på 100 mynter dersom man klarer å få fem like på rad, fem knekter eller damer er verdt 125 mynter, og fem konger eller ess er verdt 150 mynter.
De største gevinstene får man ved å danne vinnerrekker med de unike symbolene. Disse symbolene trenger ikke å være mer enn to på rad for å gi gevinst, men de dukker opp sjeldnere enn kortsymbolene. Fem gitarer eller fem kastanjetter gir 500 mynter, mens fem vifter gir 1250 mynter i gevinst.
Jokeren i spillet deler faktisk ut gevinst for bare ett symbol. Med én joker på skjermen, vinner man 2 mynter. Fem jokere på samme gevinstlinje deler ut toppgevinsten på 10 000 mynter. Men jokerens viktigste funksjon er å erstatte andre symboler og fullføre vinnerkombinasjoner.
Gratisspinn og bonuser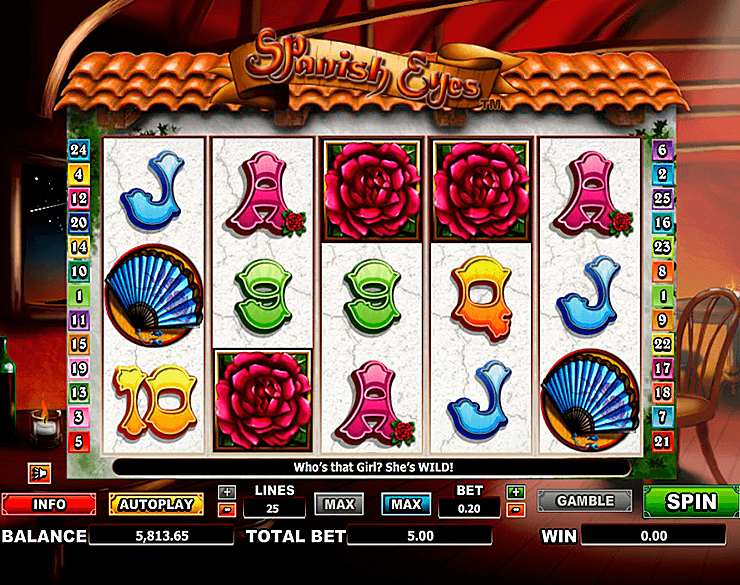 Gratisspinnene blir delt ut av en blomst, og man trenger fem slike symboler for å vinne gratisspinn. Gratisspinnene gir tredoble gevinster, og i tillegg får man en bonus dersom man har to eller flere blomster på skjermen. Med minst tre blomster på skjermen, får spillerne 12 gratisspinn som kan gjenutløses.
Hvis jokersymbolet dukker opp samtidig på hjul 1 og hjul 5, vinner man en bonus. Spillerne kan da klikke og velge et symbol. Symbolet kan skjule inntil 100x innsatsen, og dette innslaget er også aktivert under gratisspinnene, men bonusgevinstene blir ikke tredoblet.
Automatens gamblingspill er av den klassiske typen, der man enten kan gjette på om det skjulte kortet er rødt eller svart, eller man kan gjette på om der er ruter, kløver, spar eller hjerter. Riktig svar gir en dobling eller firedobling av gevinsten, mens feil svar betyr at man taper gevinsten. Man kan selv velge om man vil gamble eller beholde gevinstene.
Konklusjon
Spanish Eyes er et stemningsskapende spill der handlingen er lagt til Spania. I spillet er det mulig å vinne jokere, bonuser og gratisspinn. Toppgevinsten er på 10 000 mynter, og under gratisspinnene blir gevinstene tredoblet. Spillerne velger selv hvor mange gevinstlinjer de vil spille med. Med fin grafikk og passende lydeffekter, er dette et spill som kan bringe sydlandsk varme til enhver PC-skjerm. Et riktig underholdende spill.