Lucky Lady's Charm Deluxe er navnet på en spilleautomat fra Novomatic. Til tross for at spillet har et langt navn, er det verken skremmende eller komplisert. Tvert imot er det sjarmerende enkelt og lett å forstå, også for nye spillere. Mange setter pris på spilleautomater som er enkle og oversiktlige, og dette spillet er virkelig herlig.
Spillets oppsett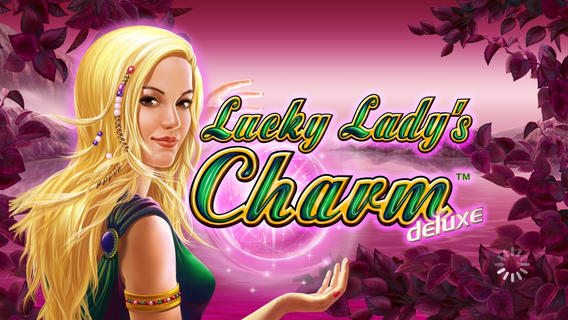 Det er fem hjul og tre rader i spillet, og hjulene er plassert mot en rødfiolett bakgrunn. Bak symbolene er det hvit bakgrunn, slik at det er lett å se de fine symbolene. Totalt har spillet 10 gevinstlinjer, men spillerne kan velge å deaktivere noen linjer, dersom de ønsker det. Spillerne kan også satse flere mynter per linje, dersom de ønsker å øke innsatsen sin. Dette er bare tilgjengelig i ekspertmodusen.
I tillegg til knappene for å justere linjeantall og myntverdi, har spillet også en spinnknapp, en gamble-knapp og selvfølgelig autospinn. Autospinn er en ekstraservice til spillere som spiller mye. Når man velger autospinn, slipper man å trykke på spinnknappen hver eneste gang. I stedet stiller man inn ønsket linjeantall og ønsket innsats per linje, og velger antall autospinn. Spillerne trykker deretter på spinn, og automaten spiller de valgte spinnene helt på egen hånd.
Symbolvalg og utbetalinger
Hell og lykke er veldig viktig når man spiller lykkespill, og derfor er temaet i denne spilleautomaten velvalgt. De unike symbolene viser lykkebringende amuletter. Marihønen og harelabben er mest verdt av grunnsymbolene, og deler ut 3000 mynter for fem like. Disse to symbolene deler også utgevinst for bare to like. Hesteskoen deler ut 1600 mynter for fem like. Lykkemynten og firkløveren deler ut 1000 mynter for fem like. Disse symbolene gir bare gevinst for tre eller flere like på rad.
Kortsymbolene fra 9 til ess er også representert. De har fine farger som passer bra til spillets øvrige symboler. Konge og ess gir 500 mynter for fem like, dame, knekt og ti gir 400 mynter for fem like, og nieren gir også 400 mynter for fem like. Nieren gir dessuten gevinst for bare to like, noe de andre kortsymbolene ikke gjør. Gevinstene finnes listet opp i spillets gevinsttabell. Vinnerrekkene skal alltid starte på hjul 1 og gå uavbrutt, altså uten at det er andre symboler mellom de like symbolene.
Spesialsymboler
Det er to spesialsymboler i spillet. Kvinnen er jokeren i spillet, og dette symbolet deler ut gevinst med to eller flere like. Med fem slike symboler på rad, vinner man faktisk 20 000 mynter. Jokeren kan ta plassen til alle grunnsymbolene, men kan ikke erstatte scattersymbolet, som er en rosa krystallkule. Jokersymbolet dobler alle gevinster når jokeren er del av vinnerkombinasjonen.
Krystallkulen gir gevinst for to eller flere like, og deler ut 10 000 mynter for fem like. Men krystallkulen deler også ut gratisspinn dersom man får tre eller flere slike symboler. Da vinner spillerne 15 gratisspinn. Gratisspinngevinstene tredobles. Alle gevinster er altså verdt tre ganger så mye når man spiller med gratisspinn. Det er også mulig å gjenutløse gratisspinnene, men man kan ikke gjøre endringer i linjeantallet eller innsatsen før gratisspinnene starter. De spilles med de innstillingene som var valgt da man vant dem.
Gamblingspill
Gamblingspillet kan aktiveres hver gang man vinner noe. Dette spillet er valgfritt, og dersom man heller vil beholde gevinsten man har vunnet, velger man collect i stedet. I gamblingspillet skal spillerne gjette på om det skjulte kortet er rødt eller svart. Riktig svar gir en dobling av gevinsten. Da kan man velge å beholde den, eller man kan gamble enda en gang. Totalt er det mulig å gamble 5 ganger på rad, men hvis svaret er feil, mister man gevinsten.
Konklusjon
Lucky Lady's Charm Deluxe er et fargerikt og fint spill, med en oversiktlig skjerm. Spillet passer fint for nye spillere, men vil nok også appellere til mer erfarne spillere. Spillet byr på både jokere, gratisspinn og et gamblingspill, og spillfølelsen er god og bringer tankene til gamle spilleautomater.