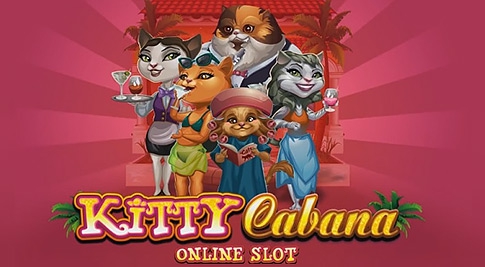 Kitty Cabana er Microgamings sommergave til alle katteelskere. Her er det katter, katter og enda flere katter. Alle har dratt på ferie til et ekte luksushotell. I tillegg til de herlige kattene har spillet også en jackpot på 110 000 mynter. Man kan også få jokere, multiplikatorer, scattere og gratisspinn.
Om spillet
Spillskjermen er utformet som et hotell. De fem hjulene fyller en vegg på hotellet, og i bakgrunnen ser man palmer, trappetrinn og deler av hotellet. Under hjulene er knappene man trenger til å justere innsatsen. Spillet er et av fem spill Microgaming lanserte i juni 2015. Et av spillene som ble lansert samme måned, var Hound Hotel, og spillere som har prøvd det hundeinspirerte spillet vil nok finne mange likhetstrekk når de tester Kitty Cabana. De to spillene har nemlig veldig mye til felles, uten at det er negativt på noen måte. Om man vil spille med hunder eller katter på hjulene er en smakssak. Hjulene har tre rader med symboler. Innsatsen kan både justeres gjennom å velge myntverdi fra 0,01 til 0,10 euro, og gjennom å velge antall mynter man ønsker å satse per linje. Det er mulig å satse inntil 15 mynter på hver av de 25 gevinstlinjene. Man har altså mange valg, og kan lett tilpasse innsatsen til eget budsjett.
Symboler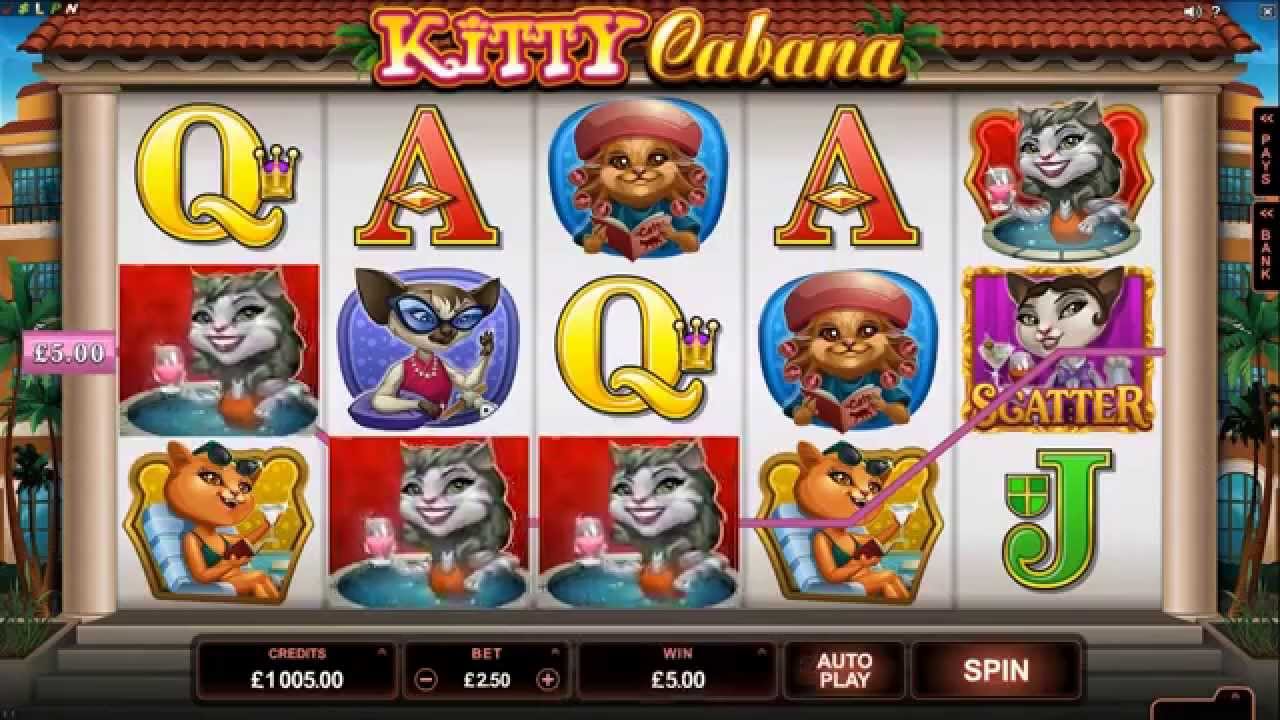 Kattene i Kitty Cabana lever det gode liv. De soler seg, bader, leser og drikker cocktailer i solen. Her skal ferien nytes til fulle. Det mest verdifulle kattesymbolet gir 18x totalinnsatsen for fem like. I tillegg kan man vinne stablede jokere, som gir inntil 20x totalinnsatsen i gevinst. Det er også mulig å få tilfeldige jokere etter at hjulene har stanset. Da kan man plutselig oppleve at tre Dashing Wilds dukker opp fra intet og danner uventede vinnerkombinasjoner. Det er selvsagt en gledelig overraskelse. I spillet dukker det også opp kortsymboler fra knekt til ess. Disse symbolene er representert med bokstaver og deler ut mindre beløp når man får tre, fire eller fem like på rad. Smågevinster fører kanskje ikke til den samme jubelen som storgevinster, men med mange små gevinster kan man holde spillingen i gang litt lenger, uten å gå tom for penger. Spillets gevinsttabell inneholder alt man trenger å vite om symbolene og gevinstene, og forklarer også mer om spillets ekstrainnslag. Man må være klar over at gevinstene som vises i tabellen varierer etter hvilken myntverdi man spiller med. Beløpet man vinner, avhenger altså av størrelsen på innsatsen.
Bonusinnslag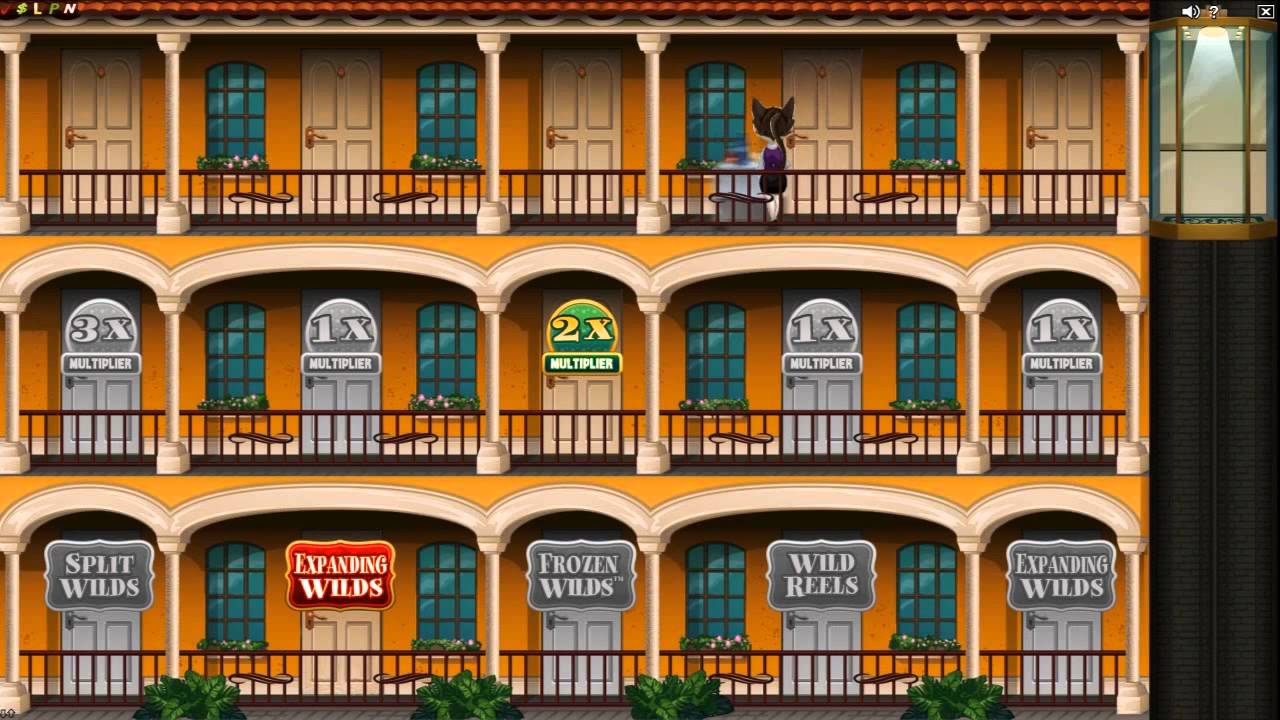 Spillets bonusinnslag er ekstra spennende, og her kan man vinne store gevinster. Dette spillet ligner på bonusinnslaget i Hound Hotel, selv om det også er et par forskjeller. Tre scattere gjør at man vinner gratisspinn med ekstrainnslag. Hvilke ekstrainnslag man vinner, avgjøres gjennom å plukke og velge. På en hotellvegg er det tre etasjer med fem dører i hver etasje. Spillerne får først velge en av dørene i første etasje. Bak disse dørene skjuler det seg spesialjokere. Dette er kjent fra Hound Hotel, men jokerne i Kitty Cabana er litt annerledes. Her kan man vinne superstablede jokere, utvidende jokere, jokerhjul, jokere som deler seg og jokere som fryser fast. Jokeren som deler seg er ganske spesiell, for med den kan man få seks like. Når jokeren er valgt, flyttes spilleren opp til andre etasje i hotellet, der man skal velge en ny dør. Bak dørene i denne etasjen skjuler det seg multiplikatorer. Med litt flaks, får man lov til å velge to dører i andre etasje. Til slutt skal man velge en dør i tredje etasje, og der finner man ut hvor mange gratisspinn som skal spilles med de ekstrainnslagene man har fått.