Om spillet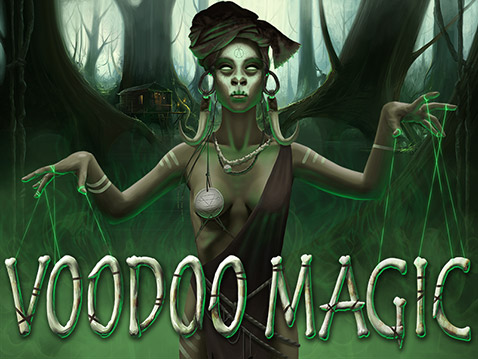 Voodoo Magic er som navnet tilsier et spill som syder av svart magi. Real Time Gaming har rendyrket voodoo-stilen, med voodoo-trommer som bakgrunnsmusikk og direkte uhyggelige symboler. Spillet har fem hjul, tre rader, og tretten innsatslinjer. Det er 10 forskjellige symboler som gir gevinst, i tillegg til wild og scattersymbolene.
Spillets detaljer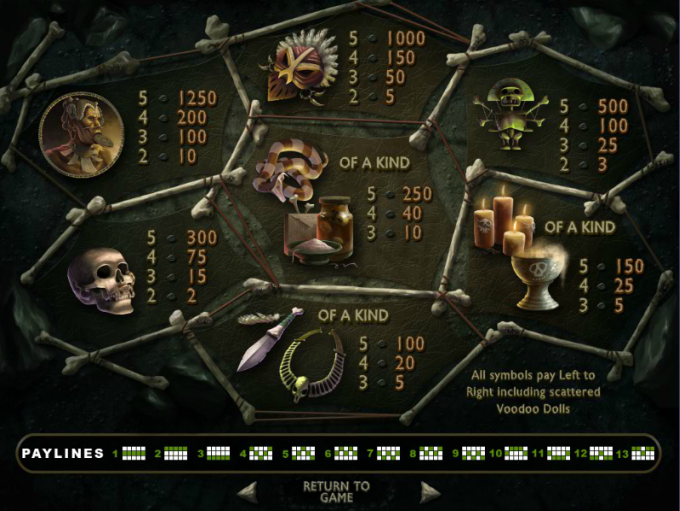 Du satser fra $0.01 for én innsatslinje, så hvis du spiller på alle tretten blir innsatsen fra $0.13, og kan kan heves helt opp til $3.25. Autoplay-funksjonen lar deg snurre fra fem til 1000 ganger etter hverandre, eller du kan definere hvor mye gevinst du ønsker eller tap du tolererer før autospinnene skal stanses. Farten hjulene snurrer med styrer du ved å tenne mellom ett og tre lys nederst i venstre hjørne, men allerede ved ett lys går de ganske fort, så noe raskere enn det er ikke å anbefale hvis du ønsker å henge med i hva som skjer i spillet.
Voodoo-prestinnen som er wild erstatter alle symboler utenom scatter, og det hender rett som det er at det kommer flere av henne på samme brett.
Bonusfunksjoner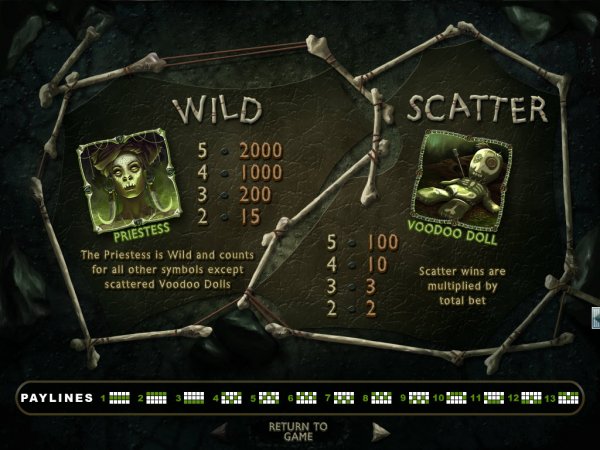 I dette spillet er det ikke bare vinnende symbolrekker som må gå fra venstre til høyre, det må også scattersymbolene gjøre for å gi gevinst og sette i gang gratisspinnene. Scattersymbolet er en voodoo-dukke med en når rett inn i hjertet. Får du to av denne fra venstre mot høyre får du sju gratisspinn. Flere dukker gir flere gratisspinn, helt opp til 25 stykker. Gratisspinnene er ikke så annerledes enn resten av spillet, bortsett fra at ingen voodoo-dukker er med, og at det hvis du er heldig kan dukke opp en multiplikator som ganger gevinsten din med en mer for hvert spinn du vinner, dvs. at to vinnende spinn gir 2x, tre gir 3x etc. men det er altså ingen automatikk i dette – det styres formodentlig av svart magi. Bonusrundene akkompagneres dessuten av hektisk sang, som gjør at spenningsnivået høynes.
Spillets gang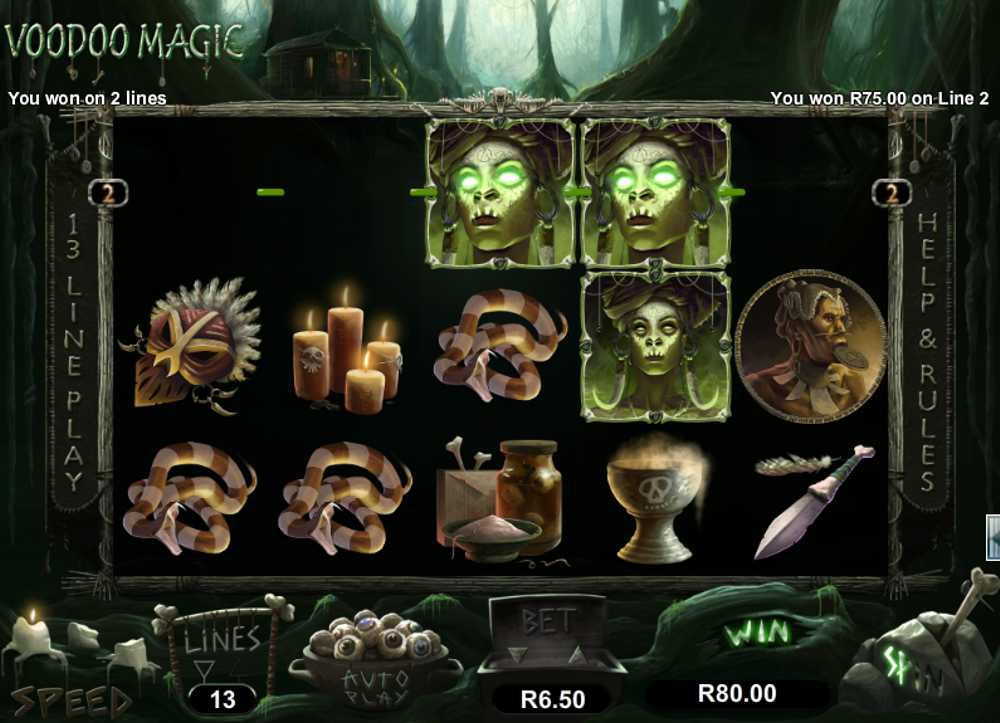 Spillet går ut på å få flere like symboler etter hverandre fra venstre mot høyre, langs spillets tretten innsatslinjer. I dette spillet gir flere av symbolene gevinst allerede ved to like. Voodoo-prestinnen med de hvite øynene, som også er wild, gir 15 mynter for to like, 200 for tre, 1000 for fire og 2000 for fem. Voodoo-dukken som også er scatter gir to, tre, 10 eller 100 ganger innsatsen din, avhengig av om du får to, tre, fire eller fem dukker etter hverandre. En skummel voodoo-doktor gir 10 for to, 100 for tre, 200 for fire og 1250 mynter for for fem like. En fjærprydet maske gir 5 for to, 50 for tre, 150 for fire og 100 mynter for fem like, mens en skremmende figur med fire armer gir 3 for to, 25 for tre 100 for fire og 500 for fem. Hodeskallen er det siste symbolet med gevinst for to like, den gir to for to, 15 for tre, 75 for fire og 300 for fem like.
I tillegg er det seks symboler av lavere verdi – en slange, tente lys, et beger med hodeskalle på, en kniv, et smykke og diverse ingredienser til et heksebrygg. Disse gir fra fem til 10 for tre like, fra 20 til 40 for fire like og fra 100 til 250 for fem like. Alle betaler fra venstre til høyre. Det meste du kan vinne på ett spinn er 50 000 ganger innsatsen din.
Konklusjon
Det mest spennende ved dette spillet er designet, og stemningen som settes av den lille dunkelt opplyste hytta i en mørk og disig skog øverst på skjermen, samt fat med øyeepler, benrester og mystiske symboler som henger fra bokstaver og trepinner. Symbolene er forseggjorte og noen av dem er riktig ekle. Det at det er så mange av dem, og at det bare er tretten innsatslinjer, gjør det vanskeligere å få flere like, men dette veies opp ved av at omtrent halvparten av symbolene gir gevinst allerede ved to like.