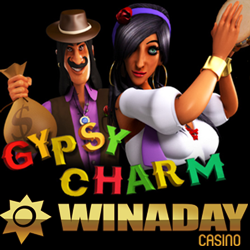 Gypsy Charm er en spilleautomat som kommer fra spillutviklerselskapet Win – A – Day. Win – A – Day er først og fremst ikke kjent som et spillutviklerselskap, men faktisk mer som et nettbasert kasino. Win – A – Day Casino har nå bestemt seg for å begynne å utvikle sine egne spilleautomater. Spilleautomatene fra Win – A – Day Casino vil da kun være tilgjengelig på deres egne nettsider, og ikke noe annet sted. Dette gjør at spilleautomatene er utrolig unike og ofte relativt ettertraktet. Det som gjør det enda bedre er at Gypsy Charm er en virkelig flott spilleautomat. Temaet og utformingen som utviklerne har lagt i spillet er utrolig bra, og viser at de satser på høy kvalitet. Temaet som man finner er inspirert av sigøynerkulturen, og dette kommer tydelig frem i spilleautomaten. Det er et flott og litt magisk tema, som er med på å skape en helt spesiell stemning når man spiller.
Hvordan komme i gang med spillingen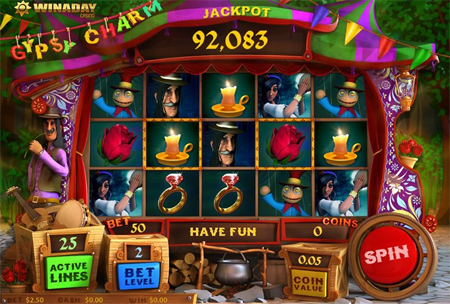 Oppsettet man finner i Gypsy Charm er veldig tradisjonelt når det kommer til spilleautomater. Man finner da fem hjul og tre rader med symboler i oppsettet, og totalt har man 25 innsatslinjer. Som spiller kan man gjøre en god del justeringer i spilleautomaten, og dette gjøres ved at man bruker de tilhørende knappene. Først og fremst kan man justere på antall innsatslinjer. Innsatslinjene er totalt 25 i antall, men spilleren kan velge å spille med et lavere antall. Når man er ferdig med å justere det, kan man justere myntverdien det skal spilles med. Myntverdien settes ved at spilleren velger en av de forhåndsbestemte verdiene. De er da på 0,05, 0,10, 0,25, 0,50 og 1. Når man er fornøyd med myntverdien, skal man kun velge hvilket innsatsnivå man ønsker å ligge på. Innsatsnivået går da fra en og opp til fem. Når man er klar med det kan man sette i gang spilleautomaten. Det gjøres ved at man bruker spinnknappen som er satt nederst i høyre hjørne.
Spesialfunksjoner i spilleautomaten
I Gypsy Charm finner man en mengde forskjellige symboler på hjulene og noen av dem har høyere verdi enn andre. Først og fremst er verdien ved kombinasjoner forskjellig, avhengig av hvilket symbol man får i en kombinasjon. De to symbolene som har høyest verdi ved vinnende kombinasjoner er det av sigøynermannen og det av en danser. Får man en kombinasjon på fem av et av disse symbolene vil man få hele 2500 mynter i gevinst, i tillegg til at det også vil trigge spillets jackpot. Oversikt over hvor mye jackpotten er verdt finner man øverst på sigøynervognen. I tillegg til disse symbolene finner man også et scattersymbol i spilleautomaten. Scattersymbolet er det symbolet som kan aktivere gratisspinnene i spillet. Når man får en scatter på hjul to og hjul fire vil man få tildelt fem gratisspinn, i tillegg til et av spilleautomatens hjul vil bli omgjort til wildsymboler. Det andre spesialsymbolet er det som kan aktivere multiplikasjoner i spilleautomaten, i tillegg til å gi ut ulike kontantgevinster. Dette symbolet må også dukke opp på hjul to og fire for at spesialfunksjonene skal bli aktivert.
Spilleskjermen i Gypsy Charm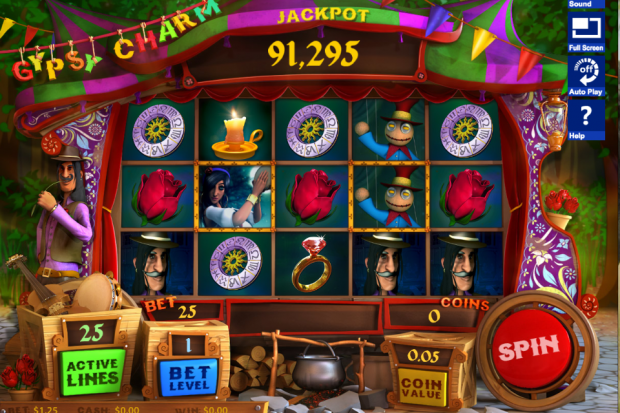 Spilleskjermen man har foran seg når man spiller på Gypsy Charm er virkelig flott å se på. Bakgrunnen er formet som en frodig og grønn bakgrunn, og mot denne bakgrunnen finner man da en sigøynervogn. Sigøynervognen er plassert midt på spilleskjermen og er tydelig laget av tre. Øverst på vognen kan man se noen fargerike telt, i grønn og rosa. Spilleautomatens logo henger da litt over et av teltene, og kommer i form av ulike bokstaver som da henger på en snor. Under denne snoren finner man sigøynermannen. Spilleautomatens hjul er plassert midt i sigøynervognen, og på hjulene finner man en mengde forskjellige symboler. Symbolene er alle laget i form av ulike bilder som passer til spilleautomatens tema. Knappene i spilleautomaten finner man nederst på spilleskjermen, og de er satt opp som ulike elementer som da også er tilpasset tema på ulike måter.