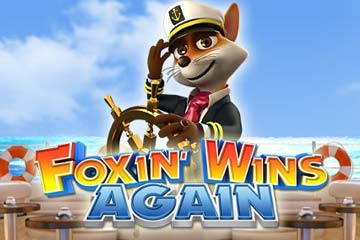 NextGen Gaming hadde stor suksess med spilleautomaten Foxin Wins og de har nå sluppet ut en oppfølger på markedet. Oppfølgeren har fått navnet Foxin Wins Again og er en utrolig bra presentert spilleautomat. Det som gjorde Foxin Wins så populær er også med i oppfølgeren, i tillegg til at NextGen Gaming har lagt inn noe nytt, som er med på å løfte spillet enda mer. Temaet er noe endret i forhold til den første utgaven, men det handler naturligvis fortsatt om en rev. Temaet er godt presentert hele veien og den gode grafikken er med på å løfte inntrykket man får av spillet. I tillegg har man noen bra spesialfunksjoner som kan dukke opp underveis og som er med på å gjøre spilleopplevelsen enda bedre.
Spillets oppsett
Oppsettet man finner i Foxin Wins Again er akkurat det samme man fant i Foxin Wins. Det er noe utenom det vanlige, i alle fall hvis man ser på det tradisjonelle oppsettet man som oftest ser i en spilleautomat. Oppsettet består av fem hjul og har fire rader med symboler. På grunn av den ekstra raden med symboler så har NextGen Gaming hatt mulighet til å legge inn hele 50 innsatslinjer i spillet. Og til tross for at man har et så høyt antall med innsatslinjer, er de satt inn som faste. Det vil si at spilleren har ikke mulighet til å gjøre noe om på innsatslinjene. Man spiller altså alltid med 50 innsatslinjer aktivert i hver spillerunde. I spillet har man heller ikke en myntverdi og et innsatsnivå. Innsatsen justeres helt enkelt ved at man bestemmer hvor mye man ønsker å satse per innsatslinje. Innsatsen per innsatslinje kan ligge på mellom 0,01 euro og opp til 2 euro. Det utgjør en totalinnsats i spillet som ligger på mellom 0,50 euro og opp til 100 euro.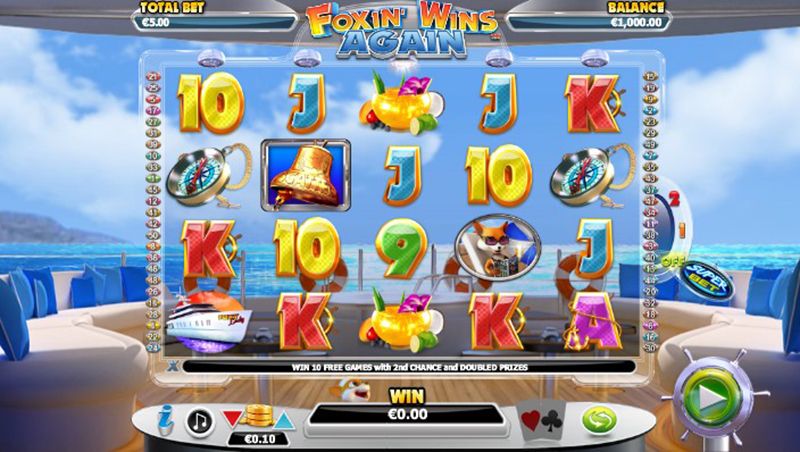 Spesialsymboler i spillet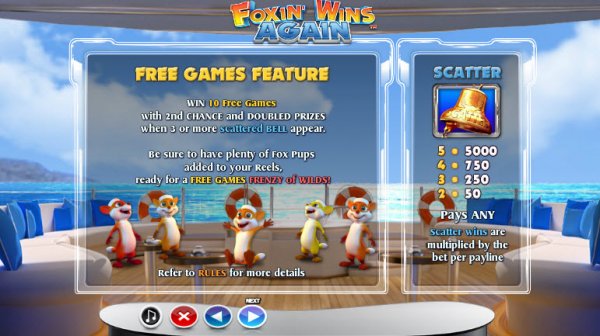 Foxin Wins Again har naturligvis noen spesialsymboler i spillet og disse er med på å aktivere spesialfunksjoner i spillet. Wildsymbolet i spillet er i form av en kaptein og det fungerer som spillets joker. Som en joker kan det erstatte andre symboler på hjulene. Faktisk erstatter det alle vanlige symboler, men ikke andre spesialsymboler. Wildsymbolet kan dukke opp som vanlig symbol eller som stablet symbol. Et stablet symbol er et symbol som ikke dukker opp alene. Scattersymbolet er det andre spesialsymbolet i spillet og det er i form av en klokke i gull. Scattersymbolet kan aktivere to forskjellige spesialfunksjoner i spillet. For det første gir det ut kontantgevinster så fort man har to eller flere scattere på hjulene. Får man tre eller flere scattere på hjulene vil man da i tillegg få aktivert gratisspinnrundene i spillet. På det meste kan man få tildelt 10 gratisspinnrunder. En artig funksjon som man finner etter gratisspinnrundene er det at man kan velge om man vil ha en ekstra sjanse. Det vil si, man kan velge å ta gevinstene man har fått i de 10 rundene og gå tilbake til å spille vanlige runder igjen, eller så kan man velge å få tildelt 10 nye gratisspinnrunder og da ha sjansen til å opparbeide seg enda bedre gevinster enn man hadde i utgangspunktet.
Spilleskjermen i spillet
Spilleskjermen i spillet viser tydelig en grafikk av høy kvalitet. Det man ser som bakgrunnsbilde er det nydelige blå havet mot en nydelig blå himmel. Det er tydelig at man befinner seg på en båt, og det ser ut til å være en luksuriøs båt. På toppen av spilleskjermen finner man spillets logo, som er formet i oransje og blå bokstaver. Under logoen finner man spillets hjul, som er plassert midt på spilleskjermen. På hjulene finner man spillets symboler og de er formet på to forskjellige måter. For det første har man de høyeste symbolene fra en vanlig kortstokk og de andre symbolene er da i form av ulike elementer som passer til temaet som er satt inn i spillet.