Om spillet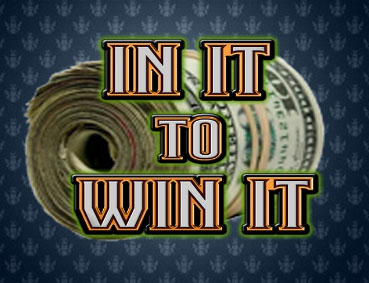 In It To Win It er en 5 hjuls spilleautomat med 100 innsatslinjer. Microgaming har lagd en spilleautomat som går tilbake spilleautomatenes røtter – kasinoene! Spillet handler om en pengerik livsstil. Spillet tilbyr et scattersymbol og et wildsymbol. Symbolene i spillet inkluderer In It To Win It-logoen, et privatfly, en veteranbil, en bunke med dollarsedler, et ess, en konge, en dronning og en knekt. Spesielle symboler som forekommer er en gambler, som er spillets scattersymbol, og et wildsymbol som blir valgt i bonusspillet. Spillets bakgrunn er en herskapsbolig, og hjulene har den grønne filtbakgrunnen kjent fra mange kasinospill.
Spillets detaljer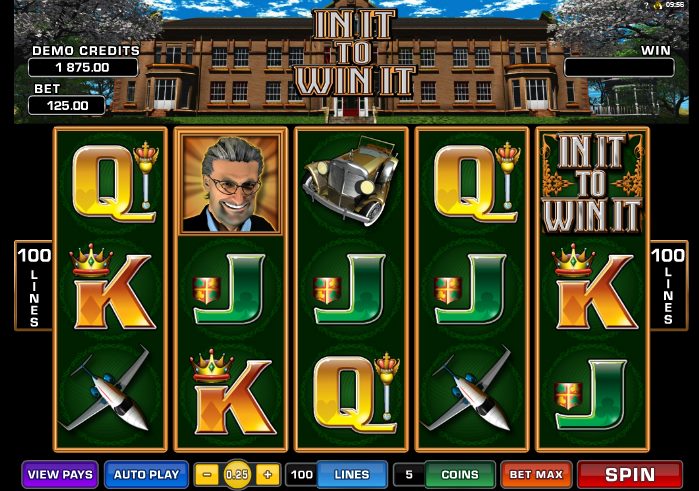 Spillet lar deg satse på mellom én og 100 innsatslinjer! Du kan velge myntverdi mellom € 0,01 og € 0.50. Du kan satse fra én til fem mynter per spinn. Dette innebærer at den maksimale innsatsen er € 250 (omtrent kr 2030) per spinn. Det store innsatsspekteret fra helt nede i € 0,01 og opp til € 250 betyr at spillet passer flott for alt fra low- til high-rollers. Spillet har også en autospinnfunksjon som gir deg uendelige spinn ved at spinnene fortsetter til du velger stopp. Du har også muligheten til å velge mellom å se innsatsen som kreditter eller mynter. Spillet lar deg velge om du skal satse alt for å vinne stort, eller om du skal gå noe lavere inn og kanskje klare å bygge deg opp til noe stort etterhvert allikevel. Det symbolet som utbetaler mest i spillet er scattersymbolet. Om du får fem like av dette får du 25,000 mynter, og utbetalingene på dette symbolet betaler i hvilken som helst posisjon. Dette symbolet kan også utløse bonusspillet. Symbolet som gir deg nest mest gevinst er In It To Win It-symbolet, som gir opp til 2.500 mynter ved fem like.
Bonusfunksjoner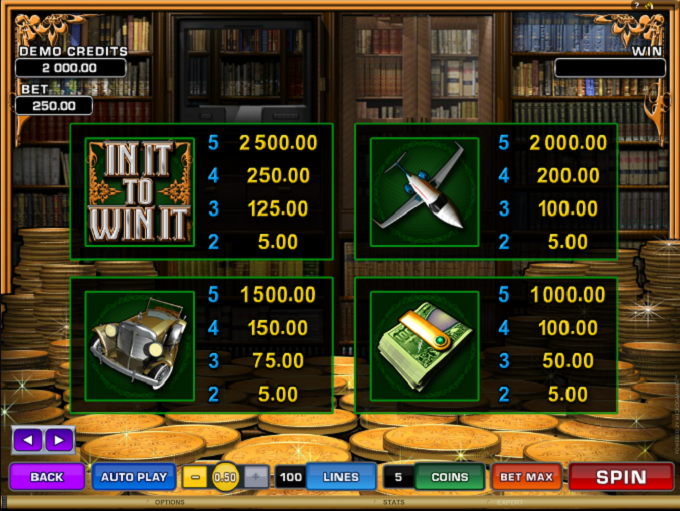 Spillet har en fantastisk bonusfunksjon som utløses dersom du får 3, 4 eller 5 scattersymboler. Når bonusspillet er utløst får du muligheten til å velge én av fire kofferter. Disse kan inneholde enten 10, 15, 20 eller 25 gratisspinn. I tillegg vil kofferten du velger inneholde enten In It To Win It-symbolet, privatflyet, veteranbilen, eller seddelbunken, som da vil bli wildsymbolet under gratisspinnene. Wildsymbolet erstatter alle symbolene bortsett fra scattersymbolet. Gratisspinnene kan dessverre ikke bli gjenutløst i løpet av gratisrundene. Bonusspillet gir deg generøse muligheter til å vinne siden du allerede har fått en premie basert på antall scattersymboler du har fått. Det at et av symbolene blir gjort om til wildsymbol øker vinnersjansene under bonusspinnene betraktelig, og gjør det mer spennende å spille deg fram til disse.
Spillets gang og gamblefunksjon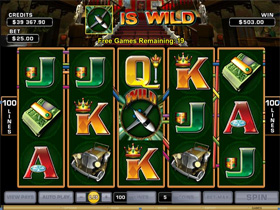 Spillet har en double-up funksjon, som gir deg muligheten til å doble eller firedoble gevinsten din. Dette gjøres ved å velge rett farge blant rødt eller svart av de neste kortet som kommer i rekkefølgen. Da vil gevinsten dobles. Dersom du i stedet også går for å velge mellom kløver, spar, ruter eller hjerter, har du sjansen til å firedoble gevinsten din. Velger du feil går du glipp av hele gevinsten din, med mindre du har valgt å gamble bare halvparten. Da får du selvfølgelig utbetalt den halvparten av gevinsten din som du ikke gamblet. Spillet er pent og godt gjennomført, med gode sjanser til å vinne stort for de som har hellet på sin side og viljen til å satse for å vinne. Her er det bare å kjøre på!
Konklusjon
In It To Win It lever virkelig opp til navnet sitt, med store gevinster. Om man satser mer vinner man tilsvarende mye høyere. Det visuelle er ikke fancy og animert i noen særlig stor grad, men spillet har en viss sjarme som kommer med ekte kasinoer. Man mangler bare en vakker kvinne i hver arm, så føler man at man sitter på et kasino og spiller stort! Spillet lever virkelig opp til navnet sitt, for i dette spillet er du In It To Win It!