Fotball-VM er et av verdens største idrettsarrangementer, og karnevalet i Rio er en av de største gatefestene i verden, så når man blander disse to tingene, burde man få et fargerikt og morsomt spill. Football Carnival kan by på 5 hjul med 50 gevinstlinjer, og her er det både farger og moro for alle pengene. Det er ingen progressiv jackpot i spillet, men man kan vinne 3000 ganger innsatsen dersom man er veldig heldig. Spillet ble egentlig laget til fotball-VM i 2014, men automaten vil nok leve videre lenge etter den tid. Spillet er laget av Playtech, og var en av mange spilleautomater med fotballtema som ble lansert i forbindelse med VM i Brasil.
Symboler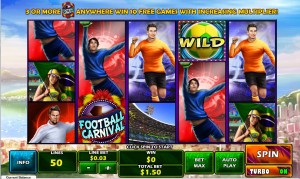 I spillet møter man både karnevalsdansere og fotballspillere, sammen med kjente symboler fra Brasil. Til og med bakgrunnsbildet bak spillet viser kystlinjen utenfor Rio de Janeiro. Det dukker opp et stadion, et brasiliansk flagg, en salsadanser, en supporter som vinker med et flagg og Kristus-statuen. Symbolene er fargerike og fint laget, og musikken bygger også opp fotballstemningen. Fotballspillerne er stablete, og dekker to posisjoner når de kommer på hjulene, så de gir økte vinnersjanser. Kristus-statuen og fotballstadionsymbolet er også stablede, og dekker to posisjoner.
Jokersymbolet er en gul og grønn fotball. Det erstatter alle de vanlige symbolene, men det kan ikke erstatte de spredte symbolene. Et jokersymbol kan telle som et hvilket som helst annet symbol, og kan dermed fullføre vinnerrekker som ellers ville manglet et symbol. Spillets logo er det spredte symbolet. Dersom man får tre eller flere slike symboler hvor som helst på skjermen, vinner man ti gratisspinn.
Innsatser og gevinster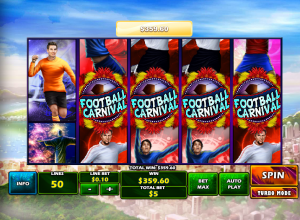 Myntverdien kan stilles fra 0,01 til 1,00 mynt per linje, og man kan maksimalt satse 50,00 euro per spinn. Antall gevinstlinjer er fast, så man kan bare justere innsatsen ved å justere myntverdien. Fotballspillerne betaler ut smågevinstene, mens de andre symbolene er mer verdt. Ettersom fotballspillerne er stablede, gir de ekstra store vinnersjanser. Dersom man får alle de ulike fotballspillerne på samme rad, vinner man spillets jackpot, som er på 3000x linjeinnsatsen.
De spredte symbolene gir også gevinster. Man vinner 100 mynter med fem slike symboler spredt hvor som helst på skjermen. Flagget gir en utbetaling på 1000 mynter dersom man får fem like. Fotballsupporteren betaler ut 600 mynter for fem like, sambadanseren gir 400 mynter dersom man får fem slike symboler. Kristus-statuen betaler ut 200 mynter for fem like, og fem fotballstadioner er verdt 150 mynter.
Spillet har ingen multiplikatorer, men jokersymbolene kan danne egne vinnerrekker når flere av dem dukker opp på samme gevinstlinje. Man vinner hele 3000 mynter for fem jokersymboler på samme linje. Alle vinnerrekker må starte ytterst til venstre. Dersom man vil spille mange spinn, kan man også velge å spille med autospinn. Da stiller man bare inn innsatsen per linje. Deretter velger man antall automatiske spinn, og trykker på spinn. Da spiller automaten de valgte spillene selv.
Gratisspinn
Med minst tre spredte symboler hvor som helst på skjermen, kan man glede seg til ti gratisspinn. Under gratisspinnene får man et fryst jokersymbol på det midterste hjulet. Gratisspinnene starter med 2x multiplikator, og for hvert andre spinn, øker multiplikatoren. De to siste gratisspinnene spilles med 6x multiplikator. Gratisspinnene kan ikke gjenutløses. Gratisspinnene er spillets eneste bonusinnslag. Det er ingen ekstraspill i Football Carnival.
Gratisspinnene er den beste muligheten til å vinne større gevinster, ettersom man både får økende multiplikatorer, og ekstra jokersymboler. Dessverre utløses ikke gratisspinnene så ofte, men når de kommer, kan man vinne litt mer.
Oppsummering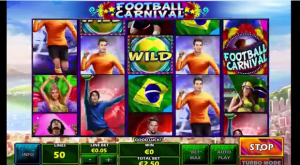 Football Carnival er verken et originalt eller nyskapende spill, men det er morsomt og man kan vinne ganske fine gevinster dersom man er heldig. Men spillets utbetalingsprosent er på bare 91,32 %, så dette er ikke et av de mest lønnsomme spillene på nettet. Dette spillet ble først og fremst laget til VM i Brasil. Spillet kan leve videre etter VM, men det kan også få færre spillere når VM går over i historien.