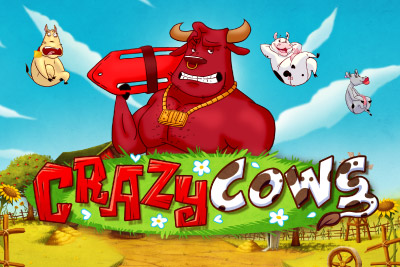 Det er noen titler på spilleautomater som skiller seg litt mer ut enn andre, og dette er uten tvil en av dem. Crazy Cows er en helt ny spilleautomat som nylig ble lansert av de svenske spillutviklerne hos Play'n Go. Play'n Go lanserte en rekke nye spennende spilleautomater i slutten av 2014, og dette er en av dem. Spillet har virkelig fått et unikt og ikke minst uvanlig tema, noen vil til og med kanskje si at temaet er litt merkelig. Det betyr derimot ikke at spillet er utrolig underholdende og morsomt å spille for alle, men for de fleste vil nok spillet mest sannsynlig falle i smak. Som man kanskje skjønner ut fra spillets tittel handler dette spillet om kuer, kuer og enda flere kuer, i ulike former og fasonger. Det er virkelig en spilleautomat som viser mye kjærlighet til kuene, og selvfølgelig er det litt gårdsbruk med i bildet. I stedet for at spillutviklerne hentet inspirasjonen sin fra mennesker eller menneskelige ting, har de hentet inspirasjonen fra dyrenes verden. Hver eneste ku som man vil se i Crazy Cows, har nok av karisma og hver sin unike personlighet. Kanskje kuene til og med vil minne spillerne om noen de kjenner? I tillegg til spillets tema, fortjener spillutviklerne hos Play'n Go virkelig ros for hvordan de har gjennomført de ulike funksjonene i spillet. Man vil nemlig ikke kunne finne noe lignende i noen andre spilleautomater. Blant annet kan spillerne se frem til ting sånn som gratisspinn, multiplikatorer, wildsymboler, scattersymboler, et bonusspill og mye, mye mer.
Oppsettet og funksjonene i Crazy Cows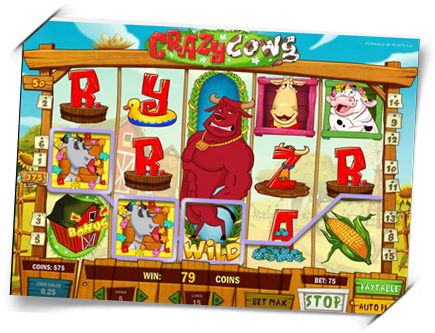 Når spillerne klikker seg inn på denne spilleautomaten, vil de bli møtt av en fargesprakende spilleautomat. Bak hjulene vil man kunne se en flott blå himmel, gule åkre med solsikker, og selvsagt fjøset på gården. Hjulene har deretter blitt rammet inn i treverk, i tillegg til at hele menyen under hjulene har blitt plassert på lignende planker. Hele designet og de visuelle effektene i spillet er rett og slett utrolig flott gjennomført. Oppsettet til spillet er normal standard, da den består av fem hjul, tre rader med symbolene på, og til sist 15 spillelinjer som spillerne kan satse på. På menyen under hjulene vil spillerne kunne finne alle de vanlige innstillingene og knappene. De består selvsagt av knappen for både maks innsats og autospinn, i tillegg til en oversikt over mulig gevinster.
Spillets symboler og innsatsalternativer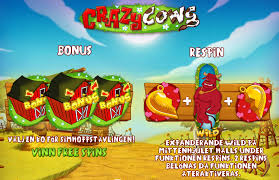 På spillets hjul vil man kunne se en rekke flotte symboler som vil spinne frem etterhvert. Disse består blant annet av alle de ulike kuene på gården, en litt merkeligere en enn den andre. I tillegg kan spillerne se maiskolber, okser, hunder og enda litt mer. Spillutviklerne hos Play'n Go har i tillegg til alt dette tatt med de vanlige spillkortsymbolene, som har blitt designet som treverk og deretter plassert på ulike gjenstander eller steder. Selvsagt finnes det noen spesialsymboler i spillet, men disse kommer det mer informasjon om senere. Før spillerne i det hele tatt kan sette i gang spillet, må de selvfølgelig justere på innsatsene sine. Her kan spillerne justere på både antall aktiverte spillelinjer, antall mynter som skal satses per spillelinje, og til sist hva slags verdi myntene skal ha. Spillerne kan satse opp til fem mynter per spillelinje, som kan ha en verdi på mellom 0,01 $ og opp til 0,25 $.
Spesialsymboler og bonusrunder i spillet
Wildsymbolet i spillet er i form av oksen Bill. Dersom spillerne får to deler av et knust hjerte på hver side av Bill, vil de få en gevinst i form av fem gratisspinn, i tillegg til at Bill dekker hele det midterste hjulet samtidig som han viser frem musklene. Hver gang spillerne får to hjerter til, vil spillerne motta to respinn. I tillegg til dette kan spillerne aktivere gratisspinnfunksjonen, dersom tre bonussymboler dukker opp på hjulene.