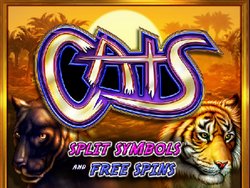 Det finnes kattemennesker og det finnes hundemennesker. Spilleautomaten Cats appellerer nok litt til alle typer dyreelskere, for her handler det ikke om små huskatter, men om store, ville kattedyr. Automaten har 30 gevinstlinjer, men spillerne kan selv redusere antallet, dersom de foretrekker å spille med færre linjer. Selvsagt vinner man bare på aktive linjer, så ved å redusere antallet aktive linjer, reduserer man også egne vinnersjanser. Derfor må man vurdere om det er verdt det. Det beste er å heller justere myntinnsatsen, og spare penger på den måten, eller man kan spille automaten som gratisspinn. Det er også mulig å satse inntil 5 mynter per linje, for dem som vil legge litt ekstra penger inn i spillet.
Grafikk og musikk
Bakgrunnsbildet i Cats viser solen, trær og gyllent gress. Hjulene er plassert på en rødbrun bakgrunn, og symbolene er klare og tydelige. Når hjulene står stille, er det ingen musikk. Det spilles musikk når hjulene er i gang, men IGT pleier ikke å lage unik musikk til hver enkelt spilleautomat. De bruker i stedet den samme musikken i flere spill. Dermed blir det lett å kjenne igjen spill fra IGT. Det er heller ikke nødvendig med unik musikk for å gjøre spillet interessant, for Cats er en fin spilleautomat med god spillfølelse.
Doble symboler
Spilleautomaten Cats er laget at IGT. De har flere automater der de har såkalte doble symboler. Doble symboler betyr at hvert symbol kan ha to like i samme rute. I dette spillet kan dyrene opptre parvis, og dersom det er to dyr på samme symbol, teller dette symbolet som to like. Hvis man har et symbol med to dyr på hjul e, og et symbol med et enkeltdyr av samme art på hjul 2, teller dette som tre like. Med fem hjul i spillet, kan man få hele 10 like, dersom en gevinstlinje fylles med fem dobbeltsymboler.
Symboler og gevinster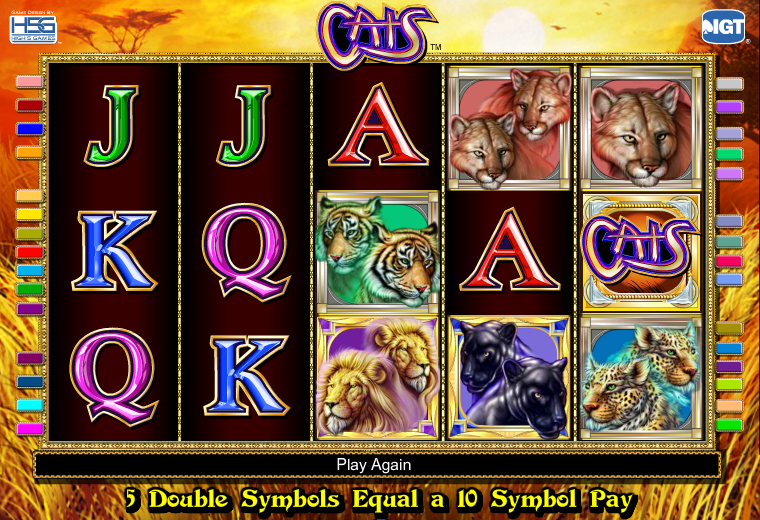 Kattedyr spiller hovedrollen i spillet, og det er den svarte panteren som er det mest verdifulle symbolet. Med 10 like pantere, vinner man 2500 mynter. Løven er nest mest verdt, og gir 1000 mynter for fem like. Tigeren og leoparden gir også 1000 mynter for ti like, men disse symbolene gir litt mindre utbetalt for tre og fire like. Også pumaen gir 1000 mynter for ti like, men gir lavere gevinst for sju og seks like. Spillets gevinsttabell er ganske omfattende, derfor lønner det seg å lese gjennom den før man spiller.
I tillegg til kattedyr, er det kortsymboler fra knekt til ess på hjulene. Kortsymbolene deler ut lave gevinster, og finnes heller ikke som doble symboler, derfor kan man ikke få mer enn fem like av disse. Spillerne trenger alltid minst tre like for å få en vinnerkombinasjon, og alle vinnerkombinasjoner må starte på hjul 1.
Spillets logo er joker i spillet. Denne jokeren kan erstatte alle kattesymbolene, og ta plassen til dem i vinnerrekker. Dermed kan jokeren erstatte et manglende kattesymbol, og danne en vinnerrekke. Jokeren kan ikke erstatte kattesporet, og kan dermed ikke hjelpe spillerne å få gratisspinn. jokeren kan også danne egne vinnerrekker, og dersom det kommer fem jokere på rad på samme gevinstlinje, blir spillerne belønnet med 10 000 mynter, som er spillets toppgevinst.
Gratisspinn
Fem eller flere kattespor betyr at man vinner gratisspinn. Dette symbolet kan også opptre som dobbeltsymbol, derfor er det ikke nødvendig med fem symboler for å vinne gratisspinn. Man trenger bare to dobbeltsymboler i tillegg til ett enkeltsymbol. Det blir fem like. Fem kattespor gir spillerne 5 gratisspinn. Seks kattespor gir spillerne 10 gratisspinn. Hvis man får fire kattespor, vinner man ingen gratisspinn, men man får 2x totalinnsatsen. Gratisspinnene man ikke gjenutløses i Cats.
Oppsummering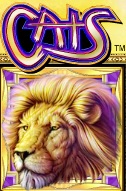 Cats har et fint kattedyrtema, og har lydeffekter som passer til temaet. Spillfølelsen er god, og man kan spille gratis eller med lekepenger. Autospinn er også tilgjengelig. Spillerne kan vinne gratisspinn, og med doble symboler, er det mulig å få inntil 10 like på rad.