Bli med Robin Hood og hans gode hjelpere i dette fantastiske nye spillet fra Barcrest. Spilleautomaten med 5 hjul og 10 gevinstlinjer, er satt midt ute i Sherwoodskogen, hvor du kan spille om to forskjellige bonuser som kan ende opp i store utbetalinger. Det gjelder å stjele tilbake skatter fra den slu kongen, som har vært og stjålet fra de fattige. Ditt oppdrag er å bringe kongens rikdom tilbake til folket. Du må unngå å bli tatt av vaktene som passer godt på slottet og kongen. Du har rett og slett et fantastisk eventyr foran deg, i spillet som er så mye mer enn en vanlig spilleautomat.
Design og tema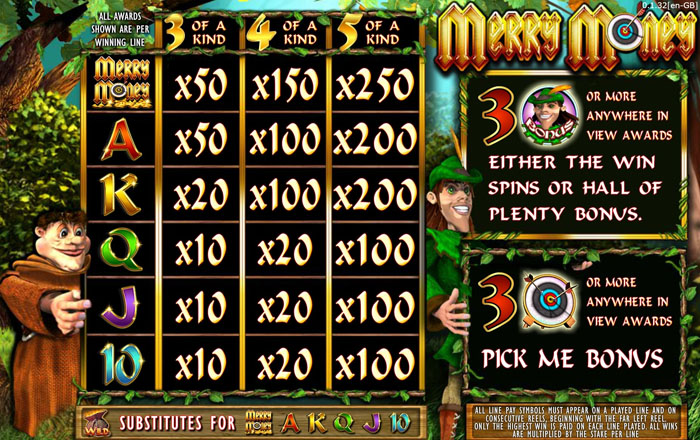 Det nye spillet fra Barcrest har et utrolig morsomt tema, som er tatt rett ut ifra Sherwood-skogen, nemlig Robin Hood og vennene hans. Dette er virkelig en hyggelig opplevelse, hvor grafikken er tiltalende, og symbolene på gevinsthjulene er alt fra poser med gull, pil og buer og blinker. Hovedpersonene kommer godt frem, med en blid Robin Hood, en slu konge og en enda blidere Når temaet er tatt fra en som var kjent for å hjelpe de fattige, så er det ingen overraskelse at spillet faktisk elsker å gi deg små og hyppige premier. Men det er i bonusrundene det virkelig tar av i spillet. Du må bare inn og forsøke selv, for dette var bare rett og slett imponerende.
Bonuseffekter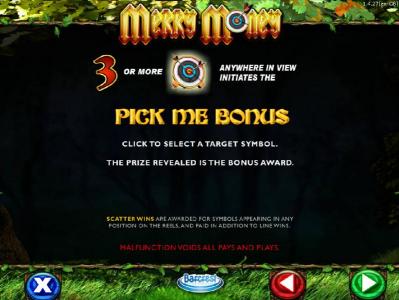 Spillet gir deg to forskjellig bonuser, ved å lande på tre eller flere Robin Hoods egne bonussymboler. Rekkefølgen spiller faktisk ingen rolle. Med en gang tar spillet deg ut i skogen hvor du skal skyte på blink med pil og bue. Treffer du midt i blinken vinner du det som blir kalt en Hall of Plenty bonus, men treffer du et annet sted på blinken får du ulike Win Spins. Det eneste du trenger å gjøre er bare å klikke på lille Robin. Spillet har også en autofunksjon, men kun når du er i vanlig modus. Når du er inne i en av de flotte bonusfunksjonene må du gjøre jobben selv, og det er det som gjør spillet enda mer realistisk og morsomt.
Treffer du midt i blinken, blir du på nytt tatt med på en ny spennende reise. Ditt oppdrag i spillet er jo det samme som den ekte Robin Hood, å stjele så mange skatter som mulig fra kongens slott, uten å bli fanget. Kongen tror han kan sove sikkert på tronen sin med all sitt gull og rikdom trygt ved siden av seg, men det er opp til deg om han er helt trygg eller ikke. Du får nå et nytt hjul som skal lande på mellom tallene 1 til 6, som tilsvarer 6 ulike dører du skal gå inn igjennom. Dørene vil nå bestemme hvor høy din ekte pengepremie kommer til å bli. Er du uheldig blir kongen vekket av en skrikende jente som kommer løpende ut fra en av dørene. Vaktene vil med en gang starte jakten på deg og du må komme deg ut av slottet for og ikke miste alt. Her er det altså så mange effekter at du faktisk må oppleve dette spillet selv. Ikke nok med grafikken og de flotte effektene, musikken er også veldig fengende og gjør spillet mye mer spennende og intenst.
Hele opplevelsen
Som du kanskje har skjønt allerede, dette er en spilleautomat du bare må forsøke deg på først som sist. Dette er rett og slett et fantastisk spill Barcrest, kanskje også den beste de har lagd frem til nå? Grafikk og design er perfekt utført og endelig har de også lagd et spill med behagelige lydeffekter og en musikk som gjør det ekstra spennende. Musikk og lyd er tilpasset hver situasjon du havner opp i. Alle elsker hyppige gevinster og mye action. Dette er spillet som har begge, for det er rett og rimelig at det skal dryppe litt ekstra på deg når temaet nettopp er Robin Hood.