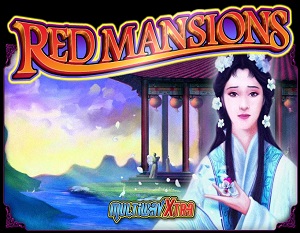 IGT er spillutviklerselskapet som står bak spilleautomaten Red Mansions, og de har virkelig slått på stortromma når det kommer til tema og inspirasjon i dette spillet. Det er ikke ofte man kommer over en spilleautomat som har en novelle som inspirasjon, men slik er det faktisk i Red Mansions. Novellen som har gitt inspirasjon til Red Mansions heter Dream of Red Mansions. Det er en bok som har den kinesiske historien i fokus, og mer presist så går historien tilbake til 1800-tallet. Det var en helt spesiell tid i Kina og det har gitt flott inspirasjon til IGT. Som man skjønner så er det mye kinesisk kunst og elementer som er blitt satt inn i spilleskjermen i Red Mansions, og IGT har virkelig gjort en flott jobb med å sette sammen det hele. Red Mansions er et spill som alle burde prøve ut, i alle fall hvis man har noe interesse for historiske temaer i spilleautomater.
Spillets oppsett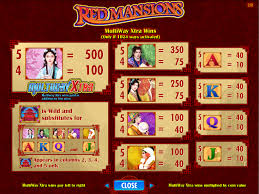 IGT har valgt å sette inn et litt spesielt oppsett i spilleautomaten Red Mansions. På spilleskjermen så finner man fem hjul og fire rader med symboler. Det er en rad mer enn det man finner i det tradisjonelle oppsettet. I tillegg til det originale oppsettet, så har man et valg på om man ønsker å spille med 40 innsatslinjer, eller om man ønsker å spille uten innsatslinjer og heller ha 1.024 ulike måter å vinne på. Innsatsnivået dobles hvis man velger å spille med 1.024 ulike måter å vinne på, istedenfor 40 innsatslinjer. Spiller man med 40 innsatslinjer, så vil man legge innsats per innsatslinje. Man kan velge å satse mellom 0,01 og opp til 30 per innsatslinje. Det er en knapp nederst på spilleskjermen som kan brukes til å justere dette. Til høyre for denne knappen, så vil man ha en oversikt over den totale innsatsen man spiller med. Er man fornøyd med innsatsnivået, så kan man trykke på spinnknappen som er plassert midt mellom alle knappene. Ønsker man en enda enklere spilleopplevelse, så kan man bruke «auto play» knappen som er plassert helt til høyre på spilleskjermen. Da vil spillet spinne av seg selv et bestemt antall runder.
Spilleskjermen og grafikken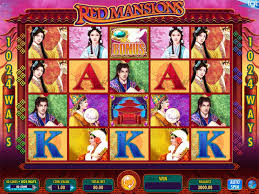 Spilleskjermen som møter en når man spiller Red Mansions, er utrolig vakker. Det er ingen tvil om at fokuset er satt til Kina, og alt som er tradisjonelt i det landet. Bakgrunnsbildet på spilleskjermen er utrolig flott. Det ser ut som det er solnedgang og himmelen er lyst opp i lilla, rød og rosa nyanser. På hver side av spilleskjermen så finner man en påle, og oppå denne så er det plassert en typisk kinesisk lykt. Det er også med på å skape stemning. Rammen rundt spillets hjul er formet som en tradisjonell kinesisk bolig. På toppen av taket så finner man spillets logo, som er formet i flotte røde bokstaver. Hjulene er da plassert innenfor denne rammen, og på hjulene finner man spillets symboler. Symbolene er todelt i utforming. Man har noen symboler som er formet i ulike bilder, og viser blant annet noen vakre kinesiske kvinner. De andre symbolene er hentet fra en vanlig kortstokk, og er da formet i ulike bokstaver. De er da fargelagt i forskjellige farger.
Spesialfunksjoner i spillet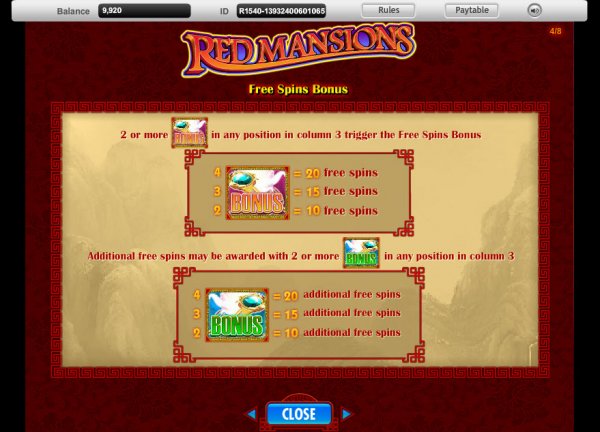 Det er i hovedsak to spesialsymboler i Red Mansions. Først og fremst så har man spillets wildsymbol. Wildsymbolet fungerer slik det pleier, ved at det er lagt inn som en joker. En joker kan erstatte andre symboler på hjulene, men i Red Mansions så kan ikke wildsymbolet erstatte scattersymbolet. Wildsymbolet kan dukke opp på hjul to, tre, fire og fem. Scattersymbolet i spillet kan aktivere gratisspinn i spillet. Man trenger minst tre scattere spredt på hjulene for at rundene skal settes i gang. Det er mulig å reaktivere gratisspinnene, og har man med seg litt flaks inn i spillet så kan man få så mye som 130 gratisspinn totalt mens man spiller.