En klassiker blir brakt tilbake i ny utgave
Det er vel ganske mange av oss som har hørt om Captain America, enten det er i form av gamle tegneserieblader, en tegnefilm eller en av de nye, mer moderne filmene som har kommet de siste par årene. Her har spilluviklerne fra Playtech fått en helt eksklusiv lisens fra Marvel for å kunne lage denne sloten med Marvels kjente superhelter – og selvfølgelig blir denne lisens utnyttet til det fulle. På kasinoer som tilbyr slots fra Playtech kan man altså finne både Iron Man 3, Avengers og Thor og nå også Captain America. Dette er faktisk en av Marvels aller mest populære superhelter, det kommer av at han, på akkurat samme måte som Spiderman, i utgangspunktet var en ganske så ubetydelig figur. En god del superhelter er jo født med sine superevner, mens Captain America har måttet gå den harde og lange veien for å kunne fortjene sine evner.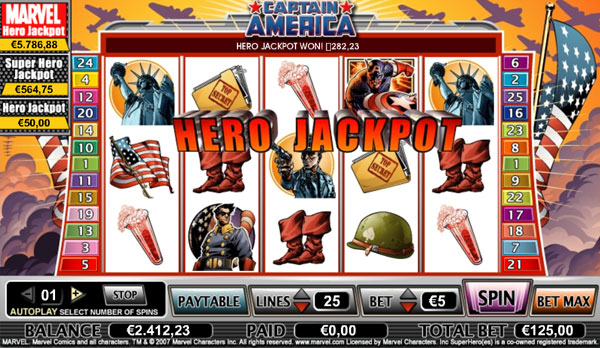 Tema, lyd og symboler
Temaet i denne videosloten er selvfølgelig heltens kamp mot den onde karakteren Red Skull, og de ulike symbolene som man kan finne i Captain America består blant annet av bilder av disse to karakterene, i tillegg til deres respektive kjennetegn. Symbolene som er koblet til Captain America er for eksempel hans «dog tags» markert med teksten «super soldier», et håndholdt skjold og et bilde av ham selv. Grafikken i spilleautomaten er ganske så røft laget, noe man nok vil legge merke til, selv om den virkelig er av høy kvalitet. Captain America var jo først og fremst «aktiv» under 1940-tallets krigsherjede tid. Dette kan man ganske enkelt se i bakgrunnen, da denne har en metallisk design, og mange detaljer man kan se er også blitt inspirert fra det militære. Det er heller ikke noe negativt å si om spillets lyd; denne er helt utmerket både når det kommer til bakgrunnsmusikken og til spillets lydeffekter.
Oppsett og innsats
Oppsettet til Captain America består av fem hjul, tre rader med symboler og til sammen 20 spillelinjer, her så kan spillere justere både antallet spillelinjer som skal være aktivert i tillegg til linjeinnsatsen. Da blir den laveste mulige innsatsen på 0, 01 $ på 0, 20 $ mens den høyeste linjeinnsatsen som er på 6 $ vil kunne gå opp til en total på 120 $. Så finnes det også en autospillfunksjon hvor spillere kan spille mellom 10 og 99 spinn helt automatiskt.
Spesialfunksjoner
Det er faktisk nesten vanskelig å bestemme seg for hva som bør nevnes først når det kommer til Captain Americas spesialfunksjoner. Spillet kan nemlig by på en ganske lang liste med spesielle funksjoner. Spillere kan se frem til scattersymboler, to ulike wildsymboler med 2x multiplikatorer, et gratisspinnmodus med spesialfunksjoner, en superspinnfunksjon med ekstra wildsymboler, linjegevinster på opp til 5 000 mynter og hele fire progressive jackpotter. Scattersymbolene i denne slotmaskinen og wildsymbolene trenger nok ingen forklaring, da disse fungerer som de pleier i andre spilleautomater. Men gratisspinnmoduset er ganske spesielt, og dette blir aktivert når Captain America dukker opp på det første hjulet i form av et wildsymbol, symbolet som er merket med «free games» dukker opp på det tredje hjulet og Red Skull dukker opp på det femte hjulet. Da vil spilleren vinne fire innledende gratisspinn, det høres riktignok ikke ut som så mange, men etter dette får man klikke på opp til ni symboler på en ekstra spilleskjerm for å kunne finne frem til enda noen flere gratisspinn, multiplikatorer, ekspanderende wildsymboler og enda mer. Når hjulene deretter snurrer igjen, har spilleren alle mulige sjanser til å kunne vinne enda noen flere gratisspinn.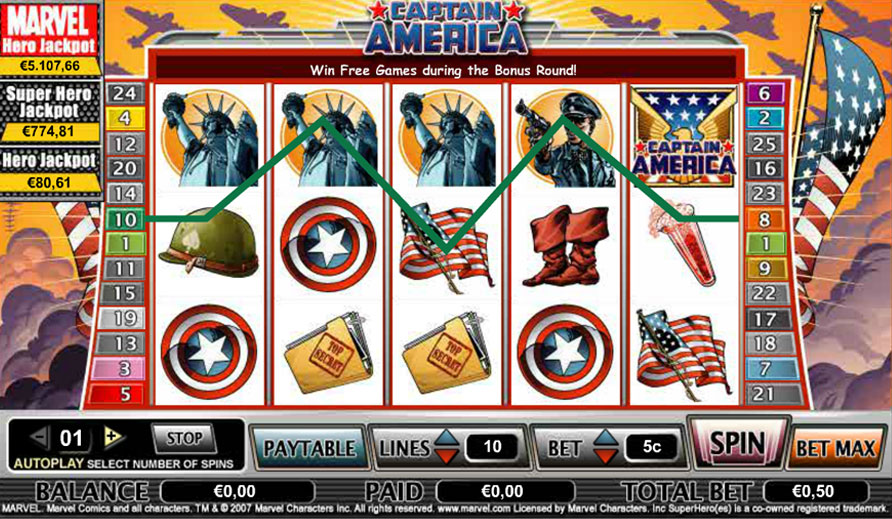 Oppsummert
Sloten Captain America kan virkelig omtales som et mesterverk på absolutt alle måter, alt fra grafikken i spillet, lyden, spillidéen og hvordan det hele har blitt gjennomført. I tillegg finnes det også en realtivt stor mengde spesialfunksjoner å kose seg med, og tempoet i spillet er rimelig høyt gjennom hele slotmaskinens gang. Captain America er helt klart en actionfylt slot, akkurat som han mest sannsynlig ville hatt det selv!