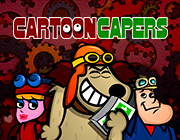 Cartoon Capers er en artig spilleautomat som leveres av 1×2 gaming. 1X2 gaming har mange ulike spilleautomater på markedet, og i Cartoon Capers har de kommet opp med enda et unikt tema. For noen år tilbake kunne man se serien Whacky Races på Cartoon Network. Det var en litt merkelig, morsom serie, som helt klart satt sine spor hos mange. Det er de samme karakterene som nå dukker opp i spilleautomaten Cartoon Capers. Spilleautomaten leveres med et enkelt design, hvor temaet virkelig er satt i fokus. Cartoon Capers ble lansert i 2013, og den er tilgjengelig hos alle nettkasinoene som tilbyr spilleautomater fra 1×2 gaming.
Spilleskjermen og grafikken
Spilleskjermen er enkel, og den er preget av en god grafikk. Grafikken har beholdt mye av den samme som man kunne se i den gamle TV-serien. Logoen er plassert på toppen av hjulene, og det er blant annet to morsomme øyne å skimte innimellom bokstavene. Symbolene som dukker opp på hjulene viser flere av de kjente karakterene fra serien. I tillegg er det røde bokstaver og tall som kan dukke opp. Alle symbolene er plassert opp mot den brune bakgrunnen på hjulene. Rødfargen går også igjen på oppmerkingen til innsatslinjene, og på funksjonsknappene.
Oppsettet
Cartoon Capers leveres med fem hjul. Nedover er det satt inn tre rader, og symbolene er fordelt utover de 15 posisjonene. Det er en total på 25 innsatslinjer, og de er oppmerket på hver side av hjuloppsettet.
Innsatsene
Spillerne i Cartoon Capers har et godt utvalg når det kommer til innsatser. Den høyeste innsatsen ligger på 62,50 i kreditt, mens laveste er på 0,25 i kreditt. Det er altså rom for at alle slags spillere finner et nivå som de er komfortable med å spille på. Innsatsene settes ved at spilleren velger antall mynter og myntverdien. Spillerne i Cartoon Capers har også muligheten til å justere ned på antall aktive innsatslinjer. Alle nye spillere kan også med fordel ta i bruk feature preview-knappen. Når man trykker på knappen får man se en kort video, som viser litt om hvordan spilleautomaten fungerer. Max bet- og autobet-knappene kan også tas i bruk av de spillerne som ønsker det. De er lagt til for at spillingen skal være enda enklere for spillerne.
Symbolene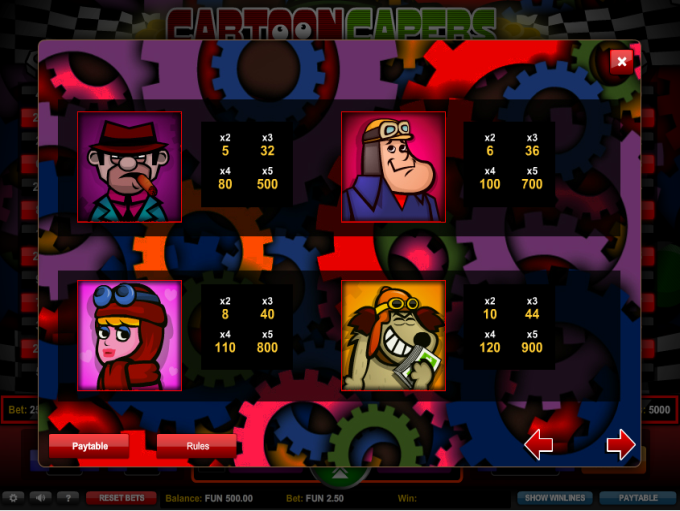 Det er et godt utvalg av symboler i spilleautomaten. Hver av symbolene har en egen verdi. Verdien på et symbol tilsier hvor mye man får i gevinst når man får en vinnende kombinasjon. Symbolene som er i form av bokstaver og tall, er standardsymbolene, og de har også den laveste verdien i spilleautomaten. Bildesymbolene er satt inn med en høyere verdi, og noen av dem fungerer også som bonussymboler.
Bonusfunksjoner

Cartoon Capers har flere gode bonusfunksjoner å by på. Wildsymbolet er blant dem, og den fungerer slik en joker ville ha gjort. Den kan kombineres med alle andre symboler, bortsett fra de to scattersymbolene som kan dukke opp vilkårlig på spillehjulene.
Det er to scattersymboler som kan dukke opp, og de aktiverer hver sin bonusrunde. Den ene bonusrunden går ut på at spilleren kan få gratisspinn. Det skal minst tre scattere til for at gratisspinn blir utdelt, og på det meste kan spilleren få 15 stykker. Den andre bonusrunden er en plukk og vinn bonus. Når bonusen er aktivert, får spilleren velge mellom ulike ikoner, og det vil avsløre ulike gevinster, som blir utdelt øyeblikkelig. Størrelsen på gevinstene, vil avhenge av hvor mange scattere som faktisk aktiverte bonusen i utgangspunktet. Den høyeste grensen på gevinster i plukk og vinn bonusen, er satt til 200 ganger innsatsen man hadde i den runden hvor bonusen ble aktivert.
Konklusjon
Cartoon Capers er en morsom og underholdende spilleautomat. Temaet får frem mange gode minner for spillerne. Innsatsnivåene er enkle å tilpasse, og de går innenfor de aller flestes grenser. Bonusfunksjonene er gode, og aktiveres titt og ofte i løpet av spillerundene. Cartoon Capers gir helt klart grunnlag for gode spilleopplevelser.