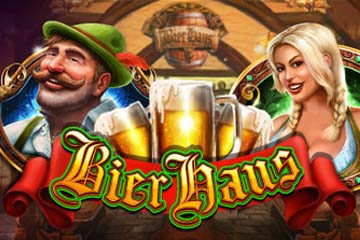 Det er ikke noe hemmelighet at mange forbinder en tur til selve Las Vegas med ganske store mengder alkohol, underholdning og selvsagt gambling på verdens flotteste kasinoer. Derfor er det heller ingen overraskelse at noen spillutviklere har skapt en videoautomat som bringer sammen disse tre tingene i en flott spilleautomat. Det er snakk om spilleautomaten som har fått tittelen Bierhaus og det er spillutviklerne hos Williams Interactive som står bak dette spillet. Det som kan sies om Bierhaus er at dette er virkelig et perfekt eksempel på en spilleautomat fra Las Vegas og i ekte Las Vegas stil. Det dette betyr er at det faktisk er selve ideen rundt hele spillet som er mest i fokus, i stedet for de overdådige animasjonene og mengdene med lydeffekter som man vanligvis finner i moderne spill. Dette er et deilig avbrekk fra alle de nyeste og moderne spilleautomatene fylt opp med 3D effekter, for noen ganger har man rett og slett ikke lyst til å spille et spill som det. Noen ganger er det deilig med et spill som kan blant annet friste med et lydbilde som er hentet rett fra Hollywood. Det er derimot ikke sagt at det ikke finnes noen spesialeffekter i Bierhaus, for spillet kan nemlig friste med både wildsymboler, en gratisspinn funksjon, stablede symboler og enda litt mer.
Lyd og grafikk i spillet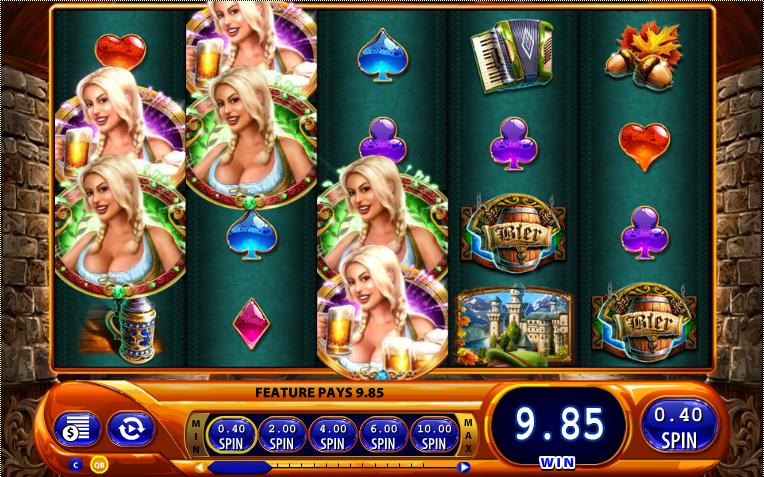 Temaet i Bierhaud følger selvsagt tittelen til spillet, og Bierhaus handler rett og slett om øl, damer som serverer øl og menn som virkelig elsker øl. Det er med andre ord et ganske uvanlig tema. En spilleautomat som har et tema som handler om øl må selvsagt komme med et lydbilde som passer perfekt til hele opplevelsen. Dette har spillutviklerne hos Williams Interactive sørget for og Bierhaus skuffer absolutt ikke. Både når man er inne i hovedspillet og selvsagt inne i gratisspinn funksjonen, vil lydeffektene og musikken bli helt vilt. Her er det absolutt ikke noe mangel på underholdning.
Spillernes ulike innsatsalternativ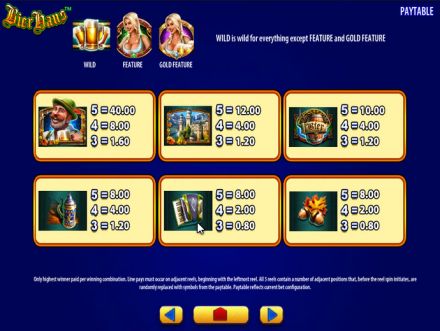 Bierhaus har fått et klassisk oppsett, noe som betyr fem hjul og fire rader fylt med flotte symboler. Dermed finnes det 40 spillelinjer som man vil kunne satse på. Her kan spillerne selv justere på hvor mange spillelinjer som skal aktiveres samt hvor mye som skal satses per spillelinje. Dette vil spillerne selvfølgelig gjøre ut fra menyen under hjulene i spillet. Den laveste innsatsen en spiller kan benytte i Bierhaus er på 0,40 $ mens den maksimale innsatsen er på hele 200 $. Det betyr at spillet kan passe for både nybegynnere som vil starte med lav innsats, og for high rollers som ønsker litt høyere risiko. Det som alle kasinospillere bør notere seg om dette spillet er at høyere innsatser resulterer i høyere gevinster.
Ulike effekter og spesialsymboler i Bierhaus
Som nevnt allerede har Bierhaus hentet mye inspirasjon hos klassiske spilleautomater, noe som betyr at spillet ikke har blitt stappet fullt med funksjoner som mange andre spill. Samtidig kan man jo egentlig spørre seg selv om hvor mange spesialfunksjoner man egentlig behøver. Det holder nemlig som regel med de gode gamle som wildsymboler og gratisspinn. To av spesialfunksjonene som man vil finne i Bierhaus, vil man kunne finne i hovedspillet. Fra disse spesialfunksjonene kan spillerne benytte seg av stablede symboler og wildsymboler som vil hjelpe med vinnende kombinasjoner. Dette øker selvsagt også sjansene for at flere gevinster i samme spinn blir enda større. Når det kommer til wildsymbolene, fungerer disse som vanlig og erstatter dermed alle andre symboler i spillet dersom det trengs for at en vinnende kombinasjon blir skapt. Til sist finnes gratisspinn funksjonen. Denne vil bli aktivert i Bierhaus når den flotte damen dukker opp på minimum tre ulike posisjoner på hjulene. Dersom dette skjer vil spillerne bli belønnet med opp til 15 gratisspinn. Det som gjør denne funksjonen litt spesiell, er at to wildsymbol dukker tilfeldigvis opp og blir værende igjen for de resterende gratisspinn. Nok en ting som hjelper spillerne med gevinster i Bierhaus.