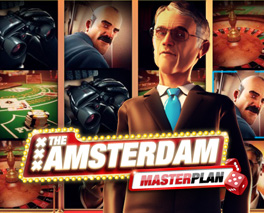 The Amsterdam Masterplan er et flott eksempel på en spilleautomat. Den er gjennomført bra, uansett om man ser på temaet, spilleskjermen, eller bonusene. De som får æren av å sette sitt navn på denne spilleautomaten er ingen andre enn Blue Gem Gaming. Deres spilleautomater imponerer stadig, og når man har spilt på en av dem, så forstår man gjerne hvorfor. Det er noe med kombinasjonen av det tradisjonelle og det som regnes som nyskapende. Blue Gem Gaming har flere ganger vist at det fungerer. For å prøve ut The Amsterdam Masterplan, er det kun en ting man må gjennom først, og det er å sette innsatsen man skal spille med. Når det er gjort er det bare å få i gang hjulene, og glede seg til det som kommer.
Spilleautomatens oppsett
Blue Gem Gaming er opptatte av det tradisjonelle når det kommer til oppsett. De bruker samme oppsett i alle sine spilleautomater, og det er kun på innsatslinjene de kan variere. Oppsettet er sammensetning av fem hjul og tre rader, som tilsammen utgjøre en firkant som er satt midt på spilleskjermen. På hver side av firkanten finner man et oppsett med tall. Det er tallene som viser hvor innsatslinjene er satt. Oppsettet leveres også med et antall knapper, som er plassert på den nederste delen av skjermen. Knappene blir tatt i bruk når spilleren skal justere innsatsen det skal spilles med.
Innsatsene
Spilleren bestemmer selv hvor høy eller lav innsats det skal spilles med. Blue Gem Gaming har ikke satt inn fritt valg, men de har satt inn noen ganske brede grenser som spilleren kan velge mellom. Først og fremst så har spilleren 20 innsatslinjer å spille på. De er justerbare, for de spillerne som syntes at det er for mye. Det kan for eksempel også spilles med 10 innsatslinjer. Det er rett og slett opp til spilleren. På de aktive innsatslinjene så skal det satses et antall mynter. Spilleren bestemmer selvfølgelig hvor mange det er, og det kan være alt mellom en og fem. Myntene må også få en verdi før man kan begynne å spille. Verdien kan ligge på mellom 0,01 og 1 i kreditt. Hvis spilleren ønsker å spille med høyest mulig innsats, så kan det gjøres på en enda enklere måte. Det er nemlig lagt inn en knapp som automatisk justerer innsatsen opp til høyeste nivå. Spinnknappen er den som spinner i gang hjulene, med mindre man vil at spilleautomaten skal gå automatisk. Da kan man heller trykke på autospinnknappen.
Bonuser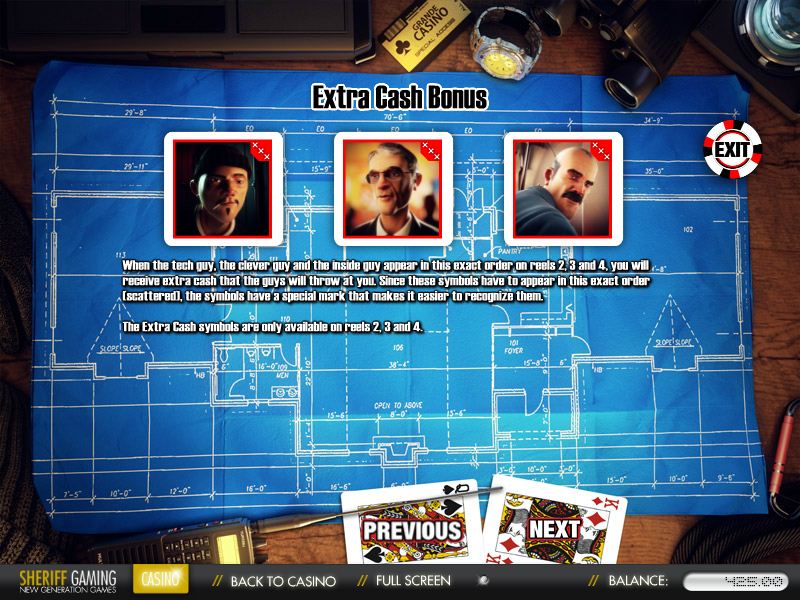 Bonusene er virkelig noe å se frem til i The Amsterdam Masterplan. Det midterste hjulet i oppsettet er viktig å følge med på, med tanke på wildsymboler. Det er kun der de kan dukke opp, og når de først gjør det, så vil de dekker hele hjulet. Den ekspanderende funksjonen kommer også med en flott animasjon som man får se på selve hjulet. Et helt hjul dekket med wildsymboler vil øke vinnersjansene for spilleren. Et annet spesialsymbol kan dukke opp på det femte hjulet i oppsettet. Når den er synlig på det midterste punktet på det hjulet, så vil man få aktivert en bonus. Bonusen lar spilleren spinne på et lykkehjul, og det vil bli utbetalt en tilfeldig gevinst, ut i fra hvilken del av hjulet man stopper på. Spilleren kan også bli belønnet med et antall gratisspinn. På det meste kan spilleren få 15 stykker, men det er alltid mulig å samle opp flere, takket være flere scattere som dukker opp på hjulene.
Temaet og spilleskjermen
Temaet i The Amsterdam Masterplan er kasino. Handlingen tar i alle fall sted på et kasino, men det er noe mystisk som har skjedd, og man kjenner virkelig på spenningen. En ordentlig introduksjon til temaet får man gjennom filmklippet som blir vist før man får tilgang til spillet. Det er et utrolig flott filmklipp, som kunne ha passet like godt til en kinofilm som det gjør til en spilleautomat.