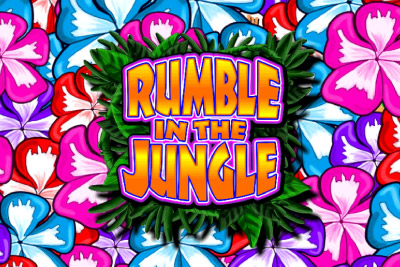 Mazooma Interactive Games er spillutviklerselskapet som står bak spilleautomaten Rumble in the Jungle. Mazooma har flere spilleautomater ute på markedet men det er tydelig at de har tatt opp utviklingen litt og har derfor endt opp med et mye høyere nivå innen spilleautomater . spilleautomaten Rumble in the Jungle er helt klart den mest fargerike spilleautomaten fra spillutviklerselskapet og de viser også at de følger med på hva som finnes på markedet allerede. De har valgt å sette inn et unikt tema og de har presentert det hele på en utrolig god måte. Tema de har valgt å fokusere på er junglene og forskjellige ting som gjerne forbindes med det. Det er et tema som inviterer til utflukt og til utforsking av den utrolig flotte naturen som man finner i jungelen. Det er et tema som de har klart å få frem på en veldig god måte, blant annet på spilleskjermen.
Spilleskjermen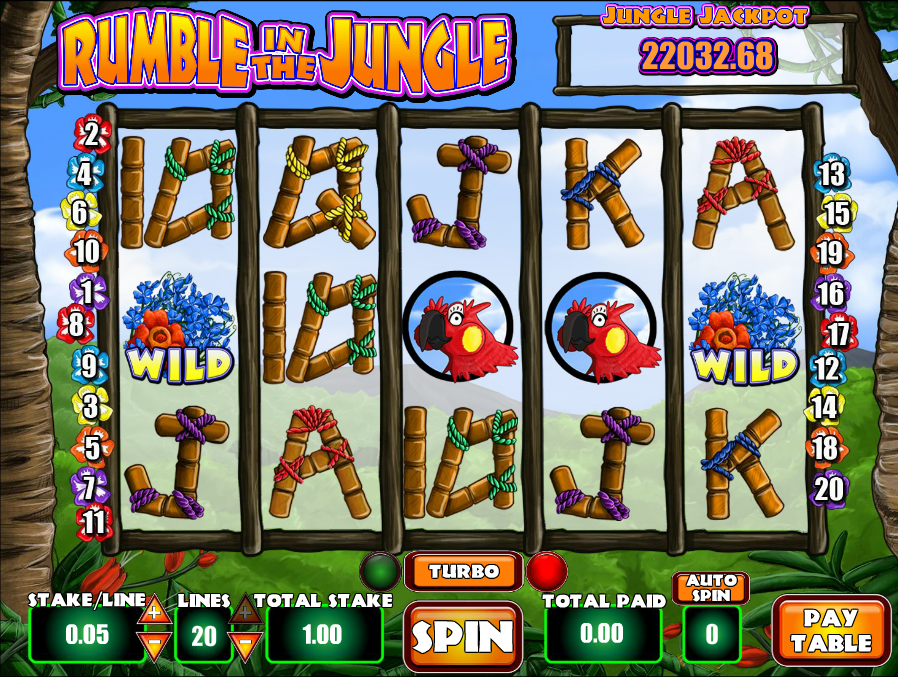 Spilleskjermen i Rumble in the Jungle er utrolig flott å se på og det kommer godt frem at kvaliteten på grafikken er høy. Det er et utrolig klart bilde over det hele og mange flotte detaljer som kan legges merke til. Bakgrunnsbildet på spilleskjermen viser en nydelig blå himmel som skinner over en frodig og grønn jungel. På hver side av bakgrunnsbildet kan man skimte ulike trær og andre vekster som er typiske for jungelen. Logoen i spilleautomaten finner man øverst til venstre. Den er i form av oransje bokstaver som har fått en lilla linje rundt. Midt på spilleskjermen finner man da spilleautomatens hjul. De er rammet inn med en solid treramme og det er også treverk som skiller hjulene fra hverandre. Bakgrunnen på selve hjulene er litt lysere enn bakgrunnsbildet, men det skinner likevel litt gjennom. På hjulene finner man spilleautomatens symboler. Symbolene er satt inn i flere forskjellige former. Man har noen symboler som er hentet fra en vanlig kortstokk, og de er da formet i treverk som er surret sammen at noe tau. Det er også noe bilde symboler, blant annet i form av en papegøye. Symbolene står flott til tema i spilleautomaten.
Oppsettet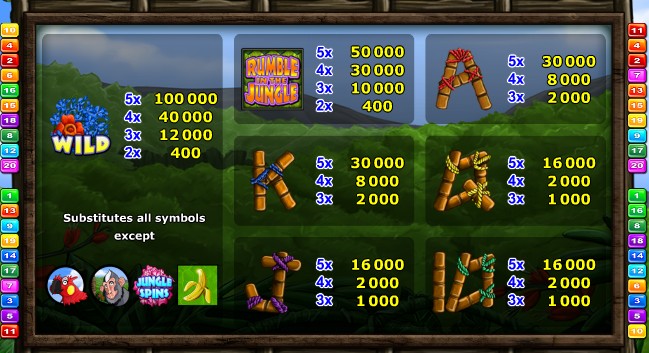 Oppsettet som Mazooma har valgt å bruke er den mest tradisjonelle innen spilleautomater og den består av fem hjul og tre rader med symboler og totalt er det satt inn 20 innsatslinjer. Nederst på spilleskjermen vil man da finne et oppsett med knapper og blant disse er det satt inn to justeringsknapper. Den ene justeringsknappen er til for å justere innsatslinjene. De er ikke satt inn som faste så spilleren bestemmer selv hvor mange som skal være aktivert. Den andre justeringsknappen er til for å justere innsatsen man skal ha per aktive innsatslinje. Innsatsen per innsatslinje starter på to og kan da justeres oppover. I tillegg til justeringsknappene kan man da finne en hjelpeknapp også. Hjelpeknappen er en autoplayknapp. Den fungerer da sånn at den vil gjøre at spilleautomaten går av seg selv et bestemt antall runder.
Spesialfunksjoner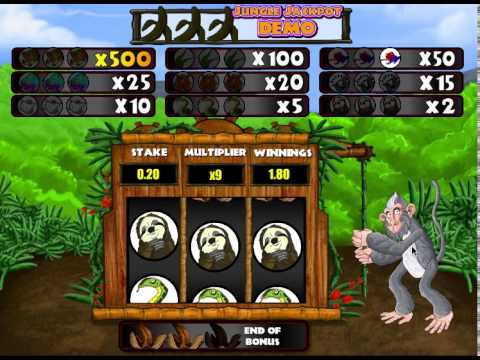 Det er lagt inn en god del spesialfunksjoner i spilleautomaten og de blir da aktivert med tilhørende spesialsymboler. Blant spesialsymbolene finner man et wildsymbol. Wildsymbolet er i form av ville blomster og den fungerer da som spilleautomatens joker. Som joker erstatter den alle andre vanlige symboler på hjulene og bidrar til flere sjanser for å få gevinstgivende kombinasjoner. Det andre spesialsymbolet er i form av en tekst hvor det står Jungle Spins. Hvis man får tre eller flere slike symboler på hjulene samtidig vil man få tildelt fem gratisspinn, i tillegg til at man vil ha muligheten til å vinne bonusen som er lagt inn i spilleautomaten. Får man tre symboler som er i form av en apekatt vil man få aktivert apekatt bonusen. Det er også mulig å aktivere en papegøyebonus, og det gjøres med papegøyesymbolene. Papegøyebonusen går ut på at man får trykke på ulike papegøyer og bak de vil de skjule seg multiplikatorer av ulik verdi.