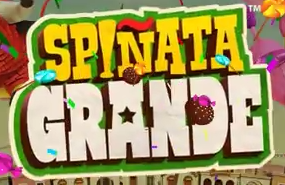 Spiñata Grande er den nyeste spilleautomaten fra Net Entertainment. Spilleautomaten ble sluppet ut på markedet i mars 2015, og den kommer trolig til å imponere mange spillere. Spilleautomaten leveres med et flott tema, som kan beskrives som unikt. Presentasjonen er bra og det er en sjarm over denne spilleautomaten. Oppsettet er klassisk og det er veldig enkelt for spillerne å komme i gang. Det er et godt utvalg av innsatsnivåer, og det er selvfølgelig spillerne som bestemmer selv hvor mye de skal satse. Spilleautomaten leveres også med flere gode spesialfunksjoner. De kan aktiveres underveis i en spillerunde, med tilhørende spesialsymboler.
Oppsettet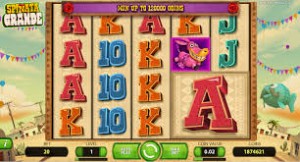 Spiñata Grande presenteres med et oppsett som er satt sammen av fem hjul og fire rader med symboler. Net Entertainment har altså valgt å legge inn enn ekstra rad, i forhold til det som regnes som det mest klassiske oppsettet. Når det kommer til innsatslinjer, er det lagt inn 40 stykker. De er også lagt inn som faste. Det vil si at spilleren ikke har mulighet til å justere ned på dem. Det er likevel noen justeringer som kan gjøres av spilleren, men de kommer i forhold til innsatsen for en spillerunde.
Innsatser
Innsatsen for en spillerunde settes ved at spilleren tar i bruk de to forskjellige justeringsknappene. Den ene justeringsknappen bestemmer hvor mange mynter som skal satses, mens den andre bestemmer hvor høy verdien skal være på de utvalgte myntene. De er plassert nederst på spilleskjermen. Justeringsknappene kan brukes mellom hver spillerunde, slik at spilleren kan velge å prøve ut flere forskjellige innsatsnivåer. Myntverdien kan ligge på mellom 0,01 og en i kreditt. For å gjøre spillopplevelsen enda enklere for spilleren, har Net Entertainment valgt å sette inn to hjelpeknapper. Den ene vil gjøre at spilleautomaten går av seg selv et bestemt antall runder. Den andre vil gjøre at spilleren får spilt med høyest mulig innsats, uten å måtte ta i bruk justeringsknappene.
Spilleskjermen og tema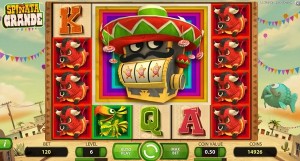 Spilleskjermen i Spiñata Grande er utrolig flott laget. Det er en litt gammeldags stemning over det hele. Det kommer trolig frem på grunn av fargevalgene som Net Entertainment har gjort. Som bakgrunnsbilde er det lagt inn et bilde av en landsby. Man kan skimte små hus, og en blå himmel som skinner over. Det er også hengt opp noe fargerik pynt over landsbyen, og det ser ut til at det er klart for fest. Øverst i venstre hjørne har man spilleautomatens logo. Midt på spilleskjermen finner man hjulene, som er rammet inn med en ramme som ser ut til å være laget av tre. Bakgrunnen på selve hjulene er i en beige farge, og symbolene er alle veldig fargerike. Det er en god grafikk som er blitt brukt, som gjør at de fine detaljene kommer frem.
Spesialfunksjoner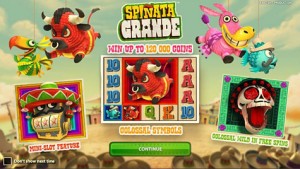 Spiñata Grande leveres med flere gode spesialfunksjoner. Spesialfunksjonene er lagt inn for at spilleren skal få aktivert noen fordeler i en spillerunde. Fordelene blir aktivert med utvalgte symboler, som må dukke opp i en spesiell kombinasjon på hjulene. Først og fremst er det lagt inn et wildsymbol. Wildsymbolet har samme funksjoner som en joker, og den øker dermed sjansen for at spilleren får vinnende kombinasjoner på hjulene. Wildsymbolet kan også dukke opp som stablet, slik at den tar flere posisjoner på hjulene. Det øker vinnersjansene enda mer. I tillegg til et wildsymbol, finner man et scattersymbol. Scattersymbolet er unikt, for det dukker opp spredt på hjulene. For at den skal aktivere en spesialfunksjon, trenger den med andre ord ikke å dukke opp på hjul som står inntil hverandre. Med tre eller flere synlige scattere får spilleren aktivert noen gratisspinn. Gratisspinnene koster ikke noe for spilleren å spille. Det vil si at det kun kan komme penger inn, og det går ingen penger ut. Antall gratisspinn vil variere ut i fra hvor mange scattere man får på hjulene. Wildsymbolene kan også dukke opp underveis i gratisspinnene, slik at de fortsetter å gi spilleren flere vinnersjanser.