Bønder ekke byfolk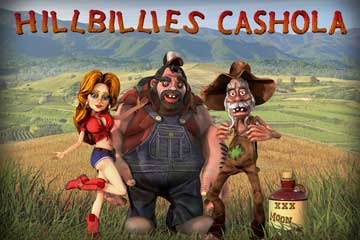 Hillbillies Cashola er en spilleautomat fra Real Time Gaming, kortere RTG, som har bondelivet i fokus. Hillbillies er et ord for «bondeknøler» i USA, men det er aldri vondt ment. Folk som vokser opp på landet har en mer jordnær, stressfri holdning til livet – dette kan byfolk virkelig lære av. RTG har holdt en positiv, festlig tone når de skapte denne tematiske spilleautomaten. Bakgrunnen er vakker, med små og store grønne holmer og jordbruk så lang øyet kan se. Symbolene er bygd med 3D-grafikk, men grundigheten peker mot at designerne har brukt lang tid på å forme dem. Bakgrunnsmusikken og lydeffektene er godt tilpasset det generelle temaet, noen ganger kan man høre en såkalt hillbilly rope høyt i bakgrunnen. RTG har også inkludert en rekke animasjoner som vekker Hillbillies Cashola til liv, mange av disse vil du ikke merke til å begynne med, men med tiden dukker de opp og viser hvor detaljert denne spilleautomaten faktisk er. Som på mange andre moderne spilleautoamter, er symbolene delt opp i kortsymboler, her fra 9 til A, samt bildesymboler. Kortsymbolene gir de mindre gevinstene, mens de animerte hovedsymbolene gir opp til femti ganger pengene tilbake. Det er bøndene Hillbillies Cashola handler om, og det er disse som er de viktigste symbolene på spilleautomaten. De gir høyere gevinster, de forvandler seg til alle andre symboler og starter runder med gratisspinn. Bøndene kommer i forme av en gammel mann (han som skriker), en middelaldrende men vakker kvinne og en alkis – typiske karakterer fra amerikanske filmer om bondelivet.
Gratisspinn og wildsymboler på Hillbillies Cashola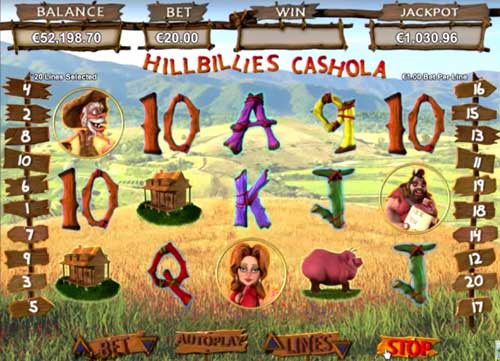 RTG har gjort en god jobb med å frembringe det stereotypiske bondelivet i USA, med passende countrymusikk og kule symboler. Svin, hunder, bondehus, hjemmebrent og ingen naboer i en mils omkrets. De tre bøndene vi nevnte er wildsymbolene og scattersymbolene samtidig – dette er veldig originalt fra RTG. Dermed er det disse tre hovedkarakterene man må følge med på, det er de som bestemmer utfallet av kveldens spilling. Når en av dem dukker opp på skjermen, forvandler han eller hun seg til et hvilket som helst annet symbol, helt etter behov. Dukker to eller tre bønder opp, kan du altså nyte av både heftige kombinasjoner som wildsymbolet skaper og åtte gratisspinn med dobling av alle gevinster. De største utbetalingene i spillet spyttes ut når de tre hillbilliene hjelper deg med å sette en kombinasjon av fem like. Treffer du på de tre bøndene og to andre like symboler på samme gevinstlinje, får du alt fra 2000 til 5000 mynter utbetalt. Her finner man forresten 20 gevinstlinjer og brede innsatsmuligheter, selv om maksinnsatsen kunne vært noe bedre enn en hundrelapp. Når en runde gratisspinn settes i gang, vil man se gevinstene rulle inn – det beste med Hillbillies Cashola er at man kan vinne flere kostnadsfrie spinn underveis, og dette skjer ganske så hyppig. Utbetalingsraten på denne spilleautomaten fra Real Time Gaming er relativt høy sett i forhold til andre lignende maskiner, men den største grunnen til at kasinospillere strømmer til er selvfølgelig den progressive jackpotten.
Progressiv jackpot på Hillbillies Cashola
Det er ikke lenge siden spilleautomater med progressiv jackpot kun var å finne på de største spillportalene. Utvalget var ikke stort, og kun et par maskiner kunne skryte av jackpotter i millionklassen. Nå om dagen har langt flere spillutviklere inkludert progressive jackpotter i sine spilleautomater – enkelte har til og med flere jackpotter på en og samme maskin. Tematiske spilleautomater, klassiske spilleautomater, nå også spilleautomater med bønder i fokus. Hillbillies Cashola kan kanskje ikke vise til gigantiske jackpotter, men muligheten til å plutselig bli noen titalls tusen kroner rikere er alltid god å ha i tankene. Hillbillies Cashola er en spilleautomat som passer godt for hobbyspillere, de som gjerne vil ha en stor jackpot, men ikke vil hoppe på de store maskinene helt enda. RTG har sørget for at Hillbillies Cashola er underholdende, med nok av kule detaljer. Legg merke til det lille dyret som dukker opp i de nederste hjørnene fra tid til annen!