Om spillet
Hva skal egentlig til for å få en morsom og litt leken spilleautomat. Det er mye som tyder på at NextGen Gaming vet svaret, i alle fall når man ser på spilleautomaten Mad Mad Monkey. De har tatt for seg et tema som omhandler apekatter, og apekatter er jo kjent for å være lekne og morsomme dyr. I tillegg har NextGen Gaming brukt en utrolig god grafikk i spillet som får fram temaet på en utrolig god måte og gir et utrolig godt inntrykk til spillerne. Det man har i spilleautomaten Mad Mad Monkey er en utrolig energisk spillefølelse som virkelig kommer til å gi en veldig god spilleopplevelse. De som først prøver ut Mad Mad Monkey vil garantert komme tilbake for å få mer.
Grafikk og lyd i spillet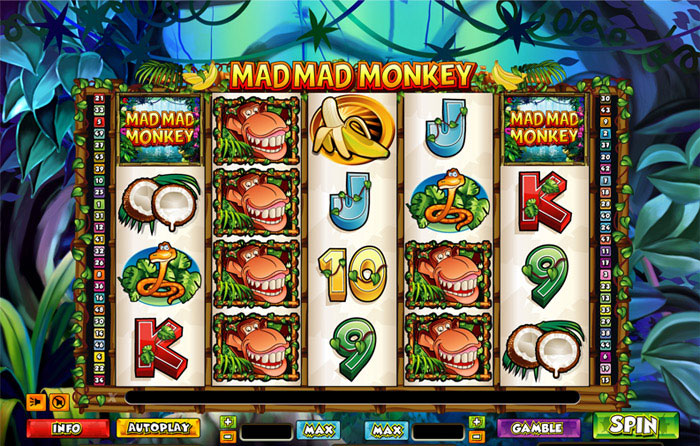 Som nevnt har Mad Mad Monkey et ganske morsomt og vilt tema, og det er tydelig at grafikken er preget av dette. Det er tross alt grafikken som er med på å få frem spillets tema, og det har NextGen Gaming passer godt på. Det er en fargerik spilleskjerm som møter spillere når de begynner å spille og man kan ikke annet enn å smile når man ser de morsomme apekattene. Bakgrunnen i spillet er formet som et litt mørkt bilde av en jungel, men da frisket opp med noen flotte blå og grønne toner. Man kan se en mengde ulike frodige planter, som nesten slynger seg om hjulene. Nederst på spilleskjermen finner man knappene i spillet, som er formet utrolig enkelt og lar bakgrunnen tale for seg. Rammen rundt hjulene i spillet er formet som en grønn slyngplante og på toppen av det hele finner man spillets logo. Den er utformet i gule bokstaver og på hver side finner man en klase med bananer. Bakgrunnen på selve hjulene er lys, slik at symbolene kommer enda bedre frem. Symbolene presenterer papegøyer, slanger og apekatter, i tillegg til flere ulike eksotiske frukter. Lydbildet som er lagt på spillet fungerer godt til temaet. Man har en god bakgrunnsmusikk som følger spilleren gjennom hovedspillet, og underveis får man høre ulike lydeffekter som blir laget av hovedkarakteren, nemlig apekatten selv.
Innsatser i spillet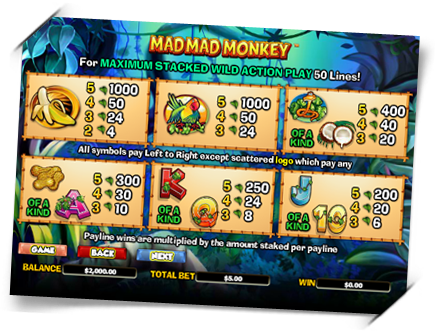 NextGen Gaming har gjort alt veldig enkelt og latt innsatsen være helt opp til spilleren selv. Det er satt inn til sammen 50 innsatslinjer, men disse kan spilleren velge å regulere på. I tillegg er det spilleren som justerer myntverdien i spillet. Myntverdien kan ligge på mellom 0,10 kr og opp til 2 kr. Innsatsnivået i spillet er det eneste som er fastsatt. Laveste mulige innsats totalt i en runde kan ligge på 5 kr, mens høyeste mulige innsats totalt kan ligge på 100 kr. Det er med andre ord et ganske lavt innsatsnivå, slik at spillet kan passe de aller fleste. Selvfølgelig kan man også benytte seg av autospinn, samt gamble gevinstene sine.
Spesialfunksjoner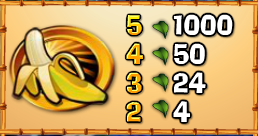 Wildsymbolet i spillet, som er formet som en apekatt, fungerer som spillets joker. Symbolet kan med andre ord erstatte alle andre symboler som spinner rundt på hjulene. På hjul to, tre og fire dukker wildsymbolet opp som stablet symbol. Det vil si at symbolet kan ende opp med å dekke hele hjulet. Har man litt flaks med seg i spillet kan man faktisk ende opp med tre hjul dekket med wildsymboler. Scattersymbolet i spillet er det symbolet som både gir ut kontantgevinster og som gir ut gratisspinnrunder. Kontantgevinstene får man ved at man får to eller flere scattersymboler på hjulene. Kontantgevinsten blir resultatet av mellom to ganger innsatsen og opp til 400 ganger innsatsen. Får man tre eller flere scattersymboler på hjulene får man tildelt ti gratisspinnrunder og alle gevinstene man får i løpet av disse rundene vil bli ganget med tre. Underveis i gratisspinnrundene vil man få flere stablede symboler, da både scattersymbolene og bananasymbolene kan dukke opp som stablede symboler. Dette er med på å øke vinnersjansene i rundene.