Om spillet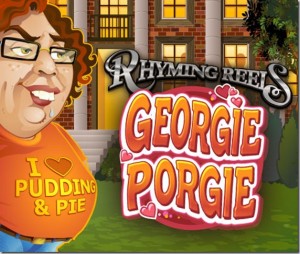 Microgaming heter det spillselskapet som står bak videosloten Georgie Porgie. Microgaming står bak noen av de mest populære slotmaskinene man finner på nettkasinoer i dag, og så fort man begynner å spille et av deres spill forstår man så godt hvorfor. Georgie Porgie har et veldig originalt og morsomt tema som ikke har blitt sett før i en spilleautomat. Utformingen og presentasjonen av spillet er utrolig god, og det levner liten tvil om at Microgaming vet hva de driver med.
Spillets tema
Temaet som er valgt for spillet Georgie Porgie har tatt inspirasjon fra en veldig kjent vuggevise som finnes på engelsk. Det finnes uttallig mange versjoner av denne vuggevisa, men det som alltid er likt er at det er Georgie Porgie som er i fokus. Det samme gjelder i denne spilleautomaten, det er nemlig han som er spillets hovedkarakter. Georgie Porgie er en gutt som ikke er så veldig populær, og veldig ofte mislikes han sterkt av jentene. Tema i spillet kommer utrolig godt frem, spesielt takket være den gode grafikken som er lagt på spillet.
Grafikk, symboler og lyd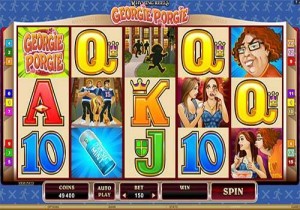 Grafikken som er lagt på en spilleautomat er utrolig viktig, både for å få frem spillets tema og for å gi spilleren en så god spilleopplevelse som mulig. Inspirasjonen til Georgie Porgie kommer jo fra en vuggevise og hovedkarakteren der er nok en liten gutt. I spilleautomaten Georgie Porgie så har gutten blitt litt eldre, men har beholdt den samme karakteren. Grafikken i spillet viser Georgie Porgie som en nerd, som har store briller og et litt merkelig utseende. Karakteren til Georgie Porgie kommer godt frem fra de ulike symbolene som man finner på hjulene, som viser ham i ulike settinger. Bakgrunnen i spillet er utformet enkelt med en blå bakgrunn, dette er nok bevisst, slik at spillets hovedkarakter kommer ordentlig frem. Lydbildet som er lagt på spillet er utrolig godt tilpasset tema. Det er nemlig musikken til vuggevisa Georgie Porgie som er spillets bakgrunnsmusikk. I tillegg til dette har man flere lydeffekter som blir aktiverte etter hvert som man spiller og utløser ulike funksjoner.
Oppsett og innsats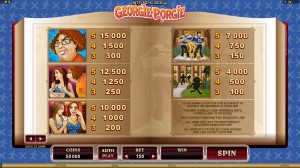 Oppsettet i Georgie Porgie er klassisk i forhold til det man er vant til å se i et slotspill. Man har til sammen fem hjul, tre rader med symboler og totalt finner man 15 innsatslinjer. Innsatslinjene i spillet er ikke faste. Det vil si at spilleren kan velge å gjøre om på antallet aktive linjer. Innsatsen i spillet kan justeres på to måter. Enten kan man velge å benytte seg av de forhåndsbestemte innsatsnivåene, eller så kan man velge å justere alt selv. Da må man justere antall innsatslinjer, myntverdien man ønsker å spille med og antall mynter per innsatslinje. Myntverdien i spillet kan ligge på mellom 0,01 euro og opp til 0,10 euro. Antall mynter kan ligge på alt fra én og opp til 10 per linje. Høyeste mulig innsats i én runde ligger på 15 euro. Georgie Porgie passer utmerket for de som ikke liker å satse altfor høyt når de spiller.
Spesialfunksjoner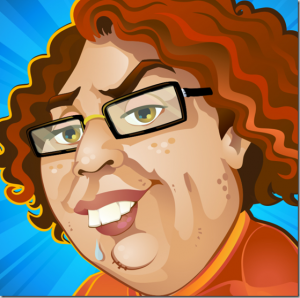 Det finnes to ulike spesialsymboler i spillet som kan påvirke spillets gang en god del. Wildsymbolet er spillets joker og fungerer slik at den kan erstatte alle andre symboler på hjulene. I tillegg så har den en multiplikasjonsfunksjon som aktiveres hver gang man får en vinnende kombinasjon hvor wildsymbolet er en del av kombinasjonen. Den kan på det meste multiplisere gevinsten med fem. Scattersymbolet i spillet er det symbolet som vil utløse gratisspinnene. Man trenger minst tre slike symboler spredt fritt på hjulene for å aktivere denne ekstrafunksjonen. Med tre scattersymboler får man 15 gratisspinn, og med fem scattersymboler så får man 25 gratisspinn. Alle gevinstene man får under gratisspinnene vil bli ganget med fem. I tillegg er det ingen begrensninger på hvor mange gratisspinn man kan aktivere. På slutten av hver runde kan man velge å bruke gamblefunksjonen. Den lar spilleren prøve å doble gevinsten som allerede er utdelt.