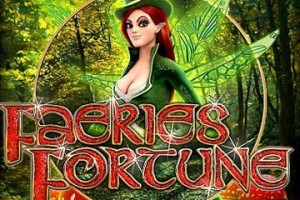 Faeries Fortune er en flott og fengende spilleautomat, og den leveres av Big Time Gaming. Spillutviklerselskapet har noen spilleautomater på markedet fra før av, men denne ser ut til å være den beste hittil. De har tydelig fokusert på å ha et flott tema, og presentasjonen er av topp kvalitet. Spillerne som begynner å spille Faeries Fortune, vil helt klart sitte igjen med et godt førsteinntrykk. Temaet er veldig tydelig, og det er et tema som er fokusert på flere ting som fenger veldig mange. Oppsettet er klassisk, men skaper en veldig brukervennlig spilleautomat. Det er lagt inn et bredt utvalg av innsatsnivåer, slik at de aller fleste finner et nivå de er fornøyde med å spille på. For å se hva Faeries Fortune egentlig har å tilby, er det bare å få satt i gang hjulene.
Oppsettet
Oppsettet man finner i Faeries Fortune er veldig nærme det man kaller et klassisk oppsett. Big Time Gaming har valgt å legge inn en liten vri, og det er gjort ved å sette inn en ekstra rad med symboler. Til sammen i oppsettet er det fem hjul, hvor det er fire rader med symboler. Verken hjulene eller radene er justerbare for spilleren, og innsatslinjene er heller ikke justerbare. Hver spillerunde i Faeries Fortune blir spilt med 40 innsatslinjer. For at spilleren skal ha noe å si for sin spillerunde, er det lagt inn en justeringsknapp. Justeringsknappen brukes av spilleren for å sette opp eller ned innsatsen per innsatslinje. Innsatsen per innsatslinje starter på 0,01 og kan settes opp til en i kreditt. I en spillerunde vil totalen kunne ligge så høyt som 40 i kreditt. Hvis spilleren ikke er fornøyd etter første runde, er det alltid mulig å gjøre en gjenjustering.
Temaet og symbolene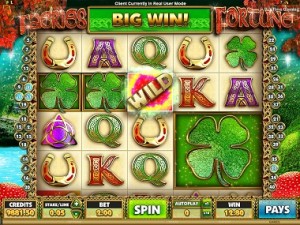 Temaet i Faeries Fortune er en god blanding av fantasi og lykke. Det er feer og andre fantasiskapninger som kommer frem. Lykken kommer gjennom fra noen av symbolene som man finner spinnende rundt på hjulene. Det er noen symboler som regnes som lykkesymboler, og det er blant annet firkløver og hestesko. Begge disse er representert i denne flotte spilleautomaten. Bakgrunnsbildet som man ser på spilleskjermen viser mange deler av det som ser ut som en fantasiverden. Det er flotte farger som får frem alle de fine detaljene, og spilleren vil nesten føle seg litt oppslukt i temaet. Blant de forskjellige symbolene på hjulene, finner man noen som har unike funksjoner når de blir synlige på hjulene.
Spesialfunksjoner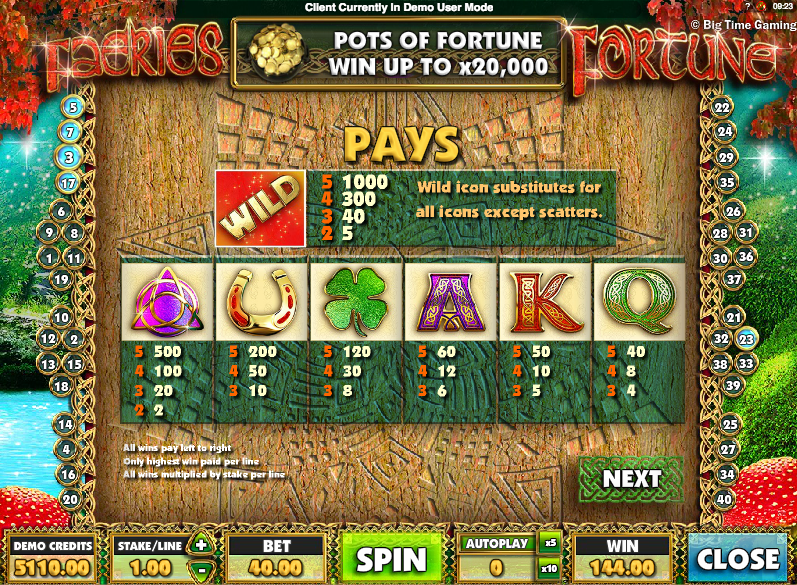 Spesialfunksjonene i spilleautomaten er lagt inn for å gi spilleren bedre vinnersjanser. Faeries Fortune leveres med en unik funksjon med symbolene, og den har blitt kalt megasymbols. For å få se denne funksjonen, må spilleren aller først få aktivert gratisspinnbonusen. Det er bonussymbolet som står for aktiveringen av gratisspinnene. Bonussymbolene kan dukke opp hvor som helst på hjulene, og det varierer på hvor mange gratisspinn spilleren får. Den første gratisspinnrunden som utdeles vil spilles på vanlig måte. Det er etter dette at spilleren kan få se megasymbolene. Megasymbolene er laget slik at et vanlig symbol plutselig kan bli et stort symbol, og den vil naturligvis dekke flere posisjoner på hjulene. Megasymbolene er dermed med på å øke vinnersjanse for spilleren. Det er tilfeldig hvor mange megasymboler som kan dukke opp på hjulene i en spillerunde. I tillegg til gratisspinnene og megasymbolene, er det lagt inn to andre spesialfunksjoner. Den ene har blitt kalt faeries gems og den andre har blitt kalt pots of fortune. Begge de nevnte spesialfunksjonene fungerer på samme måte, men det er i den som heter pots of fortune at man kan vinne mest. Det er bonussymbolene som spiller inn på aktiveringen av disse to spesialfunksjonene også, og jo flere bonussymboler man får på hjulene, jo bedre er det. Hvert bonussymbol vil medføre en ekstra spillerunde i en av spesialfunksjonene. Jo flere spillerunder man får, jo høyere er sjansen for at man ender opp med en skikkelig god gevinst.