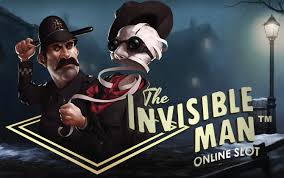 The Invisible Man er en spilleautomat som kommer fra spillutviklerselskapet Net Entertainment. Net Entertainment er et av de fremste navnene innen spillutvikling og selskapet har veldig mange populære spilleautomater ute på markedet. De viser stadig at de klarer å komme opp med unike temaer for sine spilleautomater, noe som da gjør at de ikke bare forsvinner i mengden. The Invisible Man er også en spilleautomat med et veldig unikt tema. Net Entertainment har tatt tak i en roman som ble skrevet av forfatteren H.G.Wells. Romanen ble i senere tid satt i en film, som ble gitt ut i 1933. Temaet i romanen er en blanding av skrekk og science fiction og det handler om en mann som har en helt spesiell evne – han er nemlig usynlig. Det han ender opp med å bruke denne evnen til er at han skremmer folk og gjør det hele rett og slett til en ubehagelig opplevelse. Det er et utrolig spennende tema å finne i en spilleautomat og Net Entertainment har presentert det på en veldig god måte. Det finnes også flere gode spesialfunksjoner i spilleautomaten, som også er satt opp i inspirasjon av tema.
Grafikk og spilleskjermen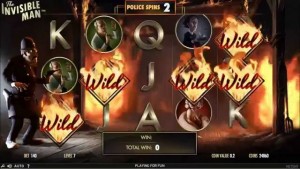 Spilleskjermen i The Invisible Man er veldig mørk og dyster, noe som passer utmerket til tema. Det er også et gammeldags preg over det hele, noe som går hånd i hånd med at det er en ganske gammel roman og film. Bakgrunnsbildet på spilleskjermen er veldig mørk og vinkelen ser ut til å være satt fra et bord. På dette bordet kan man se ulike flasker med noe mystisk innhold, og man kan også se deler av et rom. Øverst på spilleskjermen, helt til venstre, har man spilleautomatens logo. Den er formet i noen veldig enkle bokstaver. Over spilleautomatens hjul og symboler har man et utsagn hvor det står «an invisible man can rule». Midt på spilleskjermen har man spilleautomatens hjul og symboler. Hjulene har ikke en egen bakgrunnsfarge, så det er bakgrunnsbildet som skinner gjennom. Symbolene er i to forskjellige former, da noen av dem er i bilder, mens noen av dem er de høyeste symbolene fra en vanlig kortstokk. På symbolene som er i form av bilder kan man se ulike karakterer som er hentet fra historien. Nederst på spilleskjermen har man et oppsett med knapper, og de er satt i farger som passer til resten av spilleskjermen.
Spesialfunksjoner i spilleautomaten
The Invisible Man har en hel del spesialfunksjoner og de er alle inspirert av deler fra historien. Man finner for det første to forskjellige wildsymboler. Det ene wildsymbolet kan kun dukke opp på hjul en og det er i form av en politimann. Det andre wildsymbolet kan kun dukke opp på hjul fem og det er i form av den usynlige mannen. Det som er spesielt med begge wildsymbolene er at når de dukker opp på hjulene kan de aktivere en re-spinn og wildsymbolet vil da bli flyttet et hakk videre, til neste hjul. Skulle det oppstå at to av disse wildsymbolene møtes på hjulene, så vil det bli en kamp mellom politimannen og den usynlige mannen, og man vil få en gevinst. Gevinsten består da av 10 gratisspinnrunder. Det er mulig å få tildelt fire gratisspinnrunder til, hvis disse to wildsymbolene møtes igjen. Underveis i gratisspinnrundene så vil det bli plassert to målere over hjulene, den ene rød og den andre blå. Disse kan da bli fylt opp etter hvert, og ende opp med å aktivere spilleautomatens bonusspill.
Hvordan komme i gang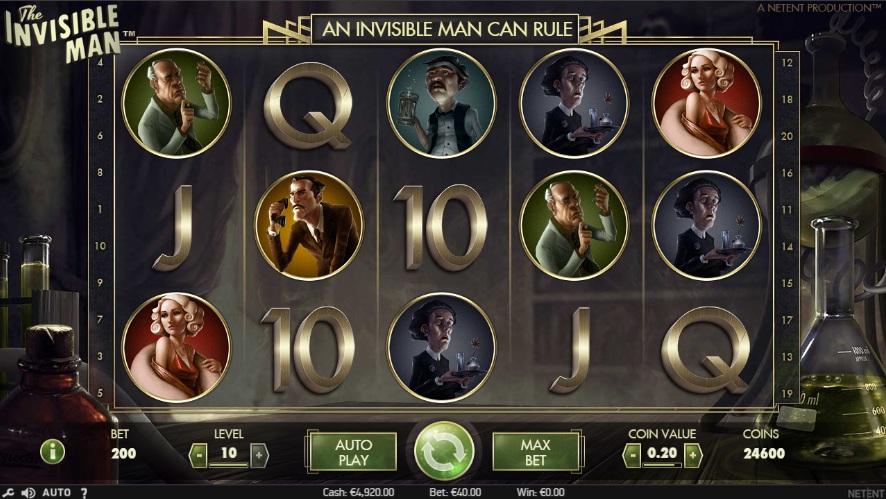 Spilleautomatens innsatslinjer er satt inn som faste. Man har 20 stykker totalt, men de går begge veier, så egentlig har man 40 stykker. Det er ikke mulig for spilleren å justere på disse. Det spilleren derimot kan gjøre er at myntverdien kan justeres og antall mynter per innsatslinje kan justeres. Myntverdien starter på 0,10 kreditt og går opp til 5 kreditt. Antall mynter kan ligge på mellom en og opp til 10.