Grafikk og utseende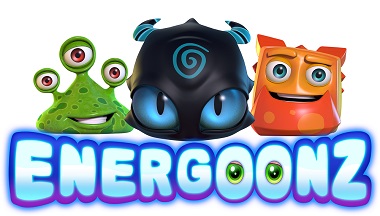 Play'N Go er en veldig spesiell spillutvikler – de har nemlig hatt fokuset på tematiske spilleautomater i mange år, og har derfor bygd seg et veldig godt rykte. Hver eneste av deres spilleautomater blir oversvømt av kasinospillere så fort den blir lansert. Play'N Go er nemlig ikke redd for å tenkte ut av boksen – deres kreativitet har gjort dem fortjent til mange overskrifter de siste årene. Energoonz er en av deres nyeste spilleautomater og er et ypperlig eksempel på deres nytenkende filosofi. Hvorfor lage spilleautomater som ligner på hverandre, når man kan ha det moro og lansere maskiner som er helt unike? Så fort du får Energoonz på skjermen, vil du se at den skiller seg ut fra mengden. Med 3D-grafikk og uendelige søte animasjoner er det umulig å ikke forelske seg i Energoonz. Flotte farger, kule symboler, mengder av detaljer og en høy utbetalingsrate som prikken over i-en. Prøv ut denne tematiske hiten når du blir lei av vanlige, konvensjonelle spilleautomater.
Symboler og utbetalinger

Energoonz handler om søte, små romvesener som lever av elektrisitet. Til høyre for skjermen ser du en elektrisk dings som samler inn energi, mens venstre side av skjermen preges av en multiplikator som samtidig viser akkurat hva du vinner. Her finner du en rekke forskjellige symboler – bonusspillet preges av enda flere, så gjør deg klar til å bli imponert. Flammer, lyn og atomer flyr rundt på skjermen side om side ved tre fargerike romvesener, alle med et hyggelig smil rundt munnen. De største utbetalingene gis av det svarte romvesenet – opp til 1000 ganger pengene. Energoonz kan dog skryte av utrolig saftige gevinster, om man er heldig nok til å treffe rett. Her finner du forresten ingen gevinstlinjer, siden spillskjermen er helt annerledes fra det de fleste kasinospillere er vant med. Symbolene faller ned fra oven og blir borte etter hvert som man treffer på kombinasjoner – så lenge tre eller flere symboler havner ved siden av hverandre horisontalt eller vertikalt, vil du få en gevinst. Enkelt og lett å forstå.
Bonusspill og spesielle funksjoner
Energoonz er en veldig spesiell spilleautomat, derfor måtte også bonusene være spesielle. Wildsymbolet er utformet som en lysende krystallkule, og hver gang du setter en kombinasjon av tre eller flere symboler vil en slik kule ta deres plass når de vinnende symbolene forsvinner. Er du heldig nok til å samle inn fem lyskuler på samme linje, vil du få en gedigen utbetaling på 20 000 ganger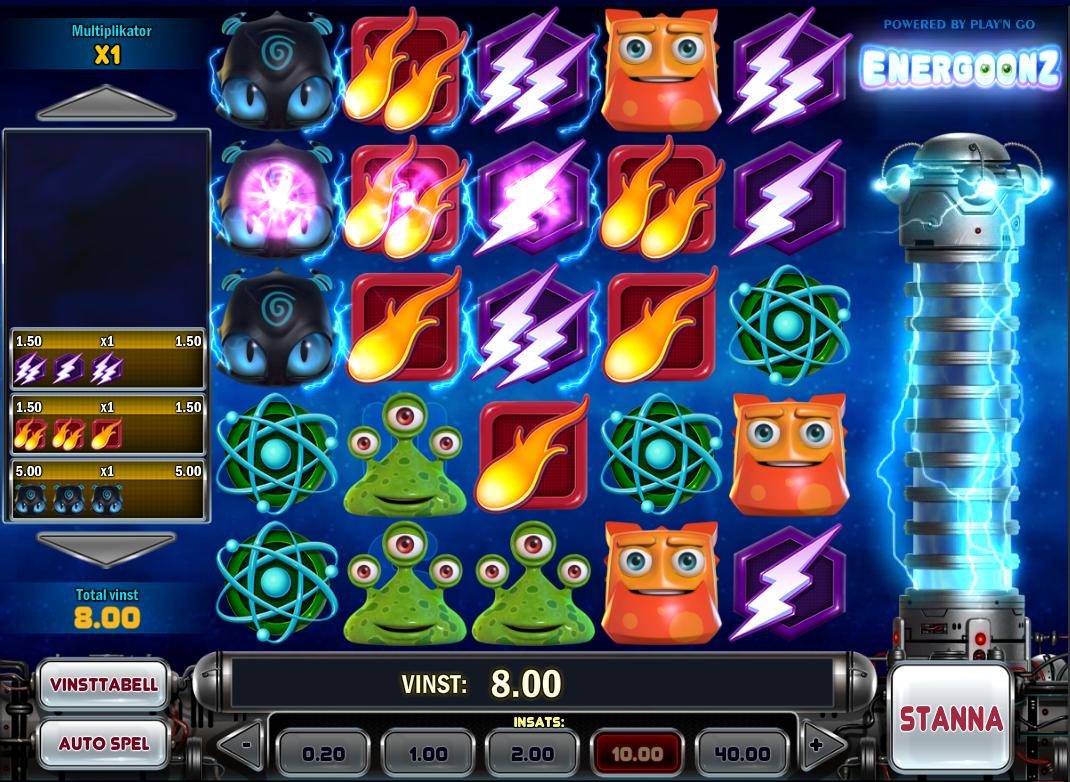 innsatsen. Med brede innsatsmuligheter som samtidig er utrolig enkle å stille inn, er det derfor all grunn til å jage lykken på Energoonz. Her finner du ingen unødvendige klikkbonuser eller interaktive bonusspill, derfor er autospinnfunksjonen god å ha. To klikk, så er hjulene i gang av seg selv.
Gratisspinn og jackpot
Hver gang man treffer på flere kombinasjoner etter hverandre, spesielt ved hjelp av den lysende kulen, vil en multiplikator mangedoble gevinstene dine. Dette er selvfølgelig deilig, men det er gratisspinnene som virkelig frister. Hver gang et nytt spinn settes i gang, vil du se ordet BONUS i bakgrunnen langs en av radene. Klarer du å fjerne alle symbolene som står i veien for dette ordet, vil en runde gratisspinn settes i gang. Her får du møte hele 10 forskjellige romvesener, såkalte Energoonz, som alle sover. Når fem like er å finne på skjermen (ikke på rad), vil den elektriske maskinen på høyre side spytte ut elektrisitet og vekke de gitte skapningene. Dette gir store gevinster, og etter 10-12 runder vil sitte igjen med en saftig premie. Energoonz har ingen progressiv jackpot, men om du er heldig nok til å fjerne alle symbolene fra spillskjermen vil en innebygd jackpot på 40 000 mynter spyttes ut. Dette kan vel bety over en million kroner om du satser maksimalt.
Alt i alt
Om du fortsatt ikke har prøvd ut Energoonz, er det på høy tid at du besøker ditt utvalgte nettkasino og finner denne spennende nyheten. Play'N Go har på nytt bevist at de kan skape helt unike spill som ikke ligner på noen andre. Energoonz er veldig positiv og festlig, samtidig som den sitter på veldig høye gevinster. Om du er lei av de vanlige maskinene, er det bare å ta noen runder på Energoonz for å vinne tilbake troen på spillutviklerne. To tomler opp for Play'N Go, de fortsetter å briljere!