Om spillet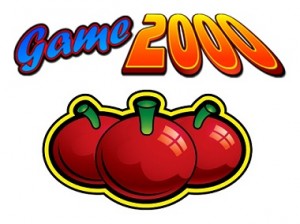 Sheriff Gaming heter spillutvikleren som er ansvarlige for spillet Game2000. Game2000 er ikke et slotspill av den typen man er vant til å se mest av når man spiller på nettkasino. Sheriff Gaming har heller valgt å satse på en gammel klassiker når de utviklet Game2000, og valget stoppet på en enarmet banditt. En enarmet banditt har vel vært et av de mest populære spillene man har funnet på ekte kasinoer, og Sheriff Gaming prøver nok å få tilbake litt liv i denne gamle tradisjonen igjen ved å gi ut Game2000.
Spillets tema
Inspirasjonen til Game2000 kommer fra en klassisk, enarmet banditt – og da er det så klart dette som er blitt til spillets tema. Det er de klassiske symbolene som pynter opp hjulene i spillet og dette legger også grunnlaget for spillets tema. Det man ser av symboler på hjulene er sitroner, appelsiner, kirsebær, stjerner, jordbær, vannmeloner, krone og firkløver. Dette er alle symboler som man forbinder med klassiske kasinospill.
Grafikk og lyd
Grafikken i et spill er jo det som setter en standard for spilleopplevelsen og inntrykket man får av spillets tema. I Game2000 er det så klart hentet mye inspirasjon fra de gamle, klassiske enarmede banditter og det ser man raskt når man setter i gang spillet. Det er ikke grafikk av topp klasse som er utviklet i spillet, men det hadde uansett ikke passet om det så hadde vært det. Grafikken som man ser i Game2000 passer utmerket til temaet og inspirasjonen i spillet. Man kommer rett og slett ikke mye nærmere en typisk enarmet banditt enn dette. Lydbildet som er lagt på spillet er utrolig enkelt, og igjen så passer det til spillet. Man hører ingen bakgrunnsmusikk når man spiller. Det er kun noen lydeffekter som er lagt på som blir aktive underveis. Man hører for eksempel en lydeffekt når man spinner i gang hjulene, når hjulene stopper og når man får en gevinst.
Spillets gang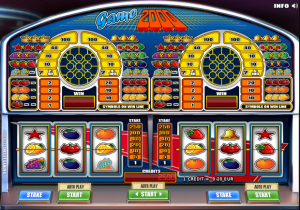 Oppsettet i Game2000 er fordelt en spilleskjerm som er delt i to. På hver side av denne spilleskjermen så har man et oppsett av hjul og rader. Hvert oppsett har tre hjul og tre symboler på hvert hjul. Innsatslinjer er det ikke mange av, det er faktisk kun én innsatslinje per oppsett med hjul. Spillet fungerer slik at man først legger innsatsen sin på hjulene, for så å spinne i gang spillet. Innsatsen legger man per spinn i spillet, og det gjelder per automat i spillet. Innsatsen kan ligge på mellom en og opp til 250 mynter. Hver mynt i Game2000 har en verdi på 2 kr. Det minste man kan satse i en runde er da på 2 kr, og da spiller man kun på ett hjul i spillet. Det meste man kan spille i en runde ligger på 500 kroner, og da spiller man 500 kr per hjul i spillet. Hvis man ønsker kan man også benytte seg av autospinnfunksjonen som finnes i spillet. Denne fungerer slik at man får legge på innsatsen i spillet først, for så å la spillet gå av seg selv et visst antall runder. Det er en maksimumsgrense på 50 automatiske runder.
Spesialeffekter
Med tanke på at Game2000 ikke er et vanlig slotspill så finner man ikke de vanlige spesialeffektene og symbolene som man er vant til. Spillet er jo satt opp på en helt annen måte, og fungerer også på en annen måte enn et slotspill. Det man har av spesialsymboler i spillet er mysteriesymbolet. Dette kan dukke opp hvor som helst i spillet, og gir ut ekstra gevinster. Hvis man får to mysteriesymboler på en innsatslinje så får man en kontantgevinst. Man får også en gevinst hvis man får to mysteriesymboler på to hjul som ligger inntil hverandre. Gevinsten man får med mysteriesymbolet kan ligge på alt fra to og opp til 100 ganger innsatsen man har lagt i spillet. Videre i spillet vinner man hver gang man får tre like symboler på hjul som ligger inntil hverandre.