Wesley Snipes godkjenner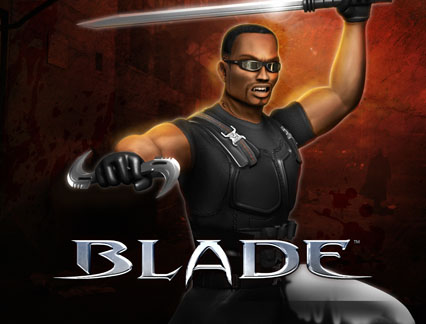 Alle som var over 12 år gamle på 90-tallet husker filmen Blade med Wesley Snipes i hovedrollen. Dette var en av de store blockbusterne i 1998, en film som millioner så på kino, og enda flere kjøpte videokassetten eller DVD-en. Det er dog mange som ikke vet at Blade opprinnelig er en tegneserie fra den velkjente tegneseriekongen Marvel Comics. Blade handler om en vampyrjeger som er halvt vampyr selv. Der vanlige vampyrer er redde for sollys, kan Blade trives både på dagen og natten. Vampyrjegeren bruker spesielt designede verktøy for å drepe de blodsugende beistene, og i filmen om Blade får vi virkelig se hvordan superhelten jobber. Filmen kom ut i 1998, og en oppfølger kom på plass i 2002. Deretter kom den tredje filmen i serien i 2004, og en hel TV-serie i 2006. Der tok det slutt, men Marvel lot spillutviklere kjøpe rettighetene til tegneseriene. Dette lot Playtech, en kjent spillutvikler med fokus på spilleautomater, skape en interaktiv versjon av Blade – som spillmaskin. Blade er en noe eldre spilleautomat, men for Marvel-fans er den helt perfekt. Blade var en mørk og mystisk kar, omringet av skygger og blod. Spilleautomaten har fått samme atmosfære – rødt og svart er de mest brukte fargene. Symbolene består av ulike detaljer fra tegneserien, samt kortsymbolene 10 til A i Blade-skrift. Innsatsmulighetene er veldig brede, i beste Playtech-stil. Her kan du velge hva hver mynt er verdt, hvor mange mynter du vil satse per gevinstlinje, og hvor mange linjer du vil aktivere. Maksimalt kan man komme opp i 200 dollar per spinn, men de fleste spillere holder seg på rundt ti-tyve kroner, altså et mye lavere nivå.
Seks like på fem gevinsthjul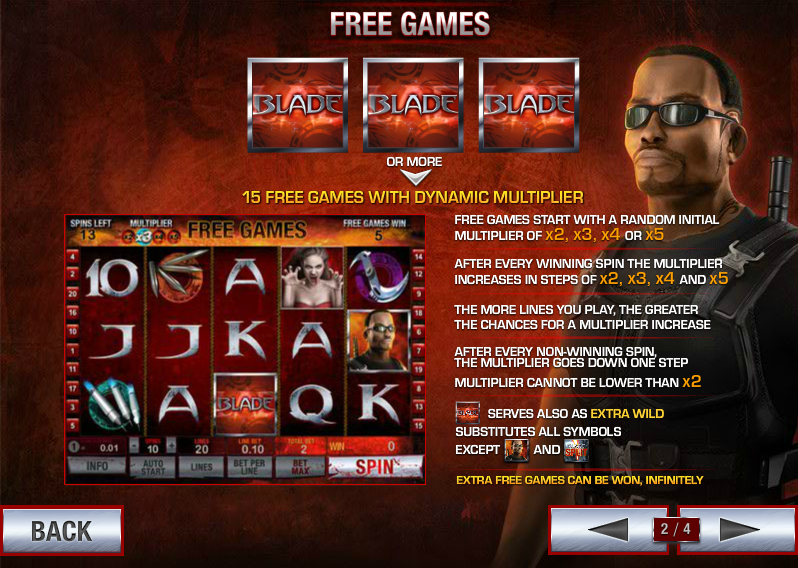 Blade ser kanskje ut til å være en ganske vanlig, gammeldags spilleautomat ved første øyekast, men Playtech har inkludert flere spennende funksjoner vi aldri har sett tidligere. Den mest slående av disse er muligheten til å splitte symbolene i to og dermed få kombinasjoner på opp til seks like. Seks på rad, med bare fem hjul. Denne funksjonen settes i gang når symbolet Blade Split dukker opp på det femte hjulet. Her vil Blade i egen person hoppe ut av skjermen og bruke sitt sylskarpe sverd til å hogge et annet symbol i to, et symbol du allerede har satt en kombinasjon med. Altså vil en kombinasjon av tre like bli til fire like, fire like til fem like, og fem like til… ja, seks like! Med et slikt oppsett er det ikke rart at de høyeste kombinasjonene gir utrolige gevinster. Blade er i seg selv en spilleautomat med høy utbetalingsrate, men seks på rad er selve prikken over i-en. Seks like ess-symboler, noe som vanligvis gir småpenger, vil her spytte ut hele tjuefem ganger pengene, eller 5000 dollar om du satser 200. Blades våpen – pilene, sølvkulene og det runde sverdet – gir 25 000 dollar i gevinster, mens symbolet med Blade er både wildsymbolet og den innebygde jackpoten. Treffer du på seks Blade-symboler, vil 250 000 dollar spyttes ut (om du spiller med maksimal innsats, selvfølgelig). Blade-logoen er et annet symbol det er verdt å merke seg – denne deler ut gratisspinn til høyre og venstre. Det er kun 15 gratisspinn som står på spill, men underveis kommer en multiplikator opp, og dermed vil alle gevinstene du vinner på de kostnadsfrie spinnene mangedobles helt til du er virkelig fornøyd.
Progressive jackpoter på Marvel-spilleautomater
Siden Blade er en del av Playtechs Marvel-serie, er den med på de progressive jackpotene som de andre spilleautomatene samler inn. Det er hele fire progressive jackpotter på Blade, fire ulike storsummer man kan stikke av med helt tilfeldig. Ingen spesielle symboler må settes – automatene velger helt tilfeldig hvem bonusene skal gå til og når. Fra noen tusenlapper og opp til flere millioner kroner kan vinnes om man har hellet med seg. Ellers er det bare å krysse fingrene og håpe på at Blade hopper ut og kapper et symbol i to når du mest trenger det.