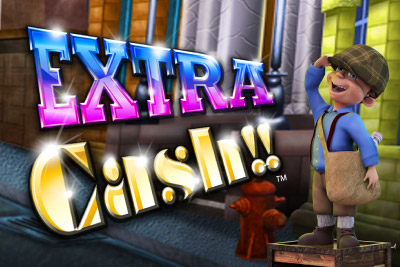 Vi er alle nøden etter noen ekstra kroner i blant, og det finnes mange måter å opparbeide seg det på. Nettspilling er nok ikke helt veien å gå når man er blakk, så kanskje avisbud heller er veien å gå? I Extra Cash fra NextGen Gaming er det nettopp avisbudet som står i senter for oppmerksomheten.
Hovedpersonen i spillet er en liten gutt med en gigantisk kurv med forskjellige aviser. I dag er det kanskje ikke så mange unge som driver med akkurat dette lenger, men før i tiden var søndagsavisa en måte å sikre seg både lørdagsgodter og den siste kassetten til Michael Jackson for mange unge gutter og jenter. Drar vi skikkelig tilbake i tid så ansatte også avisene unge til å stå på en pall eller liknende med dagens avis og rope ut siste nytt fra fjern og nær. Tenk før så hadde man ikke all informasjon i lomma. Var du heldig hadde du noen kroner og minimalt med lommerusk. Du finner utrolig mange morsomme tilleggsfunksjoner i Extra Cash. Her har vi vanlige wildsymboler, tilfeldige jokere, scattersymboler, respinn og gratisspinn kort fortalt. Den lange versjonen kan du lese lenger ned i artikkelen.
Innsatser og tilleggsfunksjoner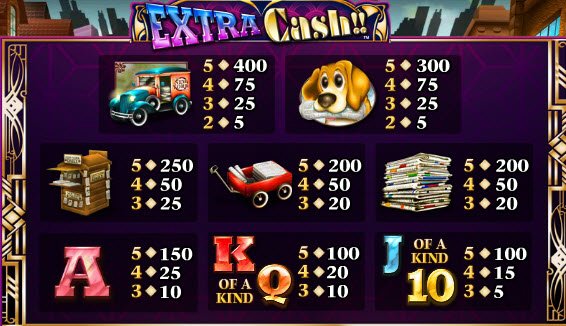 Hvis du kjenner til spill fra NextGen Gaming så kommer du fort til å kjenne deg igjen i Extra Cash. En liten differanse er dog at i Extra Cash finner vi fire rader med symboler i stedet for de vanlige tre symbolrekkene. Med flere rader symboler betyr det flere gevinstlinjer. I Extra Cash har Nextgen Gaming klart å pakke inn hele 50 gevinstlinjer. Dette gjør at man vinner omtrent hver eneste gang man snurrer hjulene. Kanskje ikke toppgevinst, men nok til å holde spillet gående og interessant. Hvor mye du ønsker å satse og ikke minst hvordan du satser pengene dine er helt åpent i Extra Cash. Med andre ord er det fullt mulig å variere antall linjer å spille på, hvor mange mynter per linje samt verdien av hver enkelt mynt. Du kan spille for helt ned i en eurocent per linje opp til 100 euro per linje om du ønsker det.
Spesialsymbolene i Extra Cash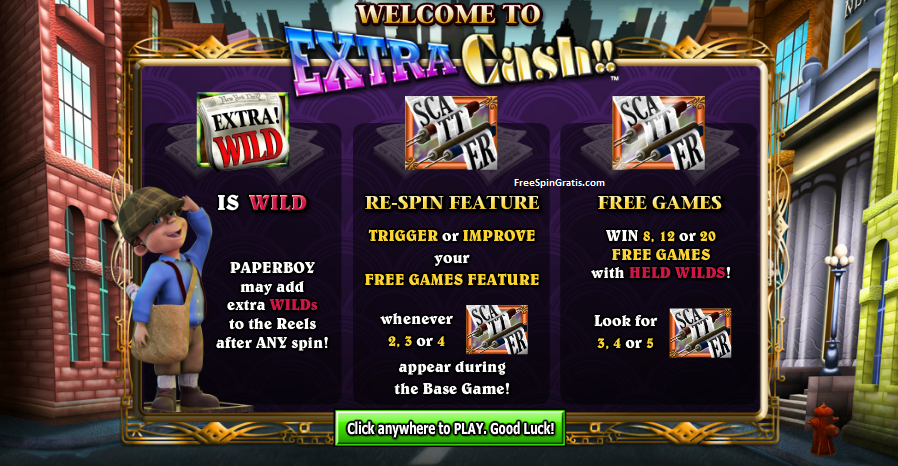 Du finner to forskjellige wildsymboler, en respinn-funksjon, gratisspinn og scattersymboler i Extra Cash. Hvordan disse fungerer går vi kjapt gjennom her. Det finnes to wildsymboler i Extra Cash. Disse fungerer på samme måte, men blir aktivert på forskjellige måter. Den ene typen kommer nå og da sammen med de andre symbolene når du spinner hjulene. Den andre derimot kommer helt tilfeldig når du spiller. Den dukker opp ved at avisbudet kaster en avis på spillebrettet og der avisen lander blir symbolet gjort om til wild. Wildsymbolene dukker opp ganske så ofte, og det spesielt på hjul nummer to, som er optimalt med tanke på gevinster.
Respinn-funksjonen og scattersymbolene er ganske så avhengige av hverandre. Når du får to scattersymboler på et spinn så vil disse hjulene fryses og hjulene spinner en gang til for å øke sjansen for fler scattersymboler.
Hvis du får tre eller flere scattersymboler så aktiverer du gratisspinn. Med tre symboler får du åtte spinn, med fire får du 12 og klarer du å få fem scattersymboler på en gang får du hele 20 gratisspinn. Alle wildsymboler som dukker opp under gratisspinnene blir gjort om til sticky wilds. Det vil si at de ikke vil forlate sin posisjon før neste spinn. Dette gjør at vinnersjansene under gratisspinn øker drastisk.
Totalt sett
Alt i alt er Extra cash fra NextGen Gaming en habil spilleautomat. Det finnes masser av underholdning, og grafikken kan man ikke klage på heller. Med fire rader med symboler i stedet for tre så blir spillopplevelsen enda litt morsommere og actionfylt. Med gratisspinn, respinn og flere typer wild er det også mange måter å dra inn pengene på som gjør at du får god valuta for pengene, med mange små gevinster som forlenger spillopplevelsen.