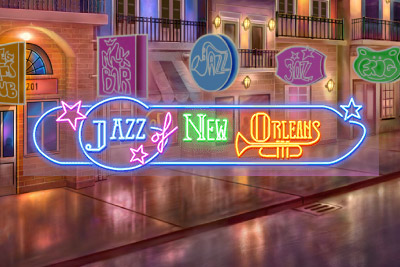 Jazz er en populær musikksjanger, og det er kanskje på tide at jazzen også får egne spilleautomater. Jazz of New Orleans er et spill fra Play'N Go, og her er både symbolene og musikken tilpasset temaet. Automaten er fargerik og spennende, og det er bare unike symboler på hjulene. I tillegg har automaten flere morsomme ekstrainnslag.
Mer om spillet
Jazz of New Orleans har fem hjul og fem gevinstlinjer. Det lave antallet gevinstlinjer gjør at spillet er forholdsvis rimelig, og det er i tillegg veldig oversiktlig. Dermed passer spillet også for spillere som nettopp har begynt å utforske spilleautomater på nettet. Bakgrunnen bak hjulene viser en bygate og en jazzklubb. Over hjulene ser man størrelsen på tre progressive jackpotter, som man kan vinne når man spiller på automaten.
Under hjulene er knappene for å stille inn spillet. Det er forholdsvis få knapper, og dette gjør det også enkelt å forstå spillet. Helt til venstre ser man hvor mange penger man har å spille for. Knappen ved siden av dette viser gevinsttabellen. Lenger til høyre har man knappen merket Bet Max, og når man trykker på den, satser man automatisk maksimum innsats. Til høyre for denne knappen justeres men myntverdien. Myntverdiene starter på bare 0,01 euro. Med fem linjer, koster det altså bare 0,05 euro per spinn med den laveste myntverdien, og det betyr at de fleste har råd til å spille mange spinn. Helt til høyre under hjulene er spinnknappen og autospinnknappen. Bakgrunnsmusikken når hjulene står stille er trommer og rytme. Det spilles en mer livlig musikk når hjulene spinner. Dersom man vil høre musikken sammenhengende, er det best å spille med autospinn.
Symboler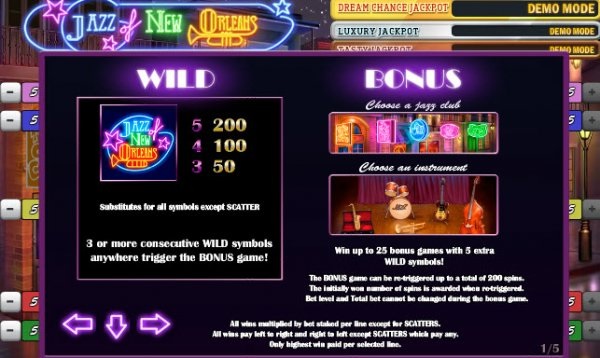 Symbolene i spillet er unike, og man slipper dermed de litt trauste kortsymbolene. I stedet møter man sangere og musikere, samt andre ting man forbinder med en jazzklubb. Den vakre sangerinnen er det mest verdifulle av grunnsymbolene. Hun betaler ut 100 mynter for fem like. Musikeren gir 90 mynter for fem like. Symbolet med dansende tangenter er verdt 80 mynter for fem like, og trompeten gir 70 mynter for fem like. Dette er de mest verdifulle symbolene. Scatteren gir også fine gevinster. Scatteren er en måne, og med fem slike symboler et eller annet sted på skjermen, vinner man 75x totalinnsatsen.
Smågevinstene deles ut av fine symboler. Man vinner 60 mynter for fem bilder av gatehjørnet. Fem gatelykter med gateskilt gir 50 mynter, fem tallerkener med mat gir 430 mynter, fem glass gir 30 mynter og fem plakater gir 20 mynter i gevinst.
Bonusinnslag
Wildsymbolet er spillets logo, som er et fargerikt neonskilt. Med tre eller flere slike symboler på rad vinner man en gevinst, men man kommer også til bonusspillet. Til vanlig fungerer wildsymbolet som erstatning for grunnsymbolene. Det kan ikke erstatte scattere, men det kan erstatte de andre symbolene, og dermed fullføre vinnerrekker. Men tre eller flere wilds på rad, betyr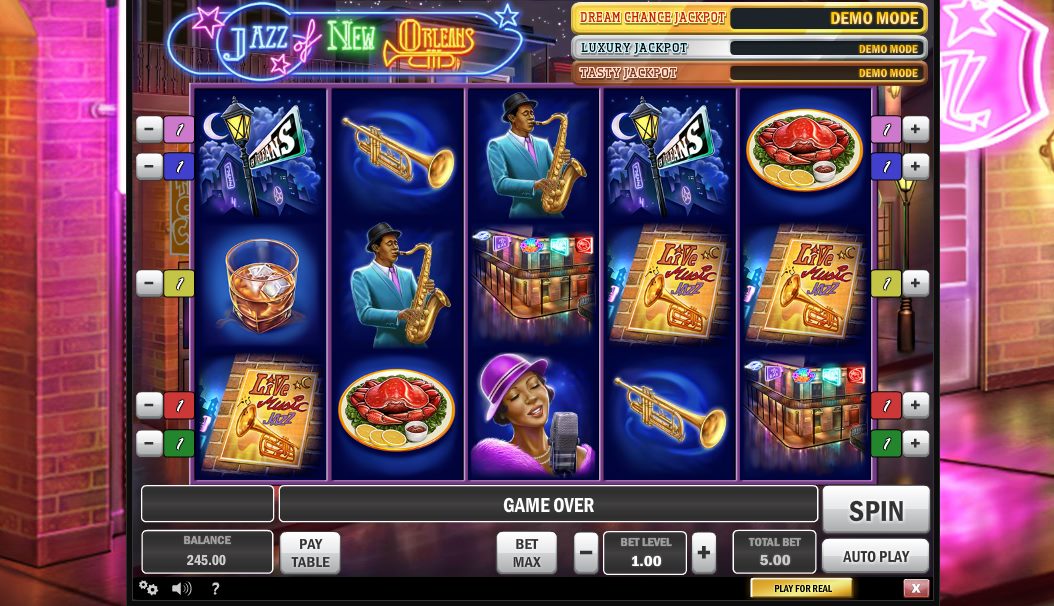 også at man vinner gratisspinn. Antallet gratisspinn man vinner avgjøres i bonusspillet. I bonuspillet skal spillerne først velge en jazzklubb. Det er fem klubber å velge blant. Deretter skal de velge et instrument. Spillerne kan vinne inntil 25 gratisspinn med 5 ekstra Wildsymboler. Gratisspinnene kan gjenutløses, og man kan maksimalt vinne 200 gratisspinn på rad.
Jackpot og gambling
Det er tre jackpotter i dette spillet. For å vinne en av dem, må man først komme til jackpotspillet. Man må satse minimum 0,10 euro per spinn for å kunne komme til bonusspillet. Hvis man spiller med lavere innsats, vinner man bare en scattergevinst. Det er den skinnende ringen som gir adgang til bonusspillet. Med tre, fire eller fem slike symboler, får man spinne henholdsvis bronsehjulet, sølvhjulet og gullhjulet.
Spillerne kan også velge å gamble om gevinstene i grunnspillet. Da skal de velge enten ett av fire symboler for sjansen til å doble gevinsten, eller velge ett av tre symboler for sjansen til å tredoble gevinsten. Gamble-funksjonen kan spilles inntil 10 ganger på rad.