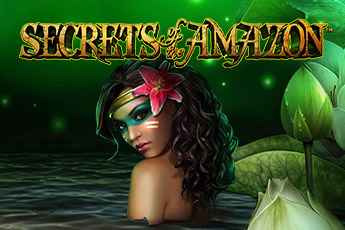 Spillutvikleren som står bak spilleautomaten Secrets of the Amazon er Playtech. Playtech har flere gode spilleautomater der ute, og Secrets of the Amazon er et av deres nyeste tilskudd. Playtech viser i denne spilleautomaten at de har klart å velge et originalt tema, og presentere det hele på en veldig god måte. De har valgt et veldig tradisjonelt oppsett, noe som gjør at de fleste spillerne vil finne det enkelt å sette i gang med spillingen. Det er også lagt inn flere gode spesialfunksjoner, noe som tilføyer litt mer variasjon mens man spinner hjulene. Alt i alt er Secrets of the Amazon en god spilleautomat som mange spillere vil ha stor glede av.
Spilleskjermen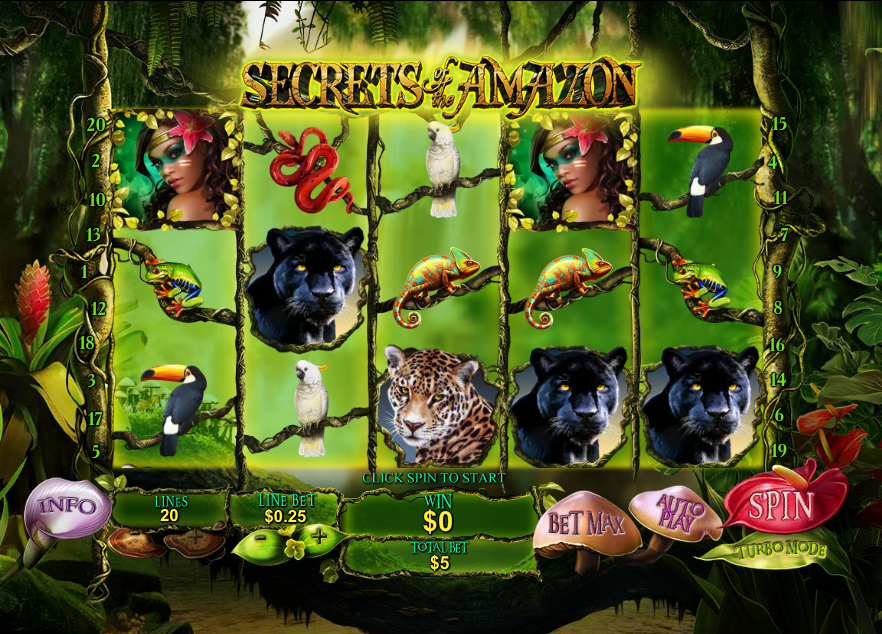 Spilleskjermen i Secrets of the Amazon er utrolig flott å se på, og temaet skinner virkelig gjennom. Temaet omhandler den flotte jungelen i Amazonas, og det er flere av de eksotiske dyrene man finner der som er tatt med som symboler. Bakgrunnsbildet på spilleskjermen viser den tette og frodige jungelen, med en mengde flotte grønne vekster. Helt øverst på spilleskjermen kan man se spilleautomatens logo, som er formet i fine store bokstaver og satt mot en lysegrønn bakgrunn. Midt på spilleskjermen har man spilleautomatens hjul og symboler. Hjulene er rammet inn med en stor slyngplante på hver side, og det er også slyngplanter som skiller hjulene fra hverandre. Bakgrunnen på selve hjulene er valgt i en flott lysegrønn fargetone. Symbolene er da alle formet i henhold temaet i spilleautomaten. Det er mange eksotiske dyr som er representert på symbolene, slik som slanger, fugler, leopard, panter, frosk og en kameleon. Nederst på spilleskjermen finner man spilleautomatens knapper, og de er plassert på forskjellige blader, slik at de også passer godt inn med spillets tema.
Oppsettet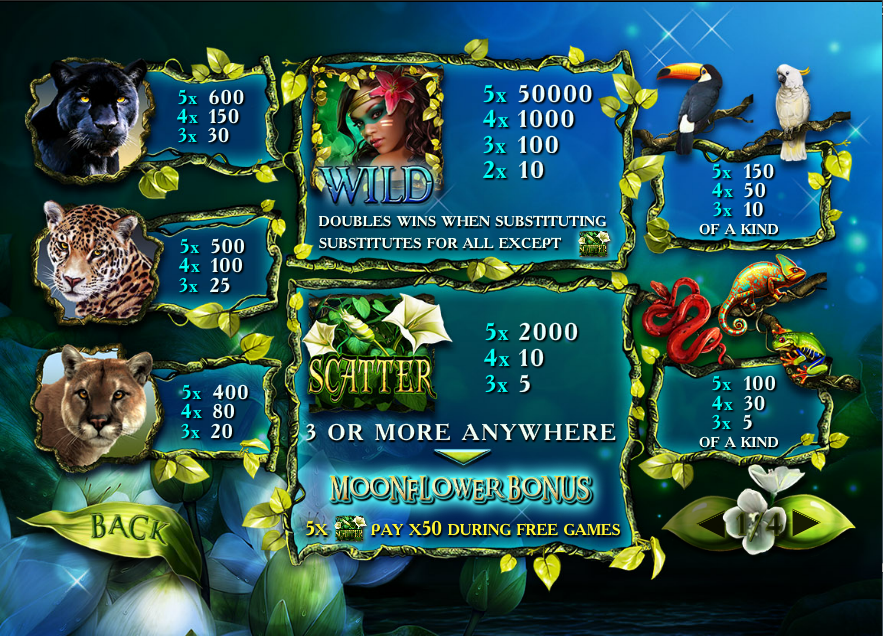 Oppsettet som man finner i Secrets of the Amazon består av fem hjul og tre rader med symboler, og totalt er det lagt inn 20 innsatslinjer. Blant knappene nederst på spilleskjermen finner man to knapper som brukes til justeringer. Justeringene spilleren kan gjøre i Secrets of the Amazon er på innsatslinjene, og på innsatsen per aktive innsatslinje. Antall innsatslinjer er da overlatt til spilleren, og det kan totalt være maksimalt 20 aktive spillelinjer. Når dette er valgt,justerer man innsatsen man ønsker å ha per linje. Innsatsen per innsatslinje starter på 0,01 mynter og kan da justeres oppover. Man vil ha en oversikt over totalinnsats nederst på spilleskjermen. I tillegg til justeringsknappene finner man tre ulike hjelpeknapper. Den ene er max bet-knappen, som gjør at man automatisk spiller med høyest mulig innsats. Den andre hjelpeknappen er autoplay-knappen, som da kan brukes for at spilleautomaten skal gå av seg selv et bestemt antall runder. Det er også lagt inn en turbo mode knapp. Den vil gjøre at spilleautomaten går i et raskere tempo enn vanlig. Den røde spinnknappen setter i gang spilleautomaten på vanlig måte.
Spesialfunksjoner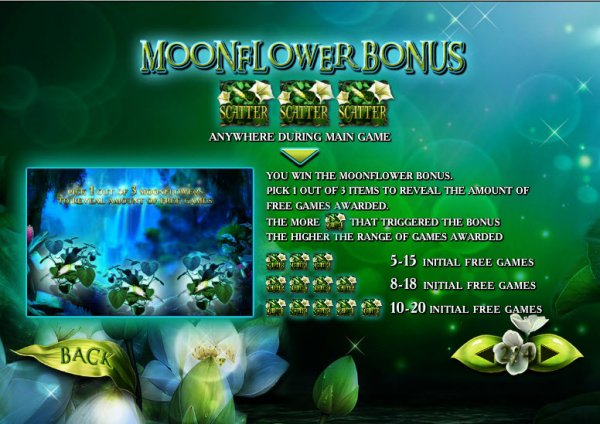 Det er ikke noe mangel på spesialfunksjoner når det kommer til Secrets of the Amazon. Playtech har lagt inn to ulike spesialsymboler og de står da for hver sin spesialfunksjon når de først dukker opp på hjulene. Det ene spesialsymbolet er wildsymbolet. Wildsymbolet fungerer som en joker, og den kan derfor erstatte andre vanlige symboler som dukker opp på hjulene. Hvis wildsymbolet dukker opp i en kombinasjon med andre symboler så vil den doble den totale gevinsten. Hvis man er så heldig å få fem wildsymboler i en kombinasjon vil man få den høyeste gevinsten med symboler. Den ligger på hele 50 000 mynter. Det andre spesialsymbolet i spilleautomaten er scattersymbolet. Scattersymbolet dukker opp spredt over hjulene og den kan med tre stykker aktivere Moonflower-bonusen. Det som skjer først er at man skal velge mellom tre forskjellige blomster, som da vil ha ulik verdi i gratisspinn og multiplikatorer. Når det er gjort begynner man med gratisspinnene. Den første runden vil ikke ha en multiplikator, men denne kommer inn på runde to, og vil deretter øke for hver runde.