Om spillet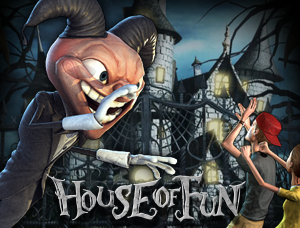 House of Fun er en fem hjuls spilleautomat med 30 innsatslinjer. Spillet starter med en liten introduksjonsvideo der et par med en liten hund får motorproblemer. De går så til et gammelt og skummelt hus der en eldre vaktmester ber dem sjekke inne i huset etter hjelp. Inne i huset er det flere rare karakterer som dukker opp på hjulene. Spillet har scattersymbol, gratisspinn, klikk meg, samt en bonusrunde. Symbolene i spillet er en mann med stor bred munn, en mann med hanekam, en vaktmester, en katt, en grotesk steinfigur, et maleri og et speil. I tillegg dukker det opp diverse spesialsymboler. Disse er mannen med lilla hatt, som er klikk meg-symbolet, trollet i eske som gir gratisspinn og dørbankeren som er bonussymbolet. Spillets bakgrunn er huset som er noe dystert og ser ut som et spøkelseshus. I forgrunnen står en nervøs mann, kjæresten hans og hunden deres.
Spillets detaljer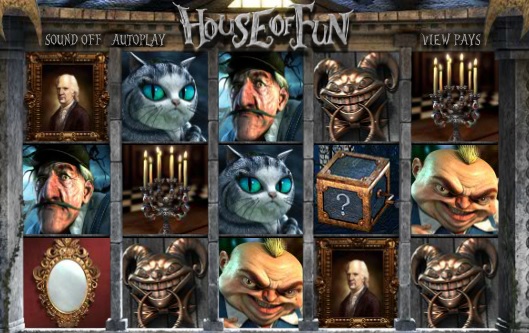 House of Fun lar deg spille på alt fra én til 30 innsatslinjer, og du kan også velge hvor mange kreditter du ønsker å spille per spinn. Her kan man velge mellom én og fem. Myntverdien kan også velges fra € 0.02 til € 0.50. Dette betyr at den høyeste innsatsen i spillet er € 75 (omtrent kr 630). Med valgmulighetene er automaten god for en mange spillere. Det er også en autospinnfunksjon der du kan velge hvordan du ønsker å spille disse i form av innsatslinjer, myntverdi og innsats per linje samt antall autospinn fra fem til 100. Dette gir god kontroll. De symbolene som gir høyest gevinst i spillet er mannen med den store munnen og mannen med hanekammen, som begge gir deg hele 750 ganger innsatsen din ved fem like. Det symbolet som gir nest mest er mannen med den lilla hatten, med 600 ganger innsatsen om man får fem like. Dette symbolet utløser også en klikk meg-funksjon.
Bonusfunksjoner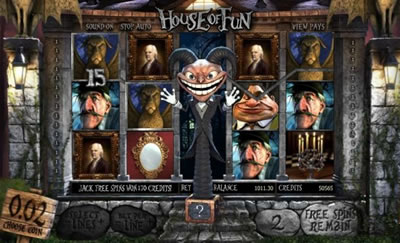 Ikke noen spilleautomat er komplett uten spennende bonuser, og her skuffer heller ikke House of Fun! Dersom du får tre eller flere av trollet i esken hvor som helst på hjulene utløses gratisspinn-funksjonen. Under gratisspinnene vil det mellomste hjulet være wild, noe som øker vinnersjansene dine substansielt. En annen flott bonus i spillet utløses når du får tre eller flere av mannen med lilla hatt på innsatslinjene 1, 2 eller 3. Dette vil utløse den ville klikk meg funksjonen. Her er det bare å klikke i vei på de forskjellige valgene dine helt til symbolet med 'collect' dukker opp. Da gjenstår det bare å samle opp bonusene dine, og kanskje fortsetter du til den neste bonusen. Den tredje bonusen i spillet gjør seg gjeldende om du får tre eller flere av dørbankersymbolet på aktive innsatslinjer. Da vil fluktbonusen utløses. Her må du velge dører for å hjelpe Paul og Jane, som er paret fra begynnelsen av spillet, til å flykte fra House of Fun. Du fortsetter å velge dører til de velger den rette, og vil i prosessen vinne store gevinster!
Spillets gang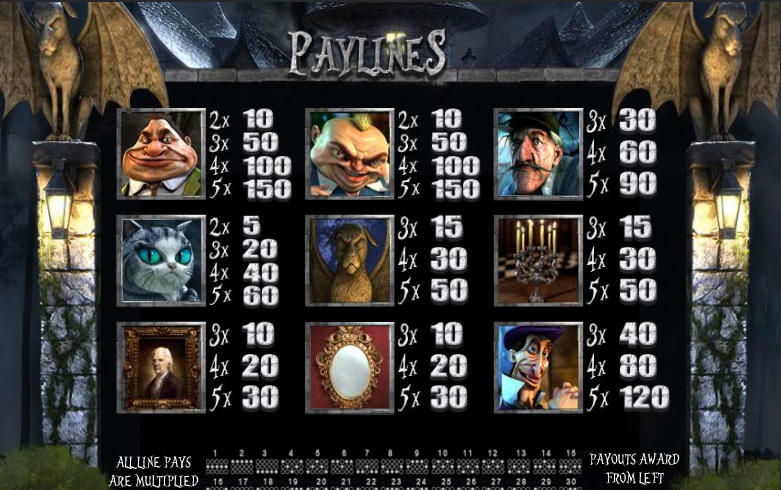 I House of Fun er det bare å spinne i vei. Når premier utøses vil paret i forgrunnen og hunden deres reagere på forskjellige måter. De hakker tenner og mer. Det er tross alt midt på natten og det er et flertall av merkelige karakterer de møter på denne turen sin. Det er mange morsomme animasjoner i dette spillet, og om det ikke hadde vært for at det er fokus på gøy, så kan det nok kanalisere forskjellige skrekkfilmer.
Konklusjon
House of Fun er enda en detaljert spilleautomat fra 3D-serien til Betsoft. Her har de virkelig gjort seg flid med symbolene. Spillets symboler, samt bonusene og atmosfæren i spillet er godt gjennomført. Om ikke akkurat skummel, så er det ikke det spillets navn tilsier heller. Spillet er en verdig utfordrer til mange andre spilleautomater. Det er bare å prøve det for å se for seg selv. Let the Fun begin!