Spillets oversikt

Big Business er en spilleautomat med 5 hjul og 25 gevinstlinjer. Målet er å få så mange identiske symboler som mulig på rekke fra venstre til høyre på en gevinstlinje. Alle gevinstkombinasjonene må starte fra hjulet helt til venstre. Dette er altså ikke en two-way spilleautomat, men et helt standard spill.
Big Business inkluderer gratisspinn med gevinstmultiplikator, tre progressive jackpotter og en børsmarked-bonus der du alltid vinner! Høyeste jackpot begynner på 50.000 euro. Alle disse funksjonene og jackpottene gjør at spillet kan bli lukrativt rent pengemessig, noe som er svært viktig. De fleste spillere spiller ikke for spillgledens skyld alene. Det er kombinasjonen av opplevelse og økonomisk gevinst som er avgjørende i valget av spilleautomat.
Hvordan spille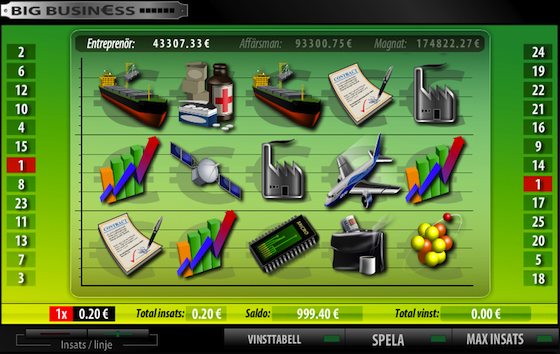 Begynn med å velge antall linjer å spille på og størrelsen på innsatsen, og press så PLAY-knappen for å starte spillet. Knappene er intuitive slik at det skal være enkelt å spille. Det trengs derfor ingen erfaring fra spilleautomater for å kunne spille Big Business, det er bare å sette seg godt til rette, nyte utsikten og vente på at gevinstene skal dukke opp på skjermen. For å spille med maksimum innsats, trykk MAX BET. Da velges alle linjer, høyeste innsats blir satt og spillet starter automatisk. Hvis du vil spille med de samme linjene og satse som i det forrige spiller klikker du bare PLAY-knappen. Enkelt og greit!
Innsats og gevinster
Innsatsnivåene er 0.20, 0.50 og 1 €. Total innsats per spill er totalen multiplisert med antall linjer som skal spilles. Minimums innsats er dog 0.20 € (1 linje x 0.20 €) og maksimum er 25 € (25 linjer x 1 €). Din innsats blir vist i TOTAL BET-feltet. Dette spillet gir en stor variasjon i innsatsene, men høyeste innsats på 25 € er kanskje ikke det storspillerne jakter på, så vi påstår at spillet passer bedre spillere med små og middels innsatser.
Gratisspinn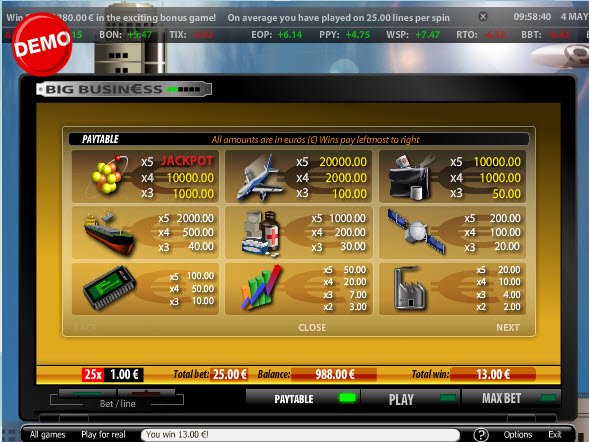 Du får gratisspinn hvis tre eller flere gratisspinn-symboler dukker opp hvor som helst på hjulene. Når du vinner gratisspinn, dukker et eget gratisspinn-spill opp. Velg et av symbolene i vinduet for å avsløre antallet gratisspinn du har vunnet. Gratisspinnene starter automatisk. Gratisspinn spilles med samme innsatsnivå og samme antallet linjer som i spillet der gratisspinnene ble vunnet.
Antallet gratisspinn og størrelsen på multiplikatoren avhenger av antallet gratisspinn-symboler du får.
Bonusspill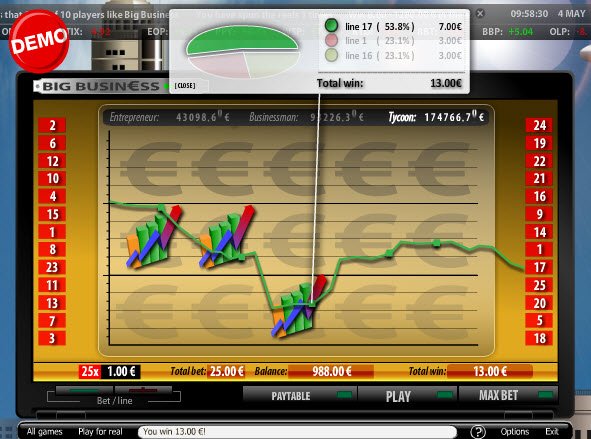 To eller flere bonussymboler hvor som helst på en aktiv linje gir bonusspill. Bonussymbolet er et «Wall Street» skilt. Hvis du får to bonussymboler på flere enn en aktiv linje på samme tid, vil gevinsten multipliseres med antallet linjer. Her kan det hentes inn en god sum penger avhengig av egen innsats. En gylden regel i de fleste spill er at jo mer du satser, desto mer vinner du. Sånn er det også i Big Business, noe som er naturlig, tatt i betraktning spillets tema. I bonusspillet vil du få sjansen til å vise dine ferdigheter i business. Hvis du vet hva som er inn og velger riktige aksjer kan du innhente en saftig bonus gevinst. Spillet har tre attraktive progressive jackpotter som gjør spillet lønnsomt samtidig som det gir spenning. Med de intuitive knappene er spillet enkelt å spille, og det trengs absolutt ingen tidligere erfaring fra andre spilleautomater for å kunne spille Big Business. Spillet er enkelt og oversiktlig.