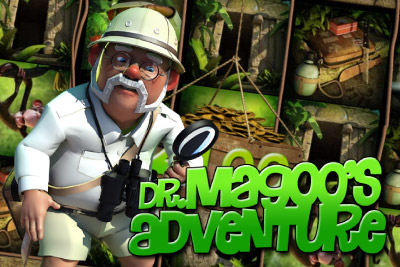 I spilleautomaten Dr Magoo's Adventure, får spillerne blir med Dr Magoo på spennende eventyr. Det er spilleverandøren Blue Gem Gaming som står bak denne eventyrlige spilleautomaten. Den er satt opp med en utrolig flott spilleskjerm, som er virkelig rettet inn mot temaet. Oppsettet som Blue Gem Gaming har brukt er veldig enkel å bruke, og det er fort gjort å komme i gang med en spillerunde. Når spilleautomaten først er i gang, så er det mange ting å se frem til. Man vil oppdage at det skjer mye på skjermen, i tillegg til at det også kan aktiveres flere forskjellige bonuser. Det er mye å glede seg til når man spiller Dr Magoo's Adventure.
Temaet
Dr Magoo er en kjent eventyrer, som har begitt seg ut på mange eventyr tidligere. I denne spilleautomaten skal Dr Magoo ut på eventyr nok en gang, og spillerne har fått lov til å bli med. Man befinner seg ute på en øde øy, og der er det blant annet mange gamle ruiner å utforske. Alle spillere som sitter med en liten eventyrer i magen vil komme til å få stor glede av denne spilleautomaten. Presentasjonen rundt temaet er utrolig godt gjennomført, og man kommer i riktig stemning til å sette ut på eventyr.
Spilleskjermen
Spilleskjermen i Dr Magoo's Adventure er virkelig flott. Den er preget av en veldig god grafikk, som får frem alt det som er viktig på skjermen. Det er lagt inn mange fine symboler, og de er fordelt over hjulene som er plassert midt på skjermen. Symbolene er i form av ulike bilder, og hvert eneste bilde forteller en liten del av historien som ligger i temaet. Hjulene er satt inn i en av de mange ruinene som er å se på den øde øya som man befinner seg på. I bakgrunnen av ruinene skimter man flere grønne trær, og det er tydelig at man befinner seg ute i naturen. Dr Magoo er selvfølgelig også tatt med på spilleskjermen. Han står på venstre side av hjulene, og han er kledd opp i hvit hatt og hvitt tøy. Logoen for spilleautomaten finner man på toppen av skjermen. Den er formet i knallgrønne bokstaver og ved siden av bokstavene er det også satt inn to knallgrønne fugler. Det er på spilleskjermen at man kan se oppsettet i spilleautomaten, og selvfølgelig finnes det også noen funksjonsknapper man kan bruke.
Spilleautomatens oppsett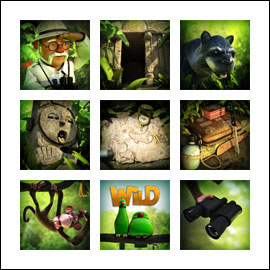 Oppsettet er synlig på skjermen, og det er på oppsettet at spillingen egentlig foregår. I Dr Magoo's Adventure har man fem hjul og tre rader, og det er de som utgjør oppsettet. Det er plass til 15 symboler til enhver tid, og de rullerer når spilleren har satt i gang en spillerunde. Det er også lagt inn noen innsatslinjer i spilleautomaten, og de er oppmerket på spilleskjermen. Hjulene og radene i oppsettet er faste, mens innsatslinjene kan justeres av spilleren. Knappene som skal brukes til å gjøre ulike justeringer, finner man på nederste del av spilleskjermen.
Innsatser
Det er opp til spilleren å bestemme innsatsen det skal spilles med i en spillerunde. Det er lagt inn tre ulike knapper som spilleren kan bruke, og de tilpasser hver sin del av innsatsen. Først og fremst har spilleren muligheten til å tilpasse innsatslinjene. Det er 20 stykker totalt, men spilleren kan justere ned til et annet antall. Spilleren skal også bestemme hvor mange mynter det skal legges på hver av de aktive innsatslinjene, og det skal også settes en verdi på myntene. Spilleren velger alt dette selv, innenfor de rammene som Blue Gem Gaming har satt inn. Når spilleren er klar til å begynne å spille, så er det to knapper som kan trykkes på. Den ene er merket med teksten Spin, og den vil rulle hjulene for en spillerunde. Hvis spilleren ønsker å bestemme på forhånd at det skal spilles flere runder, så kan man heller trykke på Autospin-knappen.