Grafikk og utseende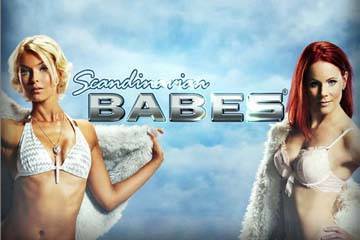 Scandinavian Babes er en av to spilleautomater med fokus på vakre nordiske mennesker. Scandinavian Hunks hadde norske, svenske og danske menn i fokus – Scandinavian Babes har øynene festet på det motsatte kjønn. Nordiske jenter er verdens peneste, det er liten tvil om dette. Det blonde håret, de myke linjene, de blå og grønne øynene – hele verden setter pris på de gode genene våre jenter har. Kanskje har dette med vikingtiden å gjøre? Vikingene tok jo med seg de vakreste kvinnene hjem til Norden! Grafisk sett er Scandinavian Babes veldig lik sin brormaskin med herrene i sentrum. En nøytral gråfarge dominerer spillskjermen, slik at alle øyne rettes mot de sexy jentene som spinner rundt på skjermen. Introduksjonvideoen vil sikkert få blodet til å pumpe hos mange spillere der ute, og det med god grunn. Det er den kjente spillutvikleren Play'N Go som står bak disse spilleautomatene. Med 3D-grafikk og nydelige animasjoner er dette en maskin vi absolutt vil anbefale til alle voksne kasinospillere.
Symboler og utbetalinger
Akkurat som i Scandinavian Hunks, finner man en blanding av kortnominasjoner og vakre jenter som symboler. Kortene fra 10 til A behøver du neppe følge med på – de gir veldig små gevinster uansett, det meste man kan håpe på er å vinne innsatsen tilbake. De vakre jentene er noe helt annet. To vakre blondiner, en rødhåret skjønnhet og en brunette spinner rundt på skjermen og spytter ut saftige gevinster. Brunetten med pelskåpe gir helt opp til 2500 ganger pengene tilbake, en gedigen sum uansett om man satser minimalt eller kjører på med maksinnsatsen.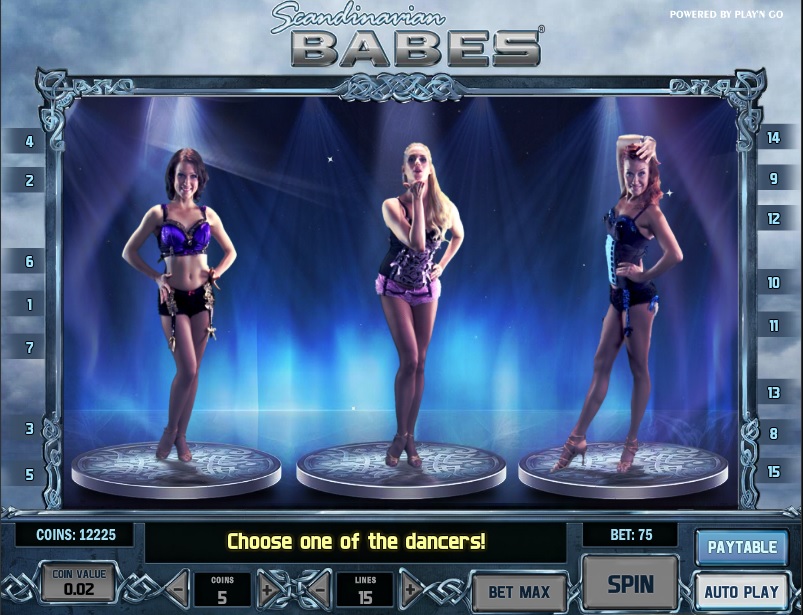 Innsatsmulighetene er forresten veldig brede, Play'N Go har sørget for at alle skal ha muligheten til å prøve ut Scandinavian Babes. Utbetalingsraten er høy, selv om det kun er 15 gevinstlinjer på denne tematiske spilleautomaten. Gevinstene kommer med nesten hvert eneste spinn, men du blir nok nødt til å vente i en liten stund før de virkelig store utbetalingene dukker opp.
Bonusspill og spesielle funksjoner
Som vanlig er det flere funksjoner vi vil skryte av på denne maskinen fra Play'N Go. Spillutvikleren gjør alltid jobben sin veldig grundig og inkluderer bonusspill som passer perfekt inn i helheten. Wildsymbolet er her i form av en mulattjente – hun vil forvandle seg til alle andre symboler og hjelpe deg med å treffe på større kombinasjoner enn hva du forventet. Selv med en beskjeden innsats av tre kroner per spinn vil du kunne se store summer rulle inn på spillkontoen din. Bonusspillet aktiveres av symbolet med Scandinavian Bonus inngravert. Her får du se tre vakre jenter fra topp til tå, for deretter å velge ut en favoritt. Hver av disse skjønnhetene skjuler en saftig gevinst, spørsmålet er om du velger riktig. Smaker er jo som baken, sier man.
Gratisspinn og jackpot
Scandinavian Babes er en kul maskin å prøve ut, men om du vil tjene penger på den er det gratisspinn du bør håpe på. Her finner man nemlig veldig spesielle gratisspinn der det 1. og 5. gevinsthjulet blir helt dekket av wildsymboler. Altså høynes vinnersjansene betraktelig så fort en runde såkalte gratisspinn skytes i gang. Hvert spinn vil gi deg deilige gevinster, og med litt hell vil
du kunne sette to-tre gigantiske kombinasjoner som vil gjøre deg rik. Femten gratisspinn gis ut om gangen, og som regel vil man sitte igjen med over 100 ganger innsatsen. Scandinavian Babes mangler dog en progressiv jackpot, noe som sikkert hadde gjort dette til en folkekjær automat. Det best betalende symbolet gir fortsatt 2500 ganger pengene tilbake, altså er det ikke mangelen på en ordentlig jackpot noe å syte over.
Alt i alt
Scandinavian Babes og Scandinavian Hunks har fått en varm velkomst fra kasinospillerne. Kvinnene velger Hunks, mennene velger Babes. Moderne grafikk, kule animasjoner, høy utbetalingsrate, hyppige gratisspinn og spennende bonusspill – hva mer kan man ønske seg? Prøv ut denne slageren fra Play'N Go i dag, og se de vakre nordiske jentene danse rundt på skjermen!