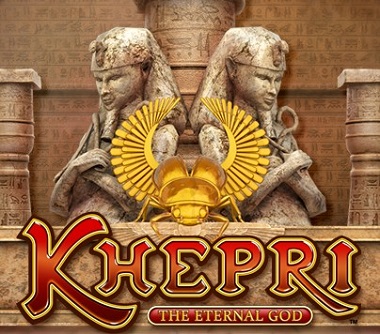 Det finnes noen temaer som viser seg å være mer populære enn andre, og en av dem er Egyptiske temaer. Det finnes tross alt en rekke spilleautomater som har tatt i bruk nettopp dette temaet, men alltid på ulike måter. Denne gangen er det Leander Games som har skapt en helt ny spilleautomat med et egyptisk tema. Spillet har til og med fått et tema som viser at det er et utrolig spennende spill, Khepri- The Eternal God. Det er tydelig at Leander Games har hentet inspirasjonen sin fra Egypt og denne gangen er det fokus på gamle egyptiske myter som sørger for en utrolig spennende opplevelse. I tillegg til dette kan spillerne se frem til en rekke ekstrafunksjoner som øker spenningen enda litt mer. Alt dette sammen med den imponerende grafikken har skapt et spill som vil falle i smak hos absolutt alle kasinospillere.
Tilleggsfunksjoner i Khepri
Noen av ekstrafunksjonene som finnes i Khepri er wildsymboler, en underholdende gratisspinn-funksjon, noen multiplikatorer og enda litt mer. Wildsymbolene har blitt kalt for «Walking Wilds» og denne funksjonen vil bli aktivert når spillerne får minimum ett wildsymbol på hjulene. Når dette har skjedd, vil disse wildsymbolene bli flyttet til et helt annet posisjon på hjulene i den neste runden. Dette vil igjen sørge for at nok en re-spinn blir aktivert og spillerne får enda en sjanse på flotte gevinster. Dette vil fortsette å skje om og om igjen, helt frem til alle wildsymbolene har flydd vekk fra spillets fem hjul. I løpet av denne bonusrunden kan spillerne derimot motta noen multiplikatorer. Dette vil bli regnet ut fra antallet wildsymboler som flyr vekk fra samme sted på skjermen. Dersom to stykker flyr vekk fra samme sted på skjermen, vil spillerne motta en multiplikator på 2x. Om det flyr vekk tre wildsymboler fra samme sted på skjermen, vil spillerne i stedet motta en multiplikator på 3x, og slik fortsetter det.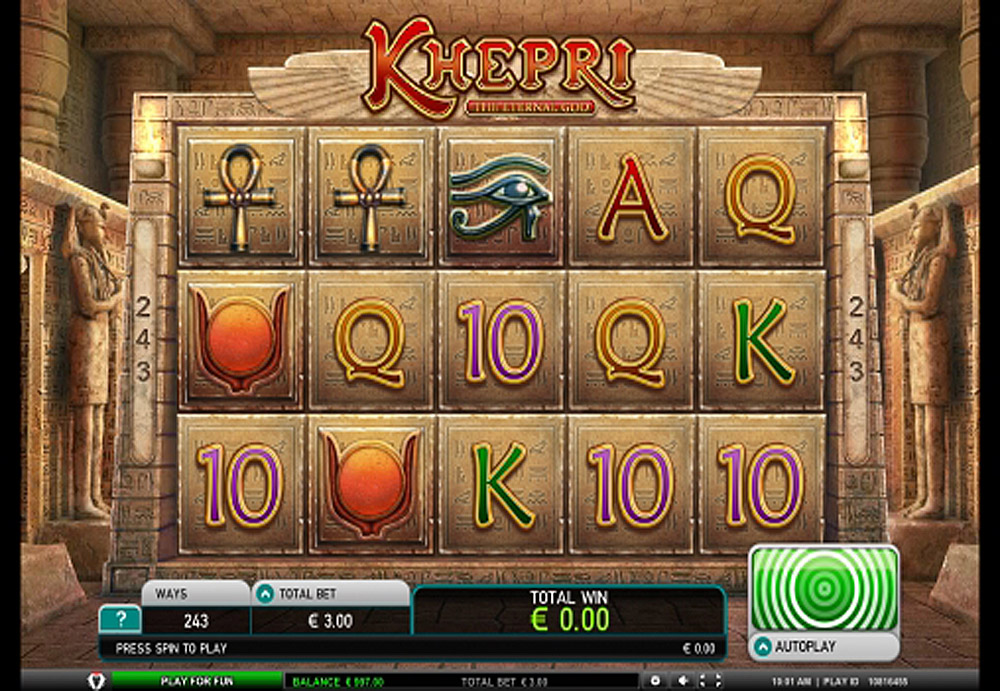 Spillets oppsett og design
Leander Games har holdt seg til det klassiske oppsettet i denne spilleautomaten. Det vil si at det finnes fem hjul og tre rader med symboler på skjermen. Det er derimot ingen vanlige spillelinjer tilstede i spillet. I stedet har Leander Games skapt 243 ulike måter som spillerne vil kunne vinne gevinster på, noe som har blitt markert på begge sidene av hjulsettet. Khepri – The Eternal God har virkelig fått et vakkert design og oppsett. Ut fra spillets bakgrunn kan det se ut som man befinner seg inne i en bygning, kanskje det er inne i en pyramide eller en annen flott bygning fra det gamle Egpyt. På sidene vil spillerne kunne se vakre statuer som står på rekke og rad, bak statuene er det i tillegg et flott design satt sammen av ulike innrisninger på veggen. Dette samme designet går igjen i spillets hjulsett og har blitt brukt bak alle de ulike symbolene som kan dukke opp på spillets fem hjul. Tittelen til spillet har blitt plassert oppå hjulsettet mens bokstavene har blitt laget i rødt og gull. Khepri er i store bokstaver mens The Eternal God står i mindre bokstaver rett under hovedtittelen.
Symboler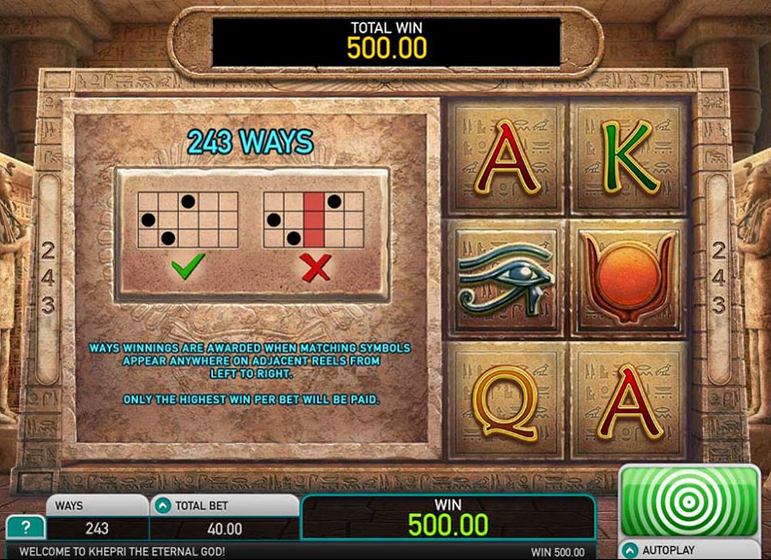 De aller fleste kasinospillere kan vel gjette seg frem til hva slags symboler som vil kunne dukke opp på hjulene. Da det er Egypt som er spillets tema er det selvfølgelig ulike gjenstander og symboler nettopp fra Egypt som vil kunne rulles frem. En ankh, et øye og et symbol som viser to hender som holder en sol er noe av det som kan dukke opp. Dette er i tillegg til vanlige spillekortsymboler som inkluderer 10, J, Q, K og A.
Oppsummering
Khepri – The Eternal God av Leander Games er et gjennomført spill som kan friste spillerne med absolutt alt de behøver. Det er et spennende tema, vakker grafikk og ikke minst en rekke spennende ekstrafunksjoner. Leander Games har nok en gang imponert med deres talentfulle team som gang på gang lanserer imponerende spilleautomater.