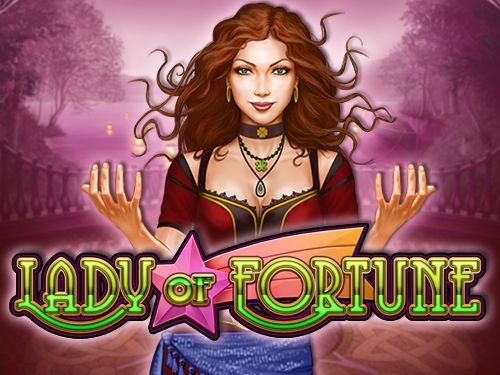 Lady of Fortune er en veldig fin spilleautomat fra Play'N Go. Spillet har fin musikk og et fint bakgrunnsbilde, og det bugner av lykkesymboler på skjermen. Kanskje lykkesymbolene bringer hell til spillerne også. Det er ingen gratisspinn i dette spillet, men det er mulig å vinne multiplikatorer og bonusgevinster.
Mer om spillet
Spillet er klassisk oppbygd, med fem hjul og tre rader. Bakgrunnen viser et rosa landskap med søyler, trær og lys. Musikken er behagelig og avslappende, og det gjør dette spillet velegnet til en rolig stund når man vil stresse ned. Man kan selvsagt også spille med autospinn, for en enda mer behagelig spillfølelse. Da trykker man bare på autospinn, og automaten fortsetter å spille selv helt til man stopper den.
Spillet har 15 gevinstlinjer, men man kan deaktivere linjene etter eget ønske. Det er bare mulig å vinne på aktive linjer, derfor har man færre vinnersjanser per spinn hvis man deaktiverer noen av linjene. Kanskje det er bedre å redusere myntverdien, slik at man har råd til å aktivere alle linjene. Den laveste myntverdien er 0,01 euro, og da koster det bare 0,15 euro per spinn når alle linjene er aktivert. Den største myntverdien er 0,25 euro. I tillegg kan man velge å satse inntil 5 mynter per linje.
Lykkesymbolene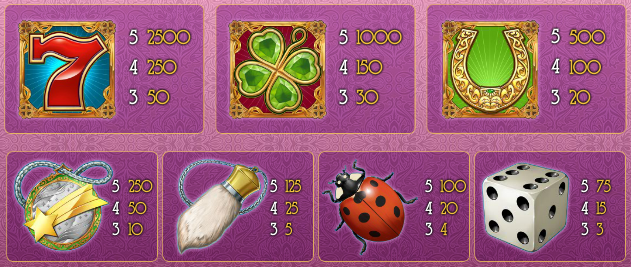 Skjermen er full av lykkesymboler i dette spillet, og de bidrar også til den behagelige spillfølelsen. Man trenger alltid minst tre like på rad for å få gevinst, men vinnerrekkene trenger ikke å starte ytterst til venstre for å telle. Tre like gir gevinst uansett, men de tre identiske symbolene må være på rad, på samme gevinstlinje. Spillets symboler er unike, og det mest verdifulle grunnsymbolet er et sjutall. Fem sjutall gir 2500 mynter i gevinst. Fem firkløvere gir 1000 mynter i gevinst og fem hestesko gir 500 mynter i gevinst. Fem stjerneskudd gir 250 mynter, fem harelabber gir 125 mynter, fem marihøner gir 100 mynter og fem treninger gir 75 mynter. Utbetalingene for tre og fire like finner man i gevinsttabellen.
Wildsymbolene erstatter andre symboler, unntatt bonussymbolet. Wildsymbolene deler i tillegg ut multiplikatorer. Disse multiplikatorene gjelder bare for vinnerrekker som inneholder et wildsymbol, og man kan få 2x, 3x, 4x eller 5x multiplikator. Det gjør wildsymbolene ekstra verdifulle.
Bonusgevinster og gambling
Bonussymbolet i spillet er en vakker kvinne. Tre symboler av kvinnen gjør at man kommer til bonusspillet. I bonusspillet skal spillerne velge et symbol. Den vakre kvinnen holder opp tre krystallkuler, og man velger én av dem. Alle symbolene skjuler en gevinst, og man kan vinne inntil 150x totalinnsatsen. Man får også se hvilke gevinster de andre kulene skjulte, og da vet man om man valgte rett eller ikke.
Det er også mulig å gamble om gevinstene. Man kan ikke gamble om bonusgevinstene, bare om gevinster i grunnspillet. Man kan heller ikke gamble når man spiller med autospinn, bare når man spiller et og et spinn. Gamble-funksjonen er valgfri, og dersom man vil gamble om den nyeste gevinsten sin, trykker man på gamble-knappen. Hvis man ikke vil gamble, trykker man på Collect, og spiller videre i grunnspillet.
Gamble-funksjonen går ut på å gjette om det skjulte kortet er rødt eller svart. Korrekt svar gir dobbel gevinst. Feil svar gjør at man mister pengene. Det er også mulig å gjette på om kortet er spar, kløver, ruter eller hjerter. Da kan man firedoble gevinsten hvis man gjetter riktig. Korrekt svar betyr også at man kan gamble igjen inntil fem ganger på rad.
Oppsummering
Lady of Fortune er en veldig fin spilleautomat med vakker musikk og fine lykkesymboler på hjulene. Wildsymbolene har i tillegg multiplikatorer, slik at de gjør gevinstene ekstra store. Man kan ikke vinne gratisspinn, men man kan vinne bonuser. Dette spillet er behagelig, og det forholdsvis lave antallet gevinstlinjer gjør også at det er et ganske rimelig spill når man spiller med lav myntverdi. Dette spillet passer perfekt når man bare vil slappe av.