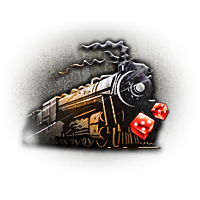 Denne videosloten er det spillutviklere hos Viaden som står bak, og allerede når spillerne får vite at det finnes en jackpot på $500 som kan vinnes, starter interessen for slotmaskinen å øke med én gang. Temaet i sloten er en ganske så god blanding, og det kan faktisk være litt vanskelig om man skulle forklart temaet bare med noen få ord.
Noe som er helt tydelig er at spillutviklerne ønsket at dette skulle være en ganske så enkel og grei slot, uten så altfor mye 3D-grafikk, animasjoner eller andre moderne ekstrafunksjoner. Dette har de gjennomført på en utrolig bra måte, og resultatet har blitt denne klassiske, enkle sloten. Spillerne kan finne frem denne videosloten hos online kasinoer som tilbyr spill fra Viaden, og dette er faktisk en av de mindre spillutviklerne som finnes der ute. Det kan dog se ut som om de har et slags samarbeid med den velkjente spillutvikleren Playtech.
Det er nok en del spillere som ikke er klare over at dette faktisk er en oppdatering av en av Viadens tidligere spilleautomater som gikk under samme navnet, og denne gangen er versjonen kommet ganske så langt i forhold til den tidligere versjonen. Viaden har denne gangen fokusert mer på ordet «express» når spillet har blitt satt sammen – og resultatet har blitt utrolig bra.
Symboler i Dice Express
Sloten er blitt satt sammen på en klassisk måte, nemlig med 21 spillelinjer, fem hjul og et tema som er gjennomført som en industriell slotmaskin med et togtema. Dette er nok et ganske uvanlig tema for en videoslot, men Viaden har likevel absolutt fått det til. Symbolene som er blitt laget til denne videosloten passer selvfølgelig til spillets tema også, og her vil spillerne finne blant annet terninger, et lokomotiv, en mekaniker og et «fortune wheel». Det sistnevnte symbolet er kanskje ikke det først man tenker på når det kommer til industrielle spilleautomater eller slotmaskiner med et tog tema men likevel så er det blitt laget på en sånn måte at det passer inn.
Oppsett og innsatser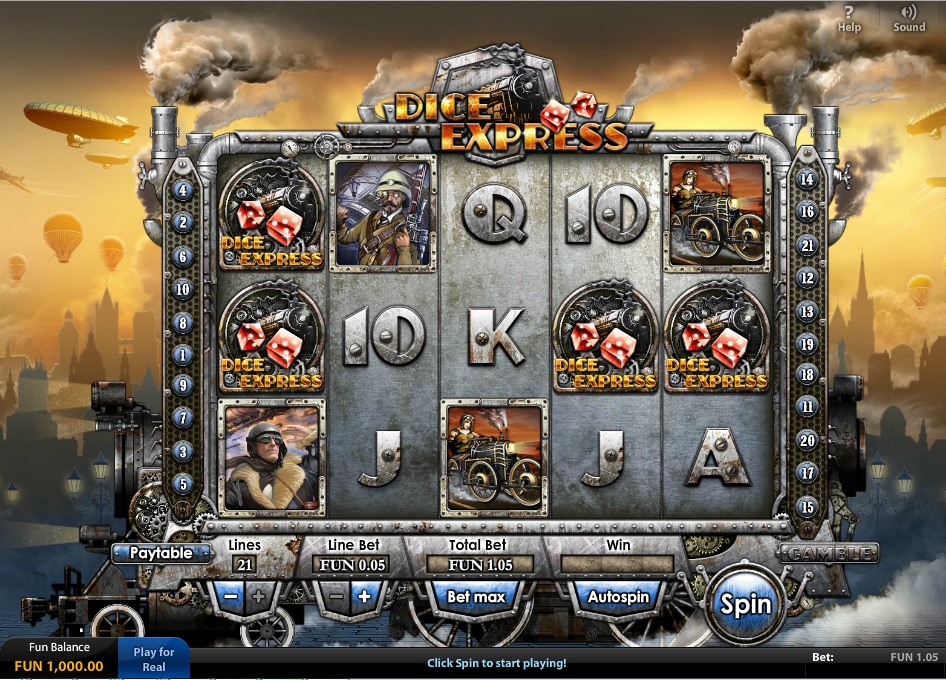 Når det kommer til ulike innsatsalternativer i sloten så kan spillere satse opp til 21 mynter i hvert spin. Så kan man selvfølgelig justere myntverdien for at det skal passe ulike typer spillere, dette kan varieres imellom $0,01 og $0,05. Dette vil si at den aller laveste innsatsen kan være på så lavt som $0, 01 og helt opp til $1,05. Dersom en spiller velger denne maksimale innsatsen så vil man få muligheten til å stikke av med slotmaskinens største jackpot på $500 eller 10,000 mynter. Det er riktignok ikke den aller største gevinsten dersom det skal sammenlignes med andre videosloter men med en maksimal innsats på kun $1 så er det absolutt ikke verst likevel. Dette kan altså være en slot som passer perfekt for de som bare er ute etter litt lett underholdning, eller som kun ønsker å bli kjent med noen spilleautomater, uten at for mye penger skal bli brukt.
Bonusfunksjoner og spesialsymboler i spillet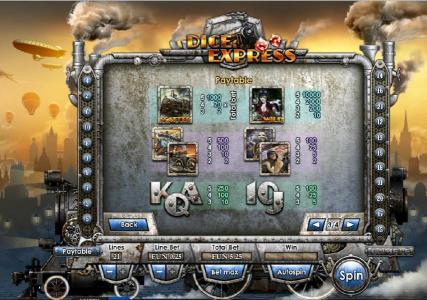 Denne sloten kan by spillere på et bonusspill som involverer et sett med terninger. Rettere sagt, symbolet som setter i gang hele bonusfunksjonen viser et bilde av terninger og deretter så er delen med terningene over. Alt annet handlet om spillets «ekspress» – toget. Slotens scattersymbol viser et bilde av et lokomotiv, mens spillets wildsymbol viser et bilde av en sexy mekaniker som vil kunne erstatte alle andre symbolene på hjulene. Dette er selvfølgelig med unntak av symbolet som trigger bonusspillet, wheel of fortune spins og scattersymbolet.
Bonusspillet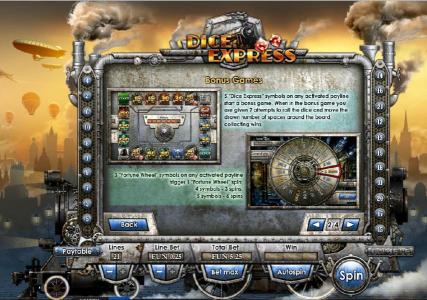 Om en spiller skal aktivere bonusspillet kreves det at hele fem «Dice Express»-symboler dukker opp. Da få spilleren rulle terningene syv ganger og bevege seg fremover på «brettet», mens man samler sammen gevinster. Med tre, fire eller fem «Fortune Wheel»-symboler vil spilleren få ett, tre eller seks spins på Wheel of Fortune. Mens hjulet snurrer vil den stoppe opp på en multipliaktor, og den multiplikatoren den stopper opp på vil bli aktivert og gevinsten blir multiplisert. Her kan spillere få store gevinster, med en multiplikator som kan gå over 1000x.