Om spillet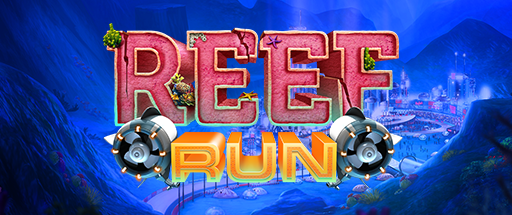 Spillutviklerne Yggdrasil følger opp flere tidligere suksesser ved å ta oss med under vann i en uvanlig sjarmerende femhjuls spillautomat med tre rader. Under overflaten fins seks forskjellige sjødyr som ser ut som om de kunne være hentet fra en Disneyfilm. Du kan vinne gratisspinn med en egen twist på multiplikatorfunksjonen, og selvfølgelig gevinst hver gang tre eller flere like sjødyr befinner seg etter hverandre på en av spillets tjue innsatslinjer.
Spillets detaljer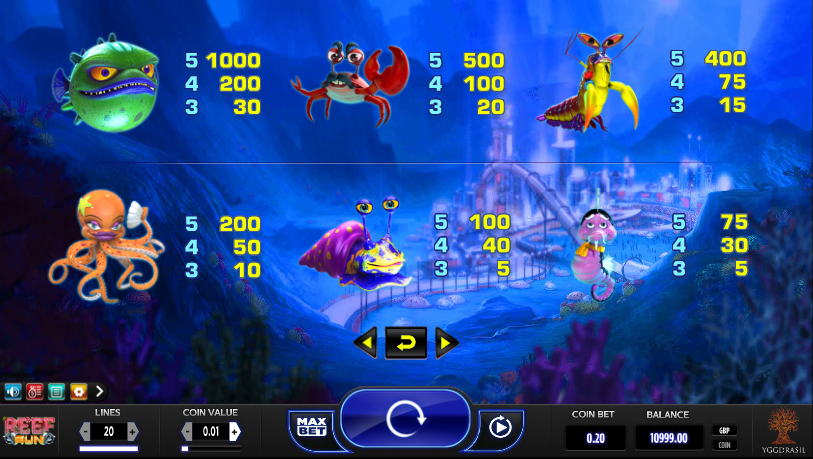 Du kan justere myntverdien i Reef Run mellom 0.1 og 1, og spiller på alle innsatslinjene hver omgang. Laveste innsats blir €2 og max bet gir en innsats på €20 for hvert spinn.
Autospinnfunksjonen lar deg spille fra 10 ganger om gangen og oppover – helt til uendelighetssymbolet som lar deg holde på så lenge du bare måtte orke. Det kan fort bli en stund, for spillet gjør et sympatisk inntrykk, er morsomt å spille, og med bare seks ulike symboler i tillegg til scattersymbolet, går det sjelden lang tid mellom hver gevinst. Spillet har ikke noe wildsymbol, men det hender likevel ofte at det blir flere vinnerkombinasjoner på ett spinn. Igjen, det er en fordel med et lavt antall forskjellige symboler.
Du kan også justere spillet slik at hjulene spinner fortere eller langsommere. I langsomt tempo er det noe nærmest hypnotisk ved sjødyrene som ruller frem igjen og igjen, og blinker og lyser opp når de lager gevinst.
Bonusfunksjoner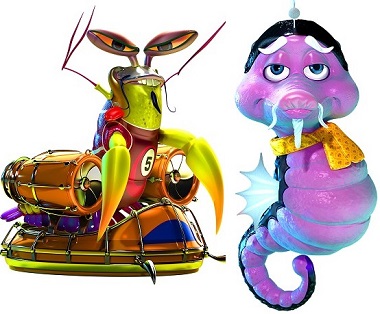 Tre eller flere scattersymboler – et åpent skjell der det står «Free spins» med store bokstaver gjør det lett å kjenne igjen – gir gratisspinn. 10 scattersymboler gir 10 gratisspinn, fire gir 20 og fem gir 60 runder! Underveis i gratisrundene kan du vinne flere gratisspinn, og her får du også to gratisspinn ekstra om du får bare to scattersymboler på en runde. Ellers er mengden gratis runder for antall scatter likt i gratisrundene som ellers.
gratisspinnene er uvanlige i det at det følger en multiplikator med for hvert symbol. Første gang du får en vinnerlinje i gratisrundene med for eksempel krabben, popper det ut en boble på en av sidene som viser at neste vinnerlinje med krabbe gir 5x så høy gevinst. Vinner du med krabbe igjen går multiplikatoren opp til x10, og ved enda ett vinn er du oppe i x20, så er du så heldig å få flere gratisspinn kan det fort bli store gevinster på flere av dyrene.
Spillets gang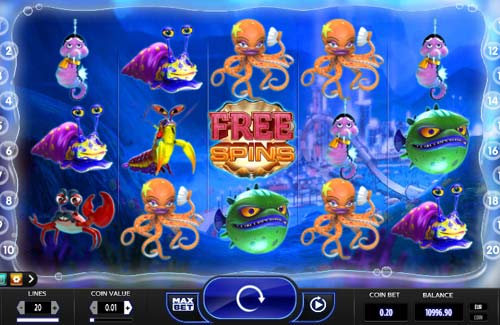 Tre eller flere like symboler gir gevinst, og symbolene må ligge etter hverandre fra ytterst til venstre og videre mot høyre langs en av innsatslinjene. De forskjellige symbolene har ulik verdi. Mest dyrebar er en rund grønn fisk med brede blå lepper som skjuler et sett veldig skarpe tenner. Den ser litt bisk ut, men gir 30 mynter for tre like, 200 for fire like og 1000 for fem like. Nest høyest verdi har en barsk rød krabbe med bart, som gir 20 for tre, 100 for fire og 500 for fem like. Etter disse følger en gul fyr som kan være en kreps eller en hummer, og som betaler femten for tre like, 75 for fire og 400 for fem, en oransje blekksprut som gir 10, 50 og 200 for tre, fire og fem like, en gul og blå snegle i et lilla sneglehus med gule prikker som gir fem til 100 for tre til fem like og til sist en liten rosa sjøhest som gir fra fem til 75 for tre til fem like.
Konklusjon
De uvanlig forseggjorte symbolene, fine bakgrunner og behagelig musikk gir Reef Run en eventyrlig stemning, og spillet er absolutt til å bli i godt humør av. Med bare seks ulike vinnende symboler kommer gevinstene ofte, og veier opp for mangelen på et wildsymbol. Det er deilig å oppholde seg under vann så lenge man er der i selskap med Reef Run, og det er gode sjanser for at du vil føle deg som en vinner når du stiger opp til overflaten igjen.