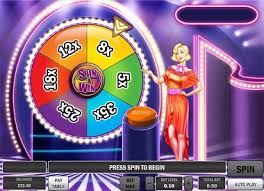 Det er en ting som virkelig tiltrekker spillere til spilleautomater, og det er hvis det er mulig å vinne en progressiv jackpot i spillet. Spilleautomaten Spin and Win har ikke bare én progressiv jackpot koblet inn i spillet, men man finner faktisk tre forskjellige. Det skal sies at det ikke er enkelt å vinne noen av disse progressive jackpottene, men det er jo så klart en høyere sjanse når man har tre forskjellige å prøve seg på, i forhold til hvis det kun var en. Spillutviklerselskapet som står bak Spin and Win, er det svenske selskapet Play'n GO. De har i løpet av noen måneder utviklet tre ulike spilleautomater, og Spin and Win er den siste i serien. Det er tre forskjellige spilleautomater, men det er likevel noen likhetstrekk mellom alle tre. Spin and Win er en fargerik spilleautomat som har en flott utforming, og som det virkelig er verdt å prøve ut.
Spillets oppsett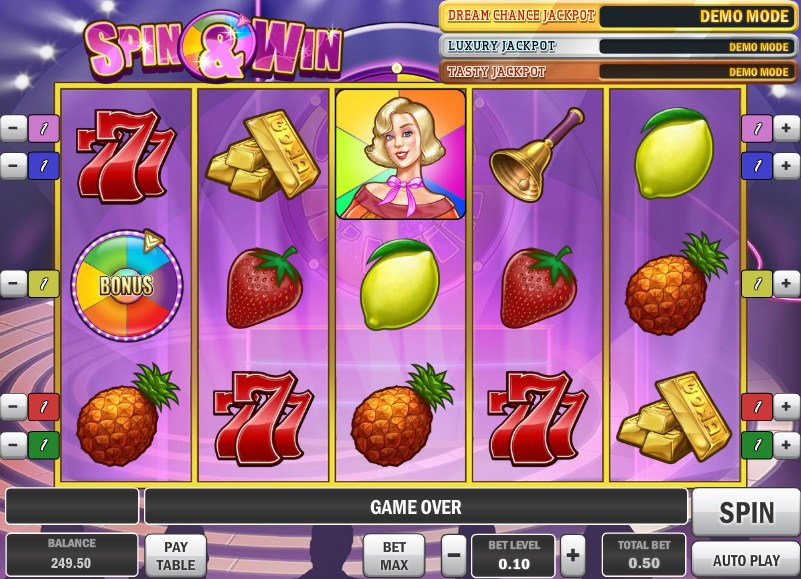 Oppsettet som man finner i Spin and Win, er veldig tradisjonell når det kommer til spilleautomater. På spilleskjermen så finner man fem hjul og tre rader med symboler. Over dette oppsettet så finner man innsatslinjene, og det er kun fem innsatslinjer i Spin and Win. Til tross for det lave antallet innsatslinjer, så må jo spilleren fortsatt justere på sin innsats. Det er veldig enkelt å justere, da man har knapper nederst på spilleskjermen som brukes til akkurat dette. Man kan satse mellom 0,01 og opp til 2 i kreditt per innsatslinje, noe som vil utgjøre en innsats på mellom 0,05 og 10 i kreditt totalt i en spillerunde. Når man har fått justert til et nivå som man er fornøyd med, så er det bare å trykke på spinnknappen og så er man i gang. Ønsker man at spillingen skal gå enklere for seg, så kan man benytte seg av autospinn knappen på spilleskjermen. Den gjør at spillet går av seg selv et visst antall runder.
Spilleskjermen og grafikken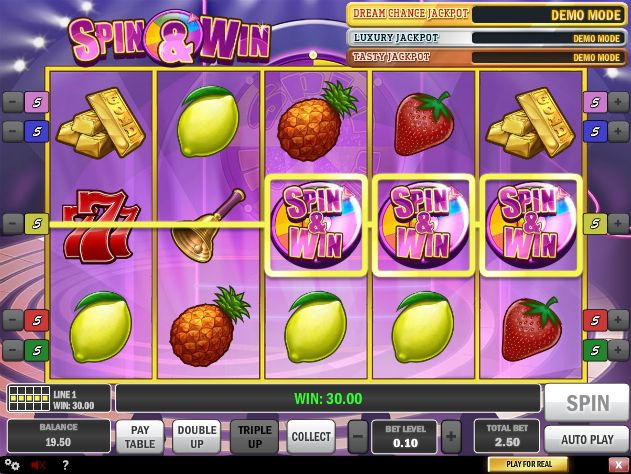 Spilleskjermen i Spin and Win er utrolig flott og fargerik, og man får nesten følelsen av å være på den litt mer lekne siden av livet. Det er brukt masse fine nyanser av lilla og det skaper et flott bilde. Bakgrunnen i spillet er i flere ulike lillafarger, og man kan skimte noen lys som er satt opp for å belyse bakgrunnen. Spillets logo finner man i venstre hjørne av spilleskjermen og den er også i lilla nyanser. Bokstavene i logoen er da rammet inn med en gullramme. På høyre side av spilleskjermen så har man en oversikt over de tre jackpottene som man kan finne i spillet. Nederst på spilleskjermen så finner man spillets knapper. De er veldig nøytrale i forhold til resten av spilleskjermen. Hjulene i spillet er plassert midt på spilleskjermen, og de er laget med en lyselilla bakgrunn. Oppå denne bakgrunnen så finner man symbolene i spillet. Symbolene er tydelig inspirert av de symbolene man fant i klassiske spilleautomater før. Man ser for eksempel sitroner, ananaser, jordbær, et rødt syv tall og en gullbjelle. Alle symbolene er i flott grafikk og bildene er klare.
Spillets spesialfunksjoner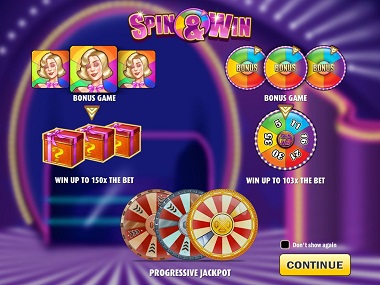 Det er flere spesialsymboler som kan brukes til å aktivere forskjellige funksjoner i spillet. Det finnes til sammen to bonusspill i Spin and Win, og de aktiveres av hvert sitt symbol. Det ene bonusspillet går ut på at spilleren skal trykke på ulike esker, og der vil det skjule seg forskjellige kontantgevinster. På det meste så kan kontantgevinsten ha en verdi på 150 ganger innsatsen man har lagt i spillet. Det andre bonusspillet går ut på at man skal spinne på et hjul, og på dette hjulet er det plassert ulike gevinster. Den høyeste gevinsten man kan få der ligger på 103 ganger innsatsen. Scattersymbolet er det symbolet man må se etter hvis man ønsker å vinne et av de tre progressive jackpottene i spillet.