Dette er en helt ny spilleautomat som har blitt satt sammen av 20 spillelinjer. Den ble lansert i november i 2014, og det er spillutviklerne hos det flotte selskapet Topgame Technology som står bak dette spillet. Dette er et iGaming selskap som fullstendig har endret på hvordan de gjør ting, og det har uten tvil blitt endret til det bedre. Både før og nå har de likevel kunnet imponere hvert eneste år, og med hver eneste nye spilleautomat som de lanserer. De skaper nemlig både spilleautomater til nettbaserte kasinoer, og spill til landbaserte kasinoer. I dette tilfellet har de skapt en helt unik spilleautomat, som har fått et tema man aldri har sett lignende til før. Spillet har nemlig blitt basert på en søt liten dam som er fylt opp med ender og egg, og det er selvsagt derfra spillutviklerne har fått tittelen til spillet fra. Det er tydelig at spillutviklerne hos TopGame Technology virkelig har brukt alt av oppfinnsomhet og kreativitet når de skapte dette spillet. En morsom detalj i spillet er blant annet at symbolene ikke bare spinner frem på skjermen på vanlig måte. I stedet spretter de faktisk opp av vannet. I tillegg kan spillerne virkelig glede seg til spillets gamblingfunksjon, bonusspill, scattersymbol, wildsymbol og mye mer.
Spillets oppsett og funksjoner
Som nevnt allerede er oppsettet litt utenom det vanlige i Ducks and Eggs, nettopp på grunn av at det ikke finnes noen ordentlige hjul. Alle symbolene i spillet flyter nemlig bare rundt i dammen. De har likevel blitt satt opp på rekke og rad, for at det fortsatt skal være et forståelig system i spillet. Derfor kan man fortsatt si at det finnes fem hjul i spillet, tre rader med symboler og til sammen 20 spillelinjer. Spillets bakgrunn består av en lyseblå liten dam, som er omringet av grønt gress, grønne daler og høyt siv som stikker opp på sidene av hjulene. Spillets ulike knapper og innstillinger har blitt plassert på skilt laget av treverk, noe som ser utrolig stilig ut, i tillegg til at det passer helt perfekt til spillets tema. På disse skiltene vil spillerne i tillegg kunne finne alle de vanlige funksjonene, sånn som autospinn- og maksinnsats-knappene. I tillegg finnes det en oversikt over mulige gevinster, i tillegg til en fast playfunksjon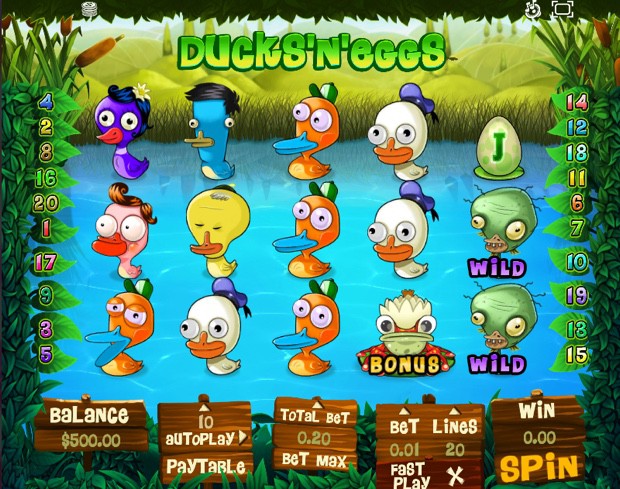 Symboler og de ulike innsatsalternativene i Ducks and Eggs
Spillutviklerne har virkelig sørget for at temaet i Ducks and Eggs skulle være mest mulig gjennomført. For hva er det som lever og bor i en liten dam? Ender selvfølgelig, og det er nettopp disse endene som er symbolene i spillet. Det finnes en rekke ulike ender, både oransje, gule og hvite som i tillegg har ulike hatter på seg. I tillegg til disse endene kan spillerne se de vanlige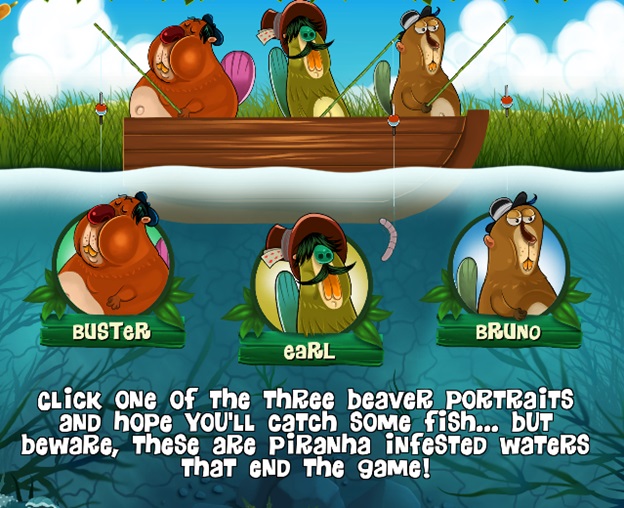 spillkortsymbolene som er i form av egg, det finnes derfor egg som viser J, Q og K, og som flyter rundt i dammen sammen med endene. Når det kommer til spillerne sine ulike innsatsalternativer, kan spillerne selv justere på to ulike ting. I Ducks and Eggs kan spillerne nemlig justere på hvor mange av spillets 20 spillelinjer som skal aktiveres, i tillegg til hvor mye som skal satses per spillelinje. Spillerne kan justere denne innsatsen helt fra 0,01 $ og opp til 5 $ per spillelinje.
Spesialsymboler og ekstrafunksjoner i spillet
Hovedsymbolene i Ducks and Eggs er de vanlige spillekortsymbolene som har blitt plassert på ulike egg, og de forskjellige endene. Disse symbolene vil kunne utbetale opp til 750 mynter, dersom fem av dem dukker opp på hjulene samtidig. I tillegg til dette finnes det tre spesialsymboler i spillet, som består av bonussymbolet, scattersymbolet og wildsymbolet. Den siste vil erstatte alle vanlige symboler i spillet, og gir gevinster opp til 1.500 mynter for fem like. Bonussymbolet gir gevinster opp til 4.600 bonuspoeng, i en helt spesiell runde hvor spillerne skal fiske. Til sist gir tre scattersymboler opp til 25 gratisspinn til spillerne.