Litt tryllestøv og magi skader ikke når man skal spille på en spilleautomat, og i automaten Pixies of the Forest dukker det opp mange fortryllende vesener. Spillets hovedpersoner er de sjarmerende alvene som bor i en magisk skog. Spillet er ganske variabelt, så det kan hende man må smøre seg med litt tålmodighet før de store gevinstene kommer, men dersom man skulle vinne, blir man overøst med alvegull. Den teoretiske utbetalingen er på 94,90 %, og spillet er utviklet av IGT.
Detaljer om spillet

Spillets tema kan virke uskyldig nok, men dette spillet mener alvor. Her er det hele 99 gevinstlinjer fordelt på de 5 hjulene, derfor er det mulig å satse stort, dersom man ønsker det. Temaet og den fine grafikken gjør dette spillet både vakkert og spennende. Spillet har også et vakkert bakgrunnsbilde, som viser den magiske skogen der alvene bor. I bakgrunnen høres magisk musikk og latter.
Hvert hjul har tre rader med symboler, og selv om det er 99 aktive linjer, satser spillerne bare 33 mynter per spinn. Minsteinnsatsen per linje er 0,01 euro, som betyr at det koster 0,33 euro per spinn. Maksimumsinnsatsen er 30 euro per linje, totalt 990 euro per spinn. Spillet framstår som veldig oversiktlig.
Thumbling Reels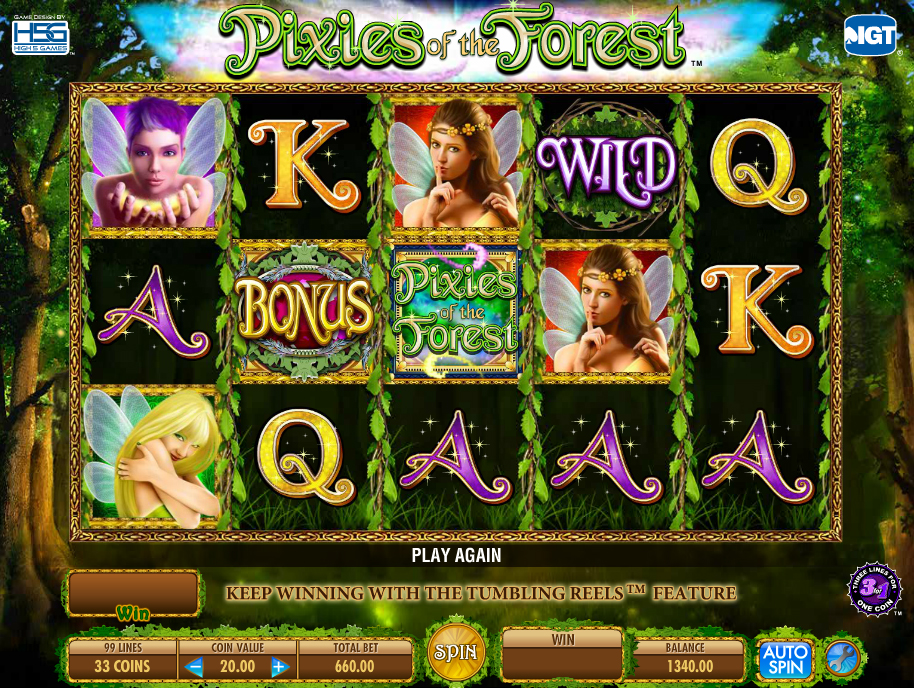 Dette spillet kan gi flere vinnerkombinasjoner på rad. Dersom man får en vinnerrekke, får man først utbetalt gevinsten for denne rekken, og deretter forsvinner symbolene som danner vinnerrekken. De blir erstattet av andre symboler, uten at man trenger å satse ekstra penger. Dette kalles Thumbling Reels.
Naturligvis er automaten også utstyrt med autospinn, slik at man kan la spillet spille på egen hånd, dersom man ønsker det. Man har like store vinnersjanser når man spiller med autospinn, og alt man trenger å gjøre, er å velge en myntverdi man er komfortabel med, og deretter velge antall spinn som skal spilles med denne innsatsen. Autospinnene kan også stanses underveis, dersom man ombestemmer seg. En annen ting man kan justere, er spillets grafikk-kvalitet. Dette kan man justere ved å trykke på verktøyknappen. Dermed kan man tilpasse grafikkens kvalitet til egen datamaskin, slik at spillfølelsen blir best mulig.
Valg av symboler

Det er tre alver i spillet. Spillets logo er også et viktig symbol, som gir hele 2000 mynter for fem like. Alven med det rosa håret er det mest verdifulle alvesymbolet. Hun gir 1000 mynter for fem like. Alven med det brune håret gir 400 mynter for fem like, mens alven med det blonde håret gir 150 mynter for fem like. I tillegg til alver, er det også noen kortsymboler i spillet, men bare fra dame til ess. De deler ut fra 25 til 40 mynter for fem like. Man kan lese mer om utbetalingene i spillets gevinsttabell.
Det er også wilds og bonussymboler i spillet. De er merket med ordene Wild og Bonus. Wildsymbolet finnes bare på de tre midterste hjulene under grunnspillet, men det dukker opp ekstra mange wilds under gratisspinnene. Wildsymbolet kan ta plassen til de fleste symbolene, men kan ikke erstatte et bonussymbol.
Gratisspinnene i spillet
Med tre bonussymboler på hjulene, vinner man gratisspinn. Da får man velge et symbol, og symbolene skjuler fra 5 til 11 gratisspinn. vinnersjansene er veldig gode når man spiller med gratisspinn, og vinnerrekkene forsvinner også her, og blir erstattet av nye symboler. Under gratisspinnene er det wildsymboler på de fire første hjulene, slik at det blir enda lettere å få vinnerkombinasjoner.
Gratisspinnene spilles med et annet bakgrunnsbilde, som viser vann og skog. Musikken som spilles under gratisspinnene er også annerledes enn musikken i grunnspillet. Gratisspinnene kan ikke gjenutløses.
Oppsummert
Pixies of the Forest er et morsomt spill med vakker grafikk. Det kan ta noen spinn før man vinner noe, men gevinstene er verdt å vente på. Dersom man er heldig, kan man også få flere vinnerrekker på rad under samme spinn. Spillfølelsen er veldig god, og dersom man har en litt treg datamaskin, kan man også justere kvaliteten på spillets grafikk.