Vakker spilleautomat med spesielt design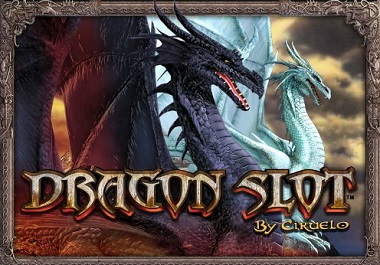 Det finnes utallige spilleautomater der ute, alle med sitt eget tema og spesielle funksjoner. Dragon Slot er en nyhet fra Leander Games som har tatt det hele til et nytt nivå. Her har de nemlig leid inn en verdenskjent artist for å tegne de ulike symbolene. En artist som har spesialisert seg på drager og fantasy-sjangeren generelt i over to tiår. Gustavo Cabral, bedre kjent som Ciruelo, har hjulpet den skandinaviske spillutvikleren med å skape Dragon Slot på bakgrunn av hans gedigne interesse for drager. Her er dragene i fokus, og vi kan ikke si at denne maskinen er noe mindre enn fantastisk. Området rundt spillskjermen er utrolig detaljert – man vil nesten stirre på de nøye utførte detaljene i lang tid. Bakgrunnen er også like flott å titte på. Her får man utsikt over en stor borg, med oransje solskinn som omfavner denne. Dragon Slot har sikkert tiltrukket seg mye oppmerksomhet fra de som kjenner til Ciruelo og hans kunst, men også vanlige kasinospillere vil garantert sette pris på denne nyheten fra Leander Games. Med så flotte detaljer må vi nesten klage litt på de kjedelige kortsymbolene spillutvikleren har valgt å inkludere. Nominasjonene fra 10 til A er riktignok tegnet i samme fantasy-stil, men de holder ikke mål sett i forhold til resten av spilleautomaten. Samtidig gir de såpass lave gevinster at de ikke er verdt å følge med på i det hele tatt. Her er det jo dragene som står i sentrum, derfor er det disse symbolene man bør legge merke til. Hele seks ulike drager spinner rundt på skjermen, alle i forskjellige farger og med et unikt utseende. En blå, en oransje, en grønn, en grå, en svart og en drage i gull er å finne blant symbolene – alle disse gir ganske gode gevinster om man spiller på et gjennomsnittlig nivå. Innsatsmulighetene er forresten brede nok for at alle skal kunne finne et passende nivå å spille på. Derfor er det all grunn til å prøve ut Dragon Slot, spesielt om du ikke har hørt om Ciruelo og magien han tegner.
Utbetalingene og funksjonene på Dragon Slot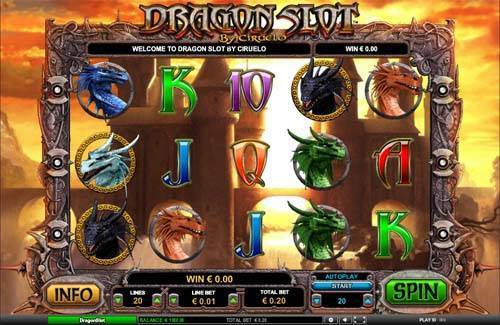 Som nevnt er dragene i sentrum på denne splitter nye spilleautomaten. Det hører man fra navnet. Nå vil vi fortelle om utbetalingene. Utbetalingsraten er nemlig veldig høy – Leander Games har virkelig gjort det vanskelig å tape pengene sine på Dragon Slot. Tre av dragene gir rimelig gode gevinster, men det er den grå og svarte som virkelig kan forandre dagen din. Den svarte dragen gir nemlig hele 2500 mynter i gevinst om man treffer på en kombinasjon av fem like. Dette er en betydelig sum med penger, selv om beskjedne 20 gevinstlinjer gjør det ganske vanskelig å treffe på så store kombinasjoner. For å hjelpe deg med dette har Dragon Slot derfor et utvidende wildsymbol i form av en stor gullfarget drage. Når dette symboler dukker opp på skjermen, vil hele gevinsthjulet overtas og den animerte dragen vil spytte ild. Alle kombinasjoner som manglet ett symbol eller to vil deretter settes, og store gevinster spyttes ut nesten hver gang denne dragen dukker opp. Så har man bonusspillene. Det første av disse er et interaktivt spill der du får kontrollen over en av dragene, og må kjempe mot en annen, rød drage. Klarer du å beseire det røde uhyret, vil en fet gevinst spyttes ut og rulle rett inn på spillkontoen.
Gratisspinn på Dragon Slot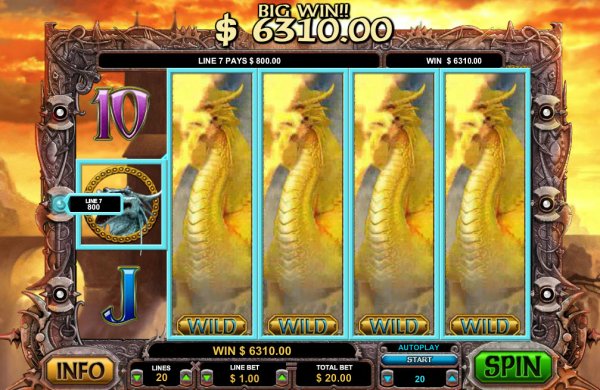 Det andre bonusspillet utløser en runde gratisspinn som du selv får velge ut. Ja, du får velge mellom tre ulike typer gratisspinn, alle med sine positive og negative sider. Enten prøver du å treffe store gevinster ved å velge så mange gratisspinn som mulig, eller så velger du en høy multiplikator slik at de få gevinstene du rekker å sette blir mangedoblet. Valget er ditt – enda en flott detalj fra Leander Games. Hovedfordelen med Dragon Slot er dog Ciruelo, denne magikeren av en artist. Hans tegninger er vanvittig fine å se på, med rikelige detaljer, grundige skygger og flotte fargevariasjoner. Prøv ut denne spilleautomaten på ditt utvalgte nettkasino og se selv hva denne argentineren har fått til sammen med Leander Games!