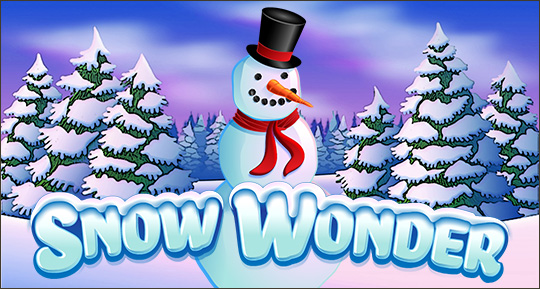 Rival Gaming er den spillutvikleren som har produsert spilleautomaten Snow Wonder. Rival Gaming har tidligere gitt ut både spilleautomater og enkle spilleautomater og de har hatt suksess med begge deler. Snow Wonder går da under kategorien spilleautomater , på grunn av det oppsettet som er satt inn. Rival Gaming legger likevel mye arbeid inn i spilleautomaten, til tross for et enkelt oppsett. De viser at de klarer å sette inn unike temaer som blir presentert på en god måte og som vil gi et automatisk godt inntrykk til spillerne. De fokuserer også på at det skal være enkelt for spillerne å sette i gang spilleautomaten. Det finnes ikke spesialfunksjoner i denne spilleautomaten, slik man kanskje er vant til fra spilleautomater . Det er derimot flere symboler som kan stå for en ganske god utbetaling.
Spilleskjermen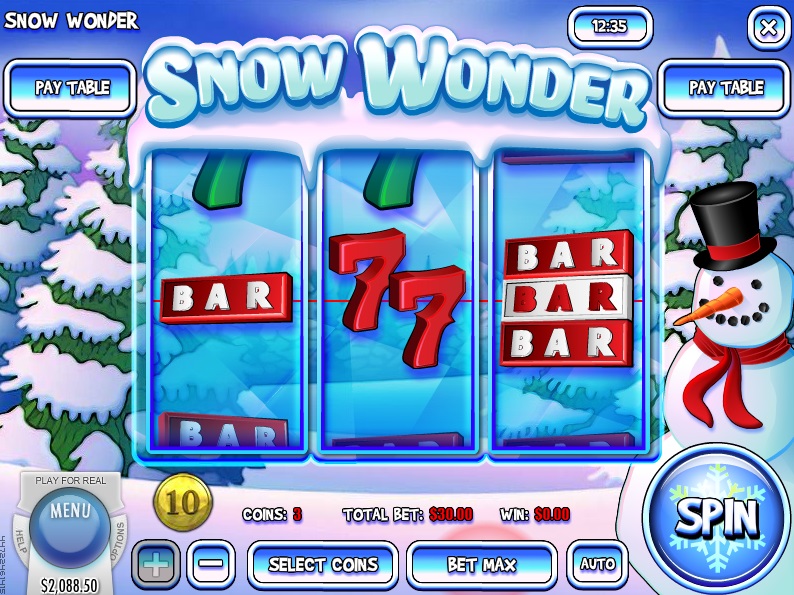 Spilleskjermen i Snow Wonder er satt opp på en flott måte og gir et veldig godt inntrykk av temaet. Rival Gaming har denne gangen gått for et tema som er fokusert på en årstid, nemlig vinteren. Bakgrunnsbildet man ser i spilleautomaten viser en mange flotte grønne trær som er blitt dekket med snø. Det ligger også mye snø på bakken, som man kan se nederst på bakgrunnsbildet. Øverst på bakgrunnsbildet har man en flott himmel, som nesten går over i en lilla farge. Over denne delen av bakgrunnen finner man spilleautomatens logo. Logoen er utformet i lyseblå bokstaver, og det har lagt seg snø øverst på disse også. På høyre side av bakgrunnsbildet har man en flott snømann som er lagt inn, og han er pyntet opp med flosshatt, og et rødt skjerf. Midt på spilleskjermen finner man spilleautomatens hjul. Hjulene har fått en skarpere blåfarge, som da likevel er gjennomsiktige, slik at bakgrunnsbildet skinner gjennom. Øverst på hjulene er det også lagt et godt lag med snø. Symbolene på hjulene er da formet i tradisjonelle symboler som man kjenner igjen fra spilleautomater.
Oppsettet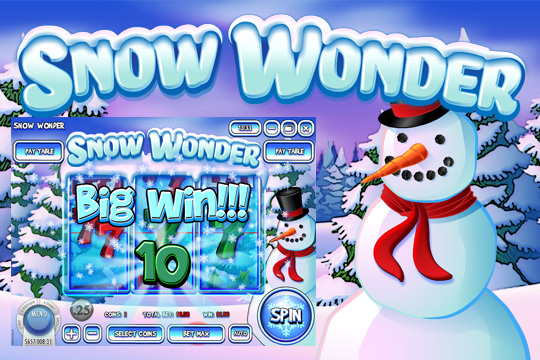 Oppsettet som man finner i Snow Wonder består av tre hjul og kun en rad med symboler. Det er også kun lagt inn en eneste innsatslinje. Snow Wonder er med andre ord en veldig enkel spilleautomat. Nederst på spilleskjermen finner man da et oppsett med knapper og to av disse knappene er satt inn som justeringsknapper. Den ene knappen er lagt inn for å justere myntverdien. Det er totalt lagt inn syv forskjellige myntverdier man kan velge mellom. Verdien starter på 0,10 mynter og går da opp til 10 mynter. Den andre justeringsknappen er satt til å bestemme antall mynter man ønsker å ha på den ene innsatslinjen. Spilleren kan da velge å ha enten en, to eller tre mynter på innsatslinjen. I tillegg til de to justeringsknappene finner man to hjelpeknapper. Den ene hjelpeknappen er autoknappen. Den vil gjøre at spilleautomaten går av seg selv et bestemt antall runder. Den andre hjelpeknappen er bet maks knappen, som vil gjøre at man automatisk spiller med høyest mulig innsats. Spinnknappen er den som setter i gang spilleautomaten på vanlig måte.
Symbolene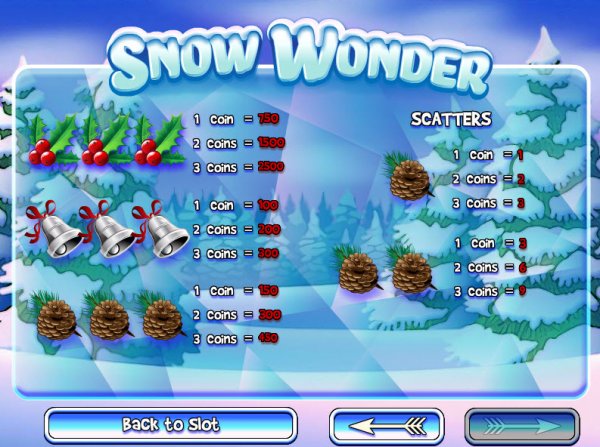 Symbolene man finner på de tre hjulene i spilleautomaten er alle satt inn med ulike verdier når det kommer til gevinstgivende kombinasjoner. Det symbolet som betaler ut nest høyest i spilleautomaten er det som er i form av bjeller i sølv. Hvis man får tre slike symboler synlige på hjulene vil man få 300 mynter i gevinst. Det symbolet som er i form av vinterbær er da det symbolet som betaler ut høyest i Snow Wonder. Hvis man får tre slike samtidig på hjulene, vil man få en gevinst på 2.500 mynter. Det er lagt inn et spesialsymbol i spilleautomaten og den er i form av en kjegle. Den fungerer da som et scattersymbol. Det vil si at den betaler ut gevinster, selv om det kun dukker opp en eneste en på hjulene, og gevinsten vil da øke hvis man for eksempel får to eller tre.