Tema og utseende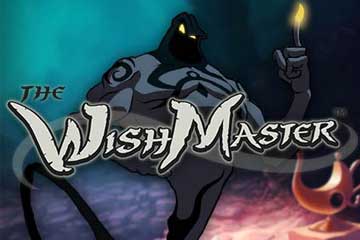 Net Entertainment regnes å være den mest populære spillutvikleren i verden, i hvert fall her i Skandinavia. Selskapet baserer seg her i Norden og består av en rekke flinke spillskapere som vet hvordan de skal fange oppmerksomheten til både nordmenn, svensker og dansker. Hver gang de lanserer en ny spilleautomat, blir den nærmest overfalt av lojale fans som står i kø for å prøve den ut. Dette gjelder særlig de spilleautomatene som har blitt lansert i 2014, Wish Master inkludert. Wish Master er en mystisk, noe mørk, men utrolig spennende spilleautomat med god grafikk og fine detaljer. Om man har sett filmen Wish Master fra 1997, vil man vite nøyaktig hva spilleautomaten handler om. Filmen er dog en skrekkfilm som handler om en ond ånd som bor i en lampe, mens spilleautomaten har klart å temme denne fryktinngytende skapningen og fått ham til å dele ut gevinster på rad og rekke. The Wish Master fra Net Entertainment er en nydelig, fersk spilleautomat som kaprer oppmerksomheten til spilleren. Fine, nøytrale farger, mengder av små animasjoner og en rekke tilpassede detaljer gjør dette til en levende maskin det virkelig er spennende å prøve ut.
Grafikk og detaljer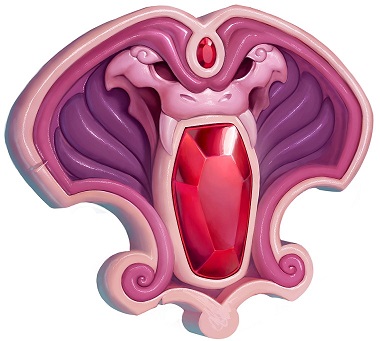 Når Net Entertainment lanserer en ny spilleautomat, vet man hva man kan forvente. Nydelig grafikk, spreke farger og detaljer som kan ta pusten selv fra erfarne spillere. The Wish Master har nydelige symboler som er både mystiske og fine å se på, samt en rekke originale funksjoner som gjør den lett gjenkjennelig. Bakgrunnen består av en mørk grotte fylt med skatter – det er her den onde ånden holder til i sin lampe. Blant utallige gullmynter, skattkister, juveler og antikke sverd står en magisk lampe. The Wish Master handler om denne lampen, og ånden som bor i den. Den oppfyller vanligvis tre ønsker før den blir satt fri, men på spilleautomaten Wish Master fra Net Entertainment oppfyller den ønske etter ønske uten å noen gang bli sliten. Bakgrunnsmusikken og lydeffektene er dystre og mørke, noe som setter stemningen fra start. Spillautomaten ser flott ut uansett hvor stor skjerm man har, nettopp på grunn av Net Entertainments fokus på toppmoderne grafikk.
Utbetalinger og funksjoner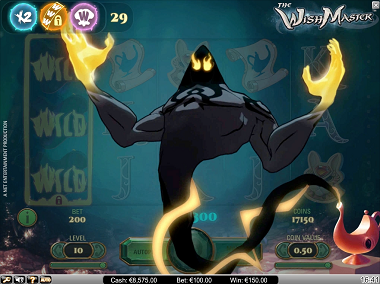 The Wish Master har tjue gevinstlinjer, et perfekt antall som gjør det rimelig lett å følge med på de ulike kombinasjonene og utbetalingene. Utbetalingsraten er på over 95%, altså vinner man med nesten hvert spinn, ikke ulikt andre maskiner fra Net Ent. Kortsymbolene gir, som alltid, de laveste gevinstene, mens de ulike fargerike juvelene med dyretrekk kan spytte ut de virkelig saftige premiene. The Wish Master er også proppfull av spesielle funksjoner, dog uten noe særegent bonusspill som vi har sett på andre spilleautomater. Her handler alt om den mørke ånden som bor i lampen – når du finner lampen blant symbolene på skjermen vil ånden dukke opp og gi deg ti spinn med en spesiell funksjon aktivert. Opp til tre funksjoner kan aktiveres samtidig – dukker flere opp, vil den nyeste erstatte den eldste. Alt handler om wildsymbolene, men ånden kan også gi deg multipliere som mangedobler enhver gevinst.
Gratisspinn og jackpot
Vi var litt overrasket når vi merket av The Wish Master ikke har noen gratisspinn-funksjon. Dette pleier å være en naturlig del av moderne spilleautomater, men Net Entertainment er ikke ukjent for å gå imot strømmen. Ånden spytter ut så mange spesielle wildsymboler som klistrer seg fast, utvider seg, tar over hele gevinsthjul og mangedobler gevinstene at man nesten glemmer bort mangelen på gratisspinn. Samtidig er den største jackpoten man kan vinne på utrolige 900 000 mynter, altså kan man bli multimillionær på ett spinn om man treffer rett – ånden vil hjelpe deg på vei. Med tre funksjoner aktivert samtidig kan man spinne hjulene og være rimelig sikker på å se saftige gevinster komme opp en etter en. Om du ikke har prøvd ut The Wish Master allerede, er det på høy tid at du tar noen spinn på denne nye lanseringen fra Net Entertainment.