Tema

Spillet Deadworld er utviklet av spillutvikleren 1×2 Gaming i samarbeid med Caliber Comics, og er i stor grad basert på tegneserien som bærer det samme navnet. Som navnet Deadworld tilsier, dreier spillet seg i utgangspunktet om det som befinner seg på andre siden – i de dødes verden. Om du har sett The Walking Dead, er tilhenger av alt som er skummelt eller tidligere har lest tegneserien Deadworld, kjenner du deg nok lett igjen i spillet. Om animasjonen er direkte skremmende eller gir antydning til frysninger kan vel imidlertid diskuteres, men disse faktorene legger uansett ingen demper på spenningen vi opplever etter hvert som spillet går sin gang. Tematikken og grafikken blir flott fulgt opp med stemningsfull, dyster musikk samt lydeffekter som er med på å få hjertet til å dunke i takt med spinnene du gjennomfører.
Oppbygning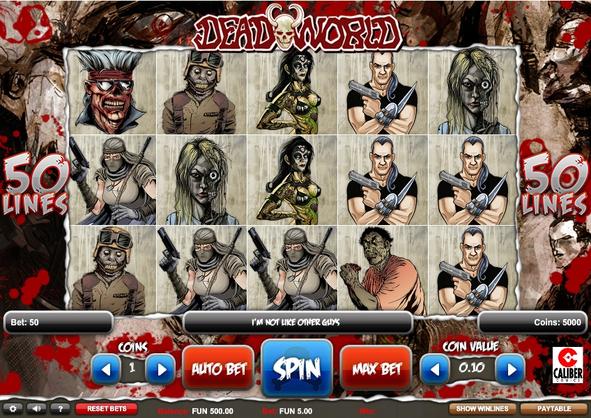 Spillet i seg selv er bygget opp av totalt fem hjul hvorav hvert hjul består av tre ulike objekter. Disse objektene inkluderer alt fra zombier og monstre til vandrende mumier og andre tvilsomme figurer. Layouten i bakgrunnen er laget i typisk gammeldags tegneserie-stil og alle objektene i hjulene baserer seg på figurene fra tegneserien Deadworld. Temaet i spillet følges altså opp hele veien, og du er aldri i tvil om hva det dreier seg om. Figurene i seg selv er kanskje nok til å trollbinde deg, men ikke la deg lure. Keep spinning, keep winning!
Spillets gang
Allerede fra ditt første spinn i Deadworld er sjansen stor for suksess, og du blir derfor fort revet med fra første sekund. Spillet ser imidlertid ut til å markere vinnerkombinasjonene gjentatte ganger helt fram til neste spinn utføres, noe som kan virke forvirrende og muligens får deg til å tro at du vinner enda mer enn hva som egentlig er tilfellet. Om dette er taktikk fra de dødes side vites ikke, men i Deadworld finner du uansett hele 50 potensielle kombinasjoner som gir gevinst, noe som tilsier at sjansen er stor for å stikke av med en slant til tross for zombier som prøver å bløffe med deg. Når en kombinasjon oppnås markeres dette ved at en blodflekk treffer de inkluderte symbolene. Skummelt eller ei – de skal ha for forsøket.
Bonusløsninger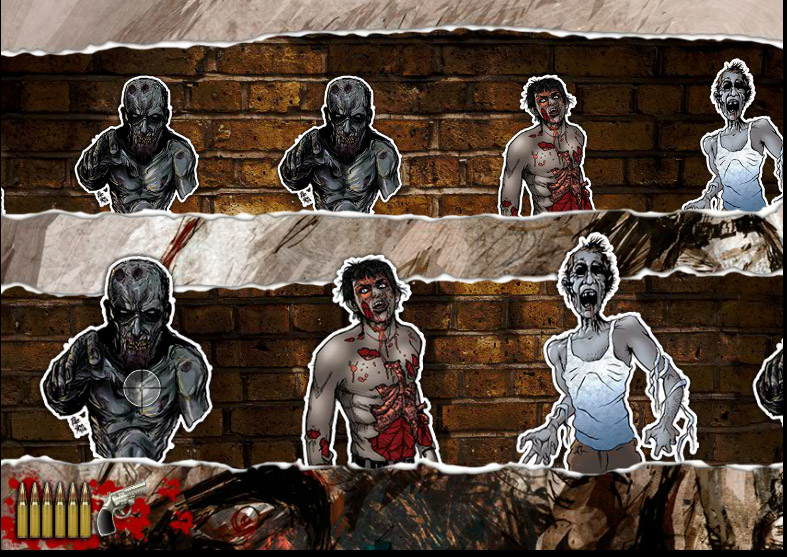 Spillet overrasker dessverre ikke med noen gratisspinn, men har som en god kompensasjon til denne mangelen en wild plassert i den snertne mumiedamen som befinner seg blant objektene du støter på etterhvert som hjulene spinnes. Denne mumien gjøres om til et hvilket som helst annet symbol, og hjelper deg på vei i jakten på vinnerrekkene. Blant de andre objektene du kan møte på er det blant annet et skjelett som, til tross for sitt magre vesen, gir deg noen av de aller høyeste gevinstene, og dersom du i et spinn oppnår mer enn tre objekter merket med «bonus» settes en bonusrunde i gang. Du får da tildelt en pistol og målet er å skyte zombiene som kommer frem på skjermen, én etter én. Dette må jo være drømmen for enhver zombie-entusiast! Etter hvert som du skyter zombiene samler du opp mynter, og bonusrundene gir deg derfor store muligheter for en solid økning i potten din. I utgangspunktet får du kun tildelt 6 skudd i hver bonusrunde som finner sted, men noen av zombiene du skyter gir deg ekstra skudd slik at du kan fortsette jakten på zombiene – og myntene.
Konklusjon
Alt i alt er Deadworld et spill med store vinnersjanser, og det egner seg bra i vår tids hverdag, hvor zombie-feberen herjer og de største diskusjonene omhandler The Walking dead. Har du ikke allerede blitt infisert av denne feberen kan kanskje spillet hjelpe deg på vei? Deadworld imponerer med mange overraskelser underveis og oppleves ikke som kjedelig et eneste sekund, mye på grunn av bonusrundene som byr på noe helt annet enn hjulspinning. Klargjør deg for krig mot de døde – i Deadworld er det gevinster å hente!