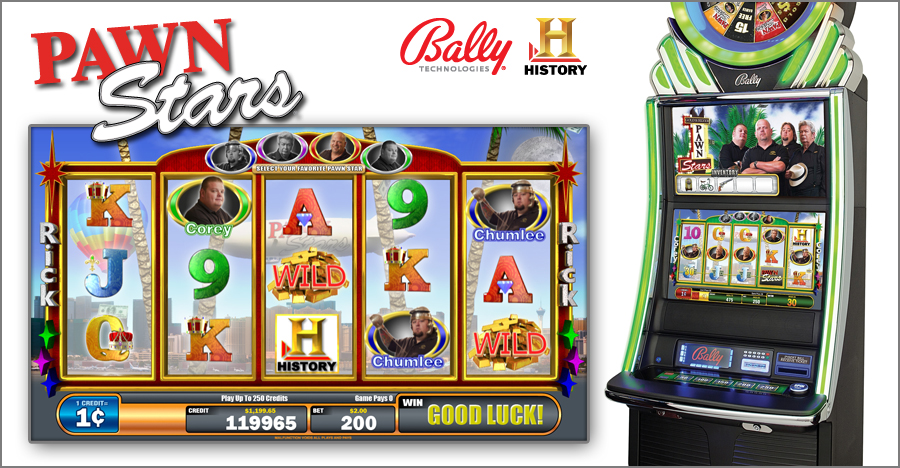 Det er helt utrolig hvor mye rart som kan inspirere til en ny spennende spilleautomat. Det har blitt laget spilleautomater basert på gamle tegnefilmer, fra filmer med kult-status, fra kjente bøker og mye mer. Denne gangen er det et realitetsprogram fra TV som har vært inspirasjonen til denne nye spilleautomaten fra Bally Technologies. Det er nok ganske mange som har hørt om TV-serien Pawn Stars, som handler om en familiebedrift i USA som er en pantebutikk. I denne butikken dukker det opp alle slags mennesker med alle slags ting som de vil pantsette mot en fin sum med penger. Denne familien kan man nå se i spilleautomaten Pawn Stars, og resultatet har blitt et utrolig underholdende og ikke minst unikt spill.
Symboler og spesialsymboler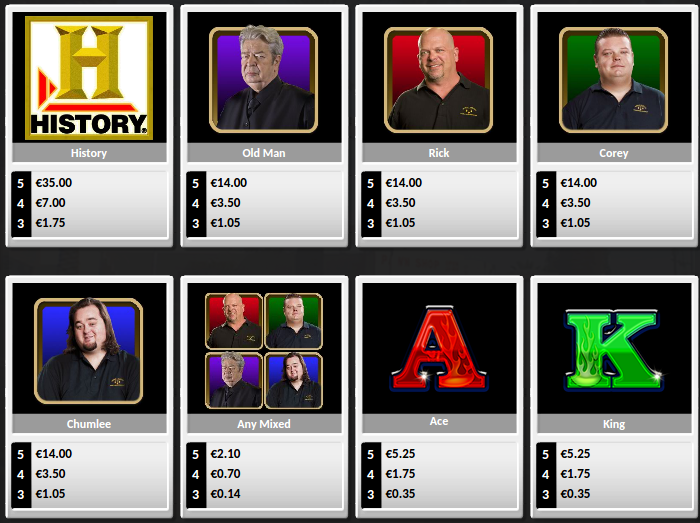 Spillutviklerne hos Bally Technologies har sørget for at alle de ulike familiemedlemmene fra serien vil kunne dukke opp på hjulene. Spillerne vil kunne se både Chumlee, Rick, Corey og Old Man på hvert sitt symbol. Deretter vil kasinospillere kunne se forskjellige tall og bokstaver som inkluderer 10, J, Q, K og A. Disse har blitt designet i en rekke sterke farger som virkelig lyser opp hele spillet. Til sist har de tatt i bruk History Channel-symbolet, noe som også er den med høyest verdi. En kombinasjon på fem symboler vil gi spillerne en gevinst på 17 ganger deres totale innsats. Det som er helt spesielt med spillets fire ulike karakterer er at disse kan utbetale gevinster til og med når de er blandet. Derfor gjør det faktisk ingenting hvem av karakterene som dukker opp på hjulene. Til sist inneholder selvfølgelig noen spesialsymboler. I Pawn Stars vil kasinospillere derfor finne både scattersymboler og wildsymboler.
Spillernes innsatsmuligheter
Under spillet hjulsett vil spillerne selvfølgelig finne menyen hvor de kan justere på en rekke ulike ting. Fra denne menyen vil spillerne enkelt og greit kunne justere på hvor mye som skal satses på hver spillelinje. Alle spillets 30 spillelinjer vil nemlig være aktiverte til enhver tid og spillerne kan heller ikke bestemme antall mynter som skal bli satset per spillelinje. Innsatsen på hver spillelinje kan spillerne justere mellom 0,01 og oppover til 15, noe som gjør at mange forskjellige kasinospillere vil kunne nyte Pawn Stars. Dersom det er noen kasinospillere som vil at det hele skal gå litt mer automatisk er autoplay-knappen tilgjengelig, og spillerne vil kunne starte opp 25 runder automatisk.
Bonusrunder i Pawn Stars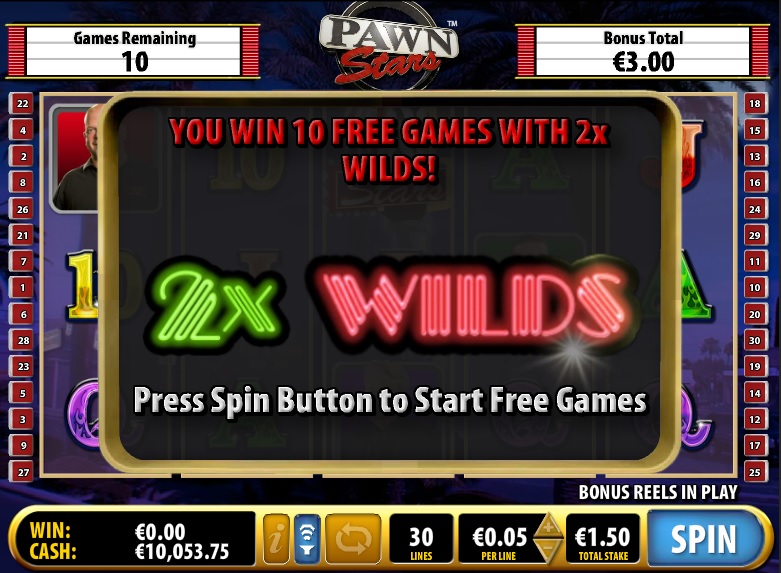 I tillegg til spillets to ulike spesialsymboler er det enda litt mer spenning i form av ekstrafunksjoner tilgjengelig. Spillet har nemlig to ulike bonusrunder, blant annet den såkalte Pawn Bonusen. Denne bonusrunden vil bli aktivert ved hjelpen av et Pawn Star bonussymbol. Dersom dette symbolet dukker opp på hjul to, tre og fire vil bonusen settes i gang. Når et av Pawn Stars sine fire karakterer dukker opp, må spillerne dermed velge ut en av de seks ulike gjenstandene de vil pantsette. Deretter vil spillerne kunne vinne mellom 200 og 3 000 ganger deres innsats per spillelinje. Om spillerne ikke er fornøyde med tilbudet de får for gjenstanden, kan de gå for et nytt tilbud som vil være mellom 150 og 4 000 ganger innsatsen per spillelinje. I tillegg til dette er det også en gratisspinn funksjon som blir aktivert med tre gratisspinn symboler som kan vises på hjul en, tre og fem. Om symbolene vises på disse hjulene, blir spillerne belønnet med 10 gratisspinn.
Oppsummering
Pawn Starts er uten tvil det man vil kunne kalle for en unik spilleautomat. Det at Bally Technologies har hentet inspirasjonen sin fra en reality-serie på TV er noe helt nytt, og det viser seg absolutt at dette fungerer. Spillet er satt sammen av fem hjul, tre rader med symboler og til sammen 30 spillelinjer. På disse hjulene vil spillerne kunne se alle de fire kjente karakterene fra serien sammen med noen spesialsymboler. Det finnes til og med to ulike bonusrunder samt en gratisspinn-funksjon.