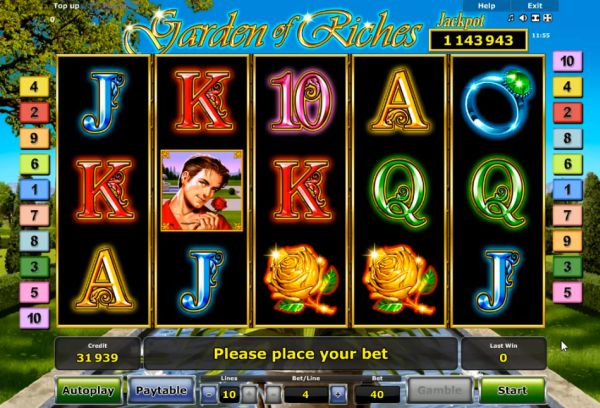 Spilleautomaten Garden of Riches er laget av Novomatic. Spillet har 10 gevinstlinjer, jokere og et bonusspill. Man kan vinne gratisspinn, og automaten har også en progressiv bonus. Progressive bonuser er alltid et populært innslag, som lokker spillere til automatene. For å vinne den progressive jackpotten i dette spillet, må man fylle skjermen med 15 jokersymboler.
Spillets oppbygning
Garden of Riches har 5 hjul, tre rader med symboler og 10 linjer. Bakgrunnsbildet viser en vakker hage. Symbolene viser en mann, en kvinne, gullroser, ringer og andre juveler, i tillegg til kortsymboler. Spillets grafikk er klar og tydelig, og symbolene er fargerike og avbalanserte. Kortsymbolene har også fått litt ekstra dekor som passer fint til temaet. Spillerne velger selv hvor mange gevinstlinjer de vil aktivere, men man kan bare vinne på aktive linjer. Dessuten kan man bare vinne den progressive jackpotten dersom man spiller med alle linjene aktivert. Dersom man vil spare penger, er det bedre å velge en lavere myntverdi, slik at man har råd til å aktivere alle linjene. Det er lett å stille inn myntverdien, og tilpasse innsatsen til eget budsjett.
Gevinster
Alle vinnerrekker må starte ytterst til venstre for å gi gevinst. Unntaket er den vakre kvinnen, som er et spredt symbol. Det betyr at symbolene ikke trenger å være på samme gevinstlinje for å gi gevinst. Disse symbolene teller med uansett hvor på skjermen de er. Alt man trenger, er tre slike symboler hvor som helst på skjermen, så vinner man en spredt gevinst. Man finner en komplett oversikt over symbolene og gevinstene i spillets utbetalingstabell.
Progressive jackpotter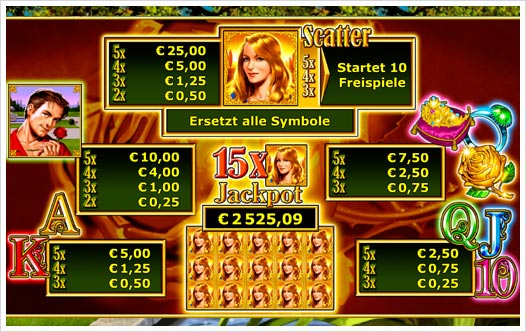 En progressiv jackpot er en jackpot som gradvis bygger seg opp. jackpottene starter som regel på et minstebeløp, og vokser hver gang noen satser penger på et spill. En liten andel av spillernes innsats blir lagt til i jackpotbeløpet, og jo flere som satser på spillet, desto større blir jackpotten. Hvis det går lang tid før jackpotten blir vunnet, kan den vokse seg veldig stor. Det finnes progressive jackpotter som kommer opp i mange millioner. jackpotten i Garden of Riches er ikke en av de aller største, men størrelsen på jackpotten avhenger av når den ble vunnet sist. Det er ingen øvre grense for hvor stor en slik jackpot kan bli.
Sjansen til å vinne en storgevinst som endrer livet, er årsaken til at spillerne elsker progressive spilleautomater. Det er i disse spillene man kan vinne millioner. Mange progressive spill har en lav utbetalingsprosent i vanlig spill. Det skyldes at deler av innsatsen går til jackpotten. Dermed er det færre penger å dele ut i det vanlige spillet. Som regel må man også spille med maksimums innsats for å ha en sjanse til å vinne den progressive jackpotten. Det betyr at man må satse maksimalt antall mynter i den myntverdien man har valgt. Alle linjer i spillet må altså være aktivert under alle spinn. Dette demper ikke spillernes interesse for progressive spilleautomater, for de progressive spillene er blant de mest populære automatene på nettet.
Gratisspinn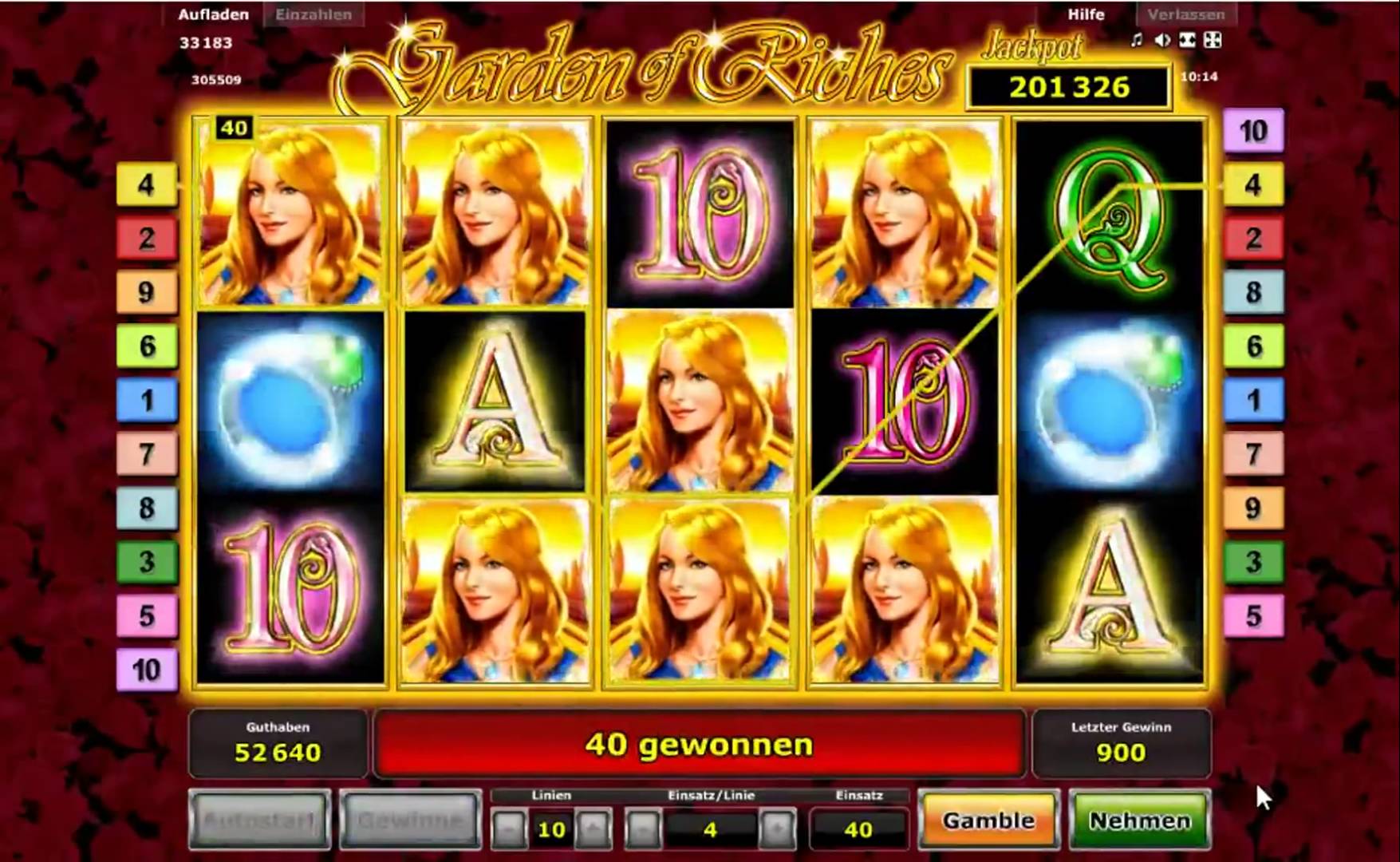 Med tre eller flere spredte jokersymboler på skjermen, kan man vinne 10 gratisspinn. Da låses jokerne fast, og blir værende på samme sted under gratisspinnene. Gratisspinnene kan ikke gjenutløses, men det er mulig å vinne den progressive jackpotten også under gratisspinnene. Dersom man får 15 spredte jokersymboler, vinner man den progressive jackpotten. Ettersom gratisspinnene spilles med fastlåste jokere, har man større sjanser til å vinne den progressive jackpotten. Det aller beste, er at alle jokersymboler som dukker opp under gratisspinnene blir låst fast. Dermed kan man altså samle opp flere og flere jokere for hvert spinn.
Oppsummering
Garden of Riches er et fint spill, med vakker grafikk. Spillet har en progressiv jackpot, og det er nok noe som vil trekke spillere. Man kan vinne gratisspinn med fastlåste jokere, og dette øker sjansen til å vinne den progressive jackpotten. Spillets jokersymbol er et spredt symbol som også utløser gratisspinn og gir spredte gevinster.